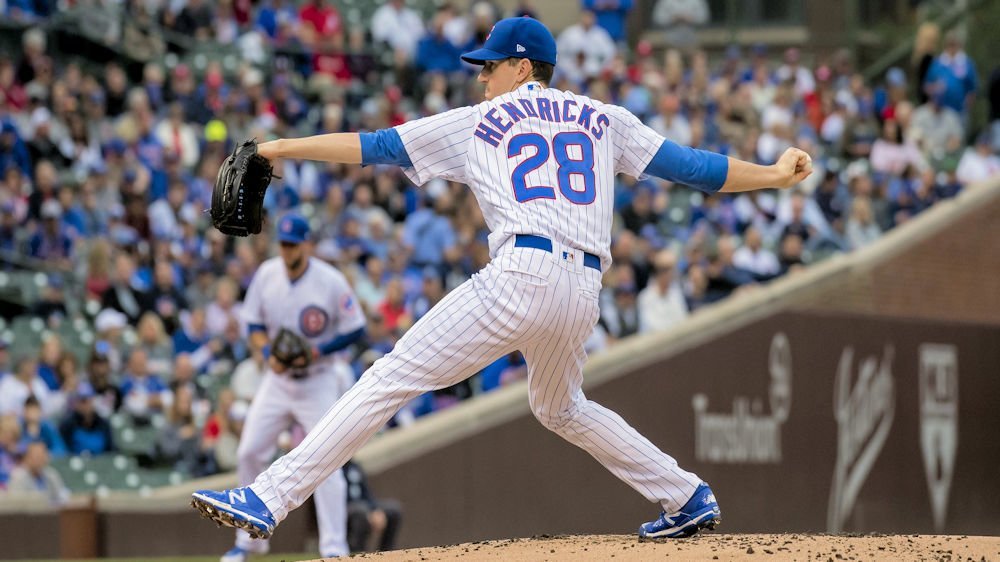 | | |
| --- | --- |
| Cubs announce contract extension for Kyle Hendricks | |
---
| | | |
| --- | --- | --- |
| Tuesday, March 26, 2019, 1:50 PM | | |
The contract extensions are being signed fast and furious in the last few weeks.
The Chicago Cubs had not signed any of their players to extensions this offseason until Tuesday when they announced that Kyle Hendricks had signed a four-year extension with a team option for the 2024 season.
In total, he can make up to 63 million over the course of the next five years.
2019: $7.405M.
2020: $12M.
2021: $14M.
2022: $14M.
2023: $14M.
2024: $16M vesting option or $1.5M buyout
He was originally under team control through the 2020 season.
Theo Epstein talked about how much he values Hendricks during a press conference on Tuesday.
"Early on it's easy to put ceilings on guys, based mostly on velocity. He's far exceeded that ceiling. We love the process that he uses to get to where he is. He's always working."
Hendricks hopes that he is a role model for pitchers that don't throw a 100 miles per hour.
"Hopefully, watching the way I pitch and get guys out will relate to a lot of younger pitchers. It's not always about velocity but about the way you go about getting guys out at the major league level."
Hendricks was 14-11 with a 3.44 ERA and 1.15 WHIP last season.
For his career, he has a 52-33 record with a sparkling 3.07 ERA with 668 strikeouts and low 1.11 WHIP.
Kyle Hendricks has just agreed to a four-year extension with a club option for a fifth season. pic.twitter.com/YW7j8deGwv

— Pedro Gomez (@pedrogomezESPN) March 26, 2019
Kyle Hendricks:
7,405,000
12,000,000
14,000,000
14,000,000
14,000,000
16,000,000 option or 1,500,000 buyout.
3M per year in CY esclators
Option vests based on Cy performance in 2020

If he finishes top 3 in Cy he will earn 79.8M

— Jon Heyman (@JonHeyman) March 26, 2019
The Professor has tenure now! @Cubs pic.twitter.com/UXSkp3zejL

— Randall J. Sanders (@RandallJSanders) March 26, 2019
Theo on Hendricks deal: "We'll continue to quietly get things done with guys and hopefully we can. But this wasn't done in any way to put pressure on guys. There's a lot of time left before we have to make some critical decisions."

— Mark Gonzales (@MDGonzales) March 26, 2019