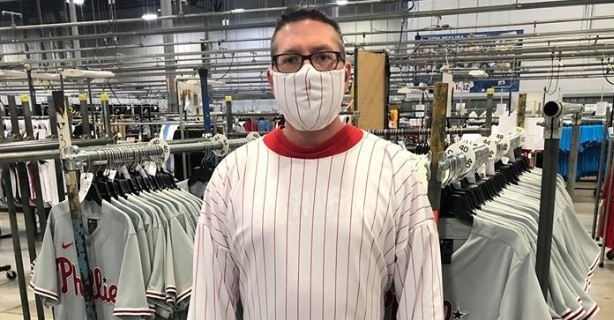 | | |
| --- | --- |
| Fanatics making medical equipment out of MLB jersey fabric to help healthcare workers | |
---
| | | |
| --- | --- | --- |
| Thursday, March 26, 2020, 5:05 PM | | |
The company Fanatics announced on Thursday that they are trying to help the frontline workers battling this coronavirus pandemic.
They will be making masks and hospital gowns out of MLB jersey fabric that they currently have in their warehouses in Easton, Pennsylvania.
"We're proud to partner with MLB to launch a new initiative supporting healthcare workers and emergency personnel who are fighting against COVID-19 surges and face a drastic need for masks and hospital gowns," the company said. "We are utilizing our manufacturing plant in Easton, PA, to immediately begin making masks and gowns out of the exact same jersey fabric that the players wear on the field. These items will be distributed immediately to hospitals and emergency personnel in Pennsylvania with the goal to extend across New York and New Jersey."
Great job by Fanatics to try to help out when there is such a great need nearby in New York and New Jersey.
"The COVID-19 crisis has compelled our country to be more collaborative, innovative and strategic than ever before," Fanatics executive chairman Michael Rubin said. "As the demand for masks and gowns has surged, we're fortunate to have teamed up with Major League Baseball to find a unique way to support our frontline workers in this fight to stem the virus, who are in dire need of essential resources."