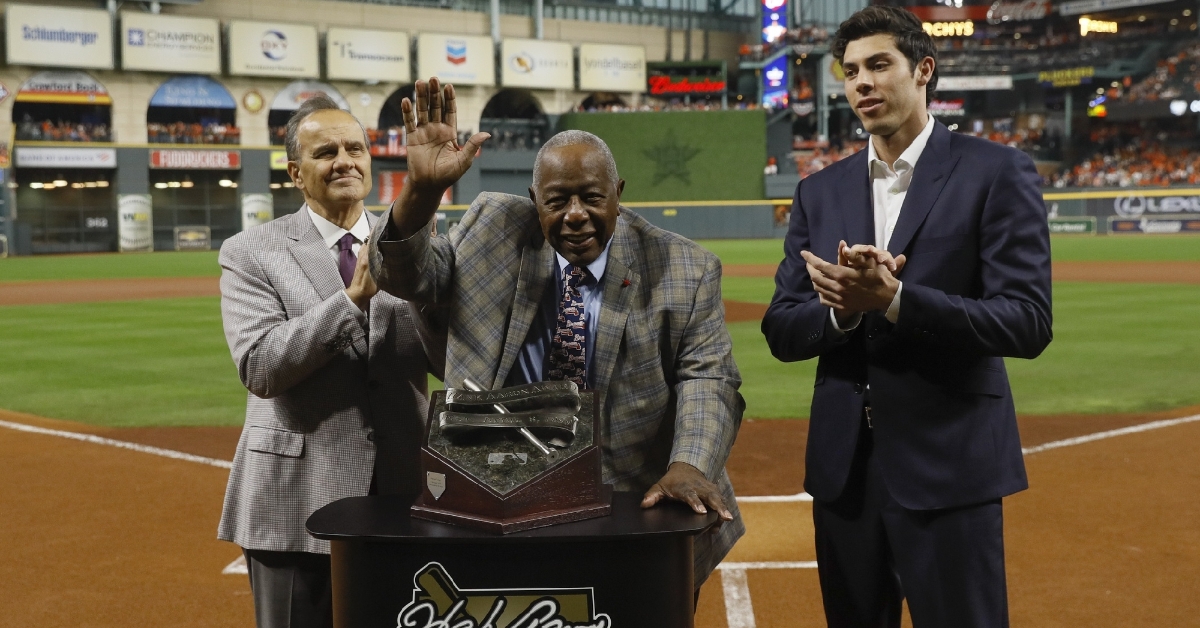 | | |
| --- | --- |
| Cubs News: Hall of Famer Hank Aaron passes away | |
---
| | | |
| --- | --- | --- |
| Friday, January 22, 2021, 10:33 AM | | |
Tough news to report today as baseball lost another legend and pioneer.
Hall of Famer Hank Aaron has passed away this morning at the age of 86.
Muhammad Ali once said the following about Aaron, "The only man I idolize more than myself."
Aaron was one of the most iconic players in the history of baseball as he finished his career with 755 home runs in a non-steroid era, second all-time to Barry Bonds' 762.
Hammerin' Hank was also an MLB-record 21-time All-Star (25x total) and had an impressive 3,771 hits. He was a model of consistent play as he slugged 24 to 47 homers for 19 straight seasons.
He remains baseball's RBI leader with 2,297 and total bases with 6,856.
Braves Chairman Terry McGuirk released the following heartfelt statement about Aaron's passing.
"We are absolutely devastated by the passing of our beloved Hank. He was a beacon for our organization first as a player, then with player development, and always with our community efforts. His incredible talent and resolve helped him achieve the highest accomplishments, yet he never lost his humble nature. Henry Louis Aaron wasn't just our icon, but one across Major League Baseball and around the world. His success on the diamond was matched only by his business accomplishments off the field and capped by his extraordinary philanthropic efforts.
We are heartbroken and thinking of his wife Billye and their children Gaile, Hank, Jr., Lary, Dorinda and Ceci and his grandchildren."
MLB released the following statement.
"We are devastated by the passing of Hammerin' Hank Aaron, one of the greatest players and people in the history of our game. He was 86."
Against the Cubs, he feasted on them hitting .337 over 179 games including 50 home runs at Wrigley Field. Overall, he homered off 310 pitchers including 13 Hall-of-Famers.
He was inducted into the Hall of Fame in 1982.
RIP, No. 44, and prayers to his family, friends, and the entire baseball community.
More to come on this breaking story.
Rest in peace, Hank Aaron

You'll be dearly missed ??
pic.twitter.com/clxA2CnSqI

— Diamond Digest (@Diamond_Digest) January 22, 2021
Hall of Famer, former home run champion and Braves icon Hank Aaron has passed away at the age of 86. pic.twitter.com/3oWluZA2F4

— Baseball Quotes (@BaseballQuotes1) January 22, 2021
Hall of Famer and @Braves slugger Henry "Hank" Aaron has passed away this morning at the age of 86.

Rest In Peace to a baseball legend. pic.twitter.com/XHXqRAHw6C

— Stadium (@Stadium) January 22, 2021
RIP Hank Aaron?? pic.twitter.com/hvi2rgNMmn

— Magic's Burner (@MagicsBurner) January 22, 2021
R.I.P. To Henry "Hank" Aaron Who Passed Away Today At The Age Of 86. ?????? pic.twitter.com/a4S1nFu1Tc

— DJ First Class™ ?? (@1DJFirstClass) January 22, 2021
Legend. pic.twitter.com/5vQZPz1DWw

— Russell Dorsey (@Russ_Dorsey1) January 22, 2021
This photograph of the immortal Hank Aaron was taken in Washington DC, 2015: pic.twitter.com/ZV79vpAK5P

— Michael Beschloss (@BeschlossDC) January 22, 2021
#HRKing #RIP pic.twitter.com/XgxqDUBr4h

— Gordon Wittenmyer (@GDubCub) January 22, 2021
Bob Gibson and Sandy Koufax on Hank Aaron.

?? pic.twitter.com/k8VqDC5zra

— Rob Friedman (@PitchingNinja) January 22, 2021
R.I.P. to the legendary Hank Aaron ?? pic.twitter.com/TcZu0eGSkC

— FOX Sports: MLB (@MLBONFOX) January 22, 2021
RIP Hank Aaron, a true legend and pioneer. pic.twitter.com/BjJf2FpXUE

— Meredith Frost (@MeredithFrost) January 22, 2021
Lifelong Browns fan Hank Aaron used to quietly fly from Atlanta to Cleveland and sit in the Dawg Pound on Sundays.

RIP to the legend Hank Aaron pic.twitter.com/tjHXBEMgf8

— McNeil (@Reflog_18) January 22, 2021
Godspeed to another baseball legend in Hank Aaron. Seen here hitting in the 1957 World Series when he smacked 3 HRs and hit .393 in leading Braves to title in seven games pic.twitter.com/nXvkw3NLJa

— Old-Time Baseball Photos (@OTBaseballPhoto) January 22, 2021
3,771 Hits
755 Home Runs
25x All-Star
3x Gold Glover
World Series Champion
Hall of Famer
Icon.

RIP Hank Aaron. ?? pic.twitter.com/p39AAvnajz

— Tim and Sid (@timandsid) January 22, 2021
When Hank Aaron broke Babe Ruth's home run record on April 8, 1974, it was and remains one of the most iconic moments in sports history. No matter how many times I've seen it throughout my lifetime, I'd always stop and watch it again. That moment is immortalized at Truist Park. pic.twitter.com/LAJE6HPAoV

— Grant McAuley (@grantmcauley) January 22, 2021
This was the only time I was in a room with Hank Aaron. I was so flabbergasted and speechless I'm surprised I was able to take the picture. A true American hero. RIP to the ??, and thank you. pic.twitter.com/AtS4wYHGrT

— David Aldridge (@davidaldridgedc) January 22, 2021
Hank Aaron worked his entire life to reach the Major Leagues and dealt with much tribulation along the way.

The night he broke Babe Ruth's home run record will forever go down in history. RIP to a Legend ?? pic.twitter.com/dUoRrXh2g1

— UNB! Sports MLB (@unbsportsmlb) January 22, 2021
Rest in peace, Hank Aaron. pic.twitter.com/1UNJ5ZqceU

— The Players' Tribune (@PlayersTribune) January 22, 2021
A legend on and off the ball field... the best to ever do it... RIP Mr Hank Aaron ???? #44 pic.twitter.com/3LH6iB9auV

— David Ortiz (@davidortiz) January 22, 2021
Hank Aaron, the Hall of Fame slugger whose 755 career home runs long stood as baseball's golden mark, has died.

He was 86. pic.twitter.com/etl7EcdUH8

— SportsCenter (@SportsCenter) January 22, 2021
Hank Aaron, departing to play for the Indianapolis Clowns, 70 years ago. I remember pausing with ?@nlbmprez? in front of this photo at the ?@NLBMuseumKC?. I've never forgotten this image. (Additional photo credit: ?@Baseballography?.) @MLB ?@MLBNetwork? pic.twitter.com/INIIVJEjeK

— Jon Morosi (@jonmorosi) January 22, 2021
Hank Aaron's legacy is in a class of its own:

??755 home runs (2nd all-time)
??2,297 RBI (1st all-time)
??2,174 runs scored (T-4th all-time)
??25x All-Star
??1957 NL MVP
??1957 World Series champ
??3x Gold Glove
??2x batting champ
??HOF

RIP to a legend. pic.twitter.com/plyxnkdHuD

— Bleacher Report (@BleacherReport) January 22, 2021