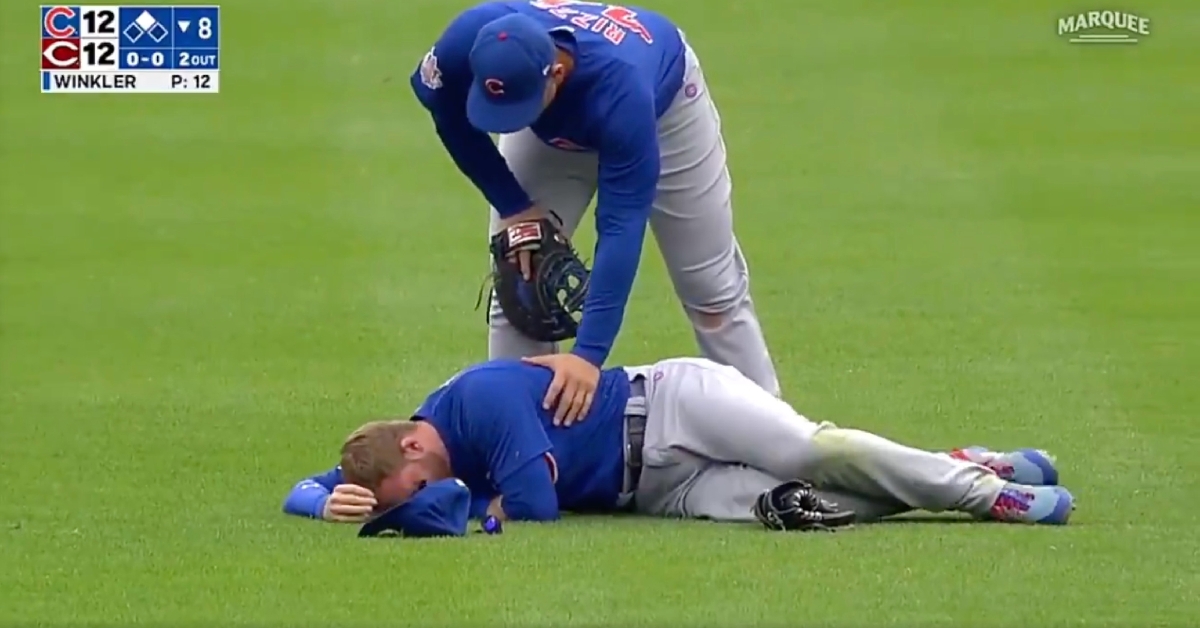 | | |
| --- | --- |
| Cubs News: Ian Happ injury update | |
---
| | | |
| --- | --- | --- |
| Sunday, May 2, 2021, 7:07 PM | | |
CINCINNATI — A scary moment took place in Sunday's barn burner at Great American Ball Park between the Chicago Cubs and Cincinnati Reds, as Cubs center fielder Ian Happ was carted off the field after being involved in a violent collision with a teammate. Happ and second baseman Nico Hoerner both pursued a popup hit by catcher Tyler Stephenson and collided with one another while doing so.
Hoerner was able to make an impressive catch but not without unintentionally injuring Happ, who tried to slide out of Hoerner's way. When the two collided, Hoerner appeared to knee Happ in his right side, and Happ then suffered a bloody nose that seemingly occurred when his head collided with the ground. Happ was shaken up to the point that it took him a few minutes to be able to stand up and get onto a cart that transported him off the field. The injury occurred in the bottom of the eighth, after Happ hit a game-tying three-run homer in the top of the eighth. The Cubs eventually lost 13-12 in the 10th inning.
Thankfully, Happ is reportedly OK and not facing any kind of severe injury. The likely reason why it took him so long to leave the field is because he was woozy from slamming his face into Hoerner's right forearm. Cubs manager David Ross told reporters postgame that Happ "took a pretty good blow to the face" but was "in good spirits." As for whether or not Happ will miss any action because of the collision, that has yet to be determined.
UPDATE: Ross announced on Tuesday that Happ suffered a rib contusion but not a concussion.
Ross said Happ's main issue is that Hoerner kicked the outfielder "pretty hard in the ribs" during the collision. Happ has come through the concussion testing OK, per the manager. Calling his injury "rib contusion" right now.

— Jordan Bastian (@MLBastian) May 4, 2021
Manager David Ross said he spoke with Ian after the game and he said he's feeling fine after taking a shot to the head. Won't know more until tomorrow, but some good news. https://t.co/JjuLh2byAq

— Russell Dorsey (@Russ_Dorsey1) May 2, 2021
Ian Happ, who was carted off the field after a collision with Nico Hoerner, took a "pretty good blow to the face" but is in "good spirits," Cubs manager David Ross said.

— Patrick Mooney (@PJ_Mooney) May 2, 2021
Kris Bryant could hear the collision between Ian Happ and Nico Hoerner, and spoke to Happ postgame: "Made sure to let him know that he had a great game. Hopefully, there's nothing too serious with him and he can continue to do what he did today, because that was huge for us."

— Patrick Mooney (@PJ_Mooney) May 2, 2021