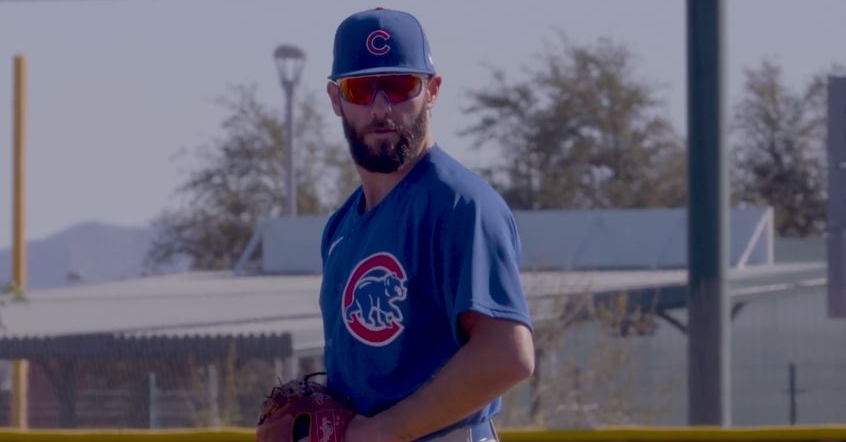 | | |
| --- | --- |
| Jake Arrieta on being back with Cubs: "It just feels right" | |
---
| | | |
| --- | --- | --- |
| Saturday, February 20, 2021, 5:11 PM | | |
Veteran pitcher Jake Arrieta is back with the Chicago Cubs this season after a three-year stint with the Philies.
Arrieta recently signed a one-year deal with the Cubs to solidify a strong rotation potentially in 2021.
He spoke with the media on Saturday afternoon and was excited about the upcoming season with the Cubs.
"To play for a manager (David Ross) that caught one of my no-hitters is pretty cool," Arrieta said. "This is where I wanted to be. The last few days here, it just feels right."
He talked about some of his expectations and goals moving forward.
"I think everybody at this level, regardless of where they're at in their careers, are trying to prove something," Arrieta said. "It might not be to one person. It could be to themselves. It could be people in their past that didn't think that they were capable of performing at this level or a former organization, fill in the blank. I think each year has its own sort of challenges and different things that have different expectations, both personally and as an organization as a team. So there's, that's always things to prove. Not that that's in a negative way.
Arrieta has high expectations for himself.
"It's really just to prove that I'm still capable of performing at a high level, the level that I expect to perform at."
Arrieta wasn't satisfied with how he pitched with the Phillies the last several seasons.
"The last three years weren't to my expectations. I had to deal with several physical setbacks - a meniscus that I pitched through all of '18, which was tough, but I didn't want to have surgery during the season," he continued. "Then in '19, I ultimately had to have bone spurs taken out of my elbow again. So there were some slight physical limitations. But having said that, I just didn't perform the way I was capable of. But I have a lot in the tank. I have a lot to still accomplish in this game. And I'm excited that it's gonna happen in this Cubs uniform again."