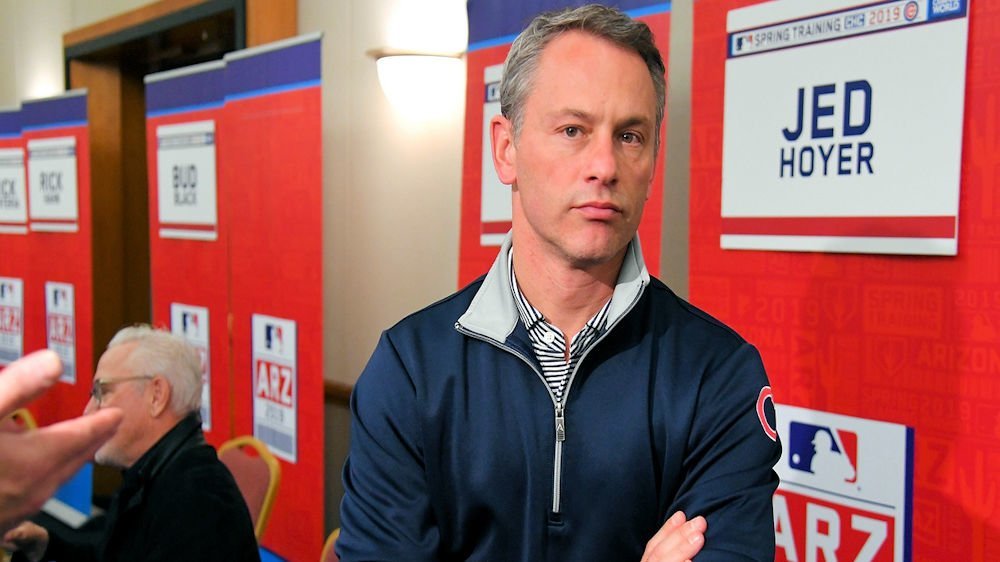 | | |
| --- | --- |
| Jed Hoyer says Cubs' core group is running out of time | |
---
| | | |
| --- | --- | --- |
| Tuesday, September 3, 2019, 10:36 PM | | |
CHICAGO — When appearing on 670 The Score's McNeil & Parkins Show on Tuesday, Chicago Cubs general manager Jed Hoyer responded with a blunt "yeah" when asked if the Cubs' current core group was running out of time to reach its full potential. Hoyer was brutally honest when assessing the state of the Cubs in the radio appearance.
"Individually, in some ways, we have a lot of guys that are having good seasons," said Hoyer. "We just haven't turned into that offensive juggernaut that we expected in 2015, when you looked at the lineup and you're like, 'Oh, my God. At 27, 28 (years old), this lineup is going to be impossible to pitch to.' That's what sort of hasn't evolved in that way."
For most of this season, the Cubs have been quite wishy-washy at the plate, with plenty of highs and lows taking place for a batting order teeming with talent. The advancing ages and lucrative salaries of the fixtures of the Cubs' lineup draw into question just how much longer the Cubs can continue to compete at a high level with a group that has never seemed to consistently jell as well as it should since the Cubs won the 2016 World Series.
"We've gotten to the point of, at times, good or very good, but we haven't gotten to that excellent level where I think we can be. We just haven't gotten there. And, yeah, I think there's some frustration there, of course."
Obviously, the Cubs have experienced plenty of success in recent seasons, but up-and-down plate performances by so many of their high-paid players and a continual reliability on the home-run ball have generated occasional frustration surrounding the North Siders. While the Cubs are certainly talented enough to compete for the World Series crown this season, Hoyer and Cubs President of Baseball Operations Theo Epstein might not be willing to wait for the current core group of the Cubs' to reach its full potential for much longer.
"Sometimes, it feels like we're a little bit less than the sum of our parts," Hoyer opined. "That's how I've always explained it. We have a ton of really good players, and some of those players are having really good seasons. But the collective offense has not gotten to the point we expected."