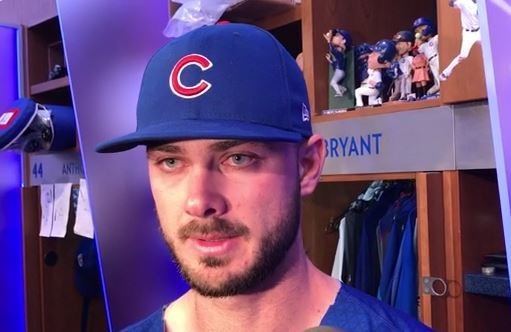 | | |
| --- | --- |
| Cubs News: Kris Bryant: "This year just wasn't our year" | |
---
The Cubs' 2018 season is over after falling to the Rockies 2-1 in extra innings in the National League Wild Card game.
Standout third baseman Kris Bryant spoke with the media after the game sharing that he was very proud of his team.
"All I can say is that I am extremely proud of how we came together with all the guys we added. Guys battling through stuff and we were still able to win a lot of games. We just weren't able to win the most important game."
Bryant was asked if the expectations have been ramped up where it's World Series or you didn't have a great year.
"Absolutely. We totally feel that," Bryant said. "After we won in 2016, it was a World Series or bust attitude. I mean, that's the right attitude to have. You play to be the last team standing. You don't play just to make the playoffs.
Bryant knows that things just didn't click this year especially with him battling his shoulder injury.
"I think we've kinda built that culture up here that we are some of the best Chicago Cub teams that they've ever fielded and we take that, and I'm pretty proud of that. We wanna go out there and win, but this year just wasn't our year."
Bryant told reporters that his shoulder will be fine this offseason with rest and he wants to use that time to get his game where it needs to be.