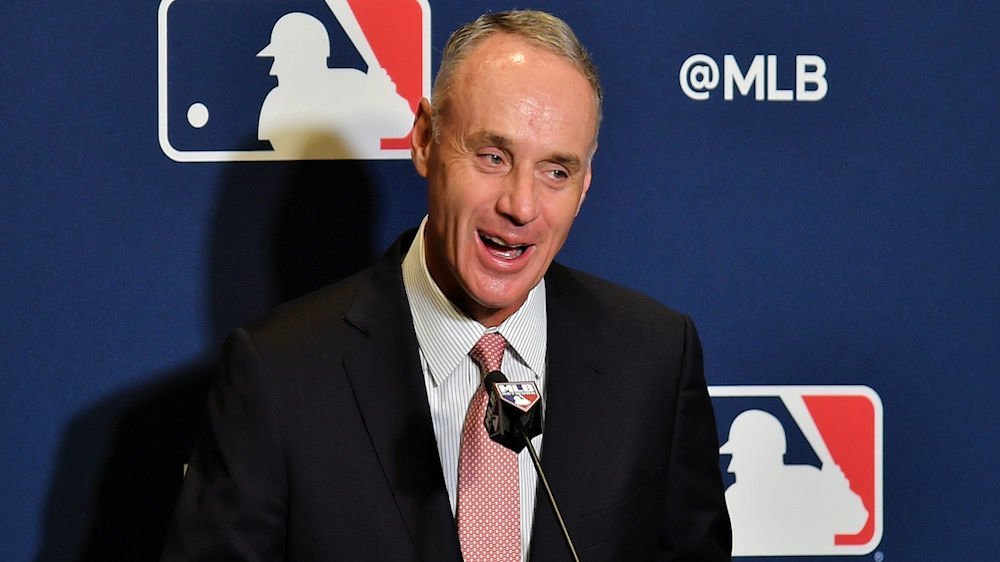 | | |
| --- | --- |
| MLBPA 'disgusted' about Rob Manfred's latest comments | |
---
| | | |
| --- | --- | --- |
| Monday, June 15, 2020, 7:12 PM | | |
Major League Baseball commissioner Rob Manfred had said on June 10 that he was '100 percent' confident that a 2020 baseball season would happen.
Now, he has changed his tune five days later during an ESPN interview with Mike Greenberg saying he is unsure baseball will happen this season.
MLBPA executive director Tony Clark had the following statement released on Monday night on behalf of the players.
"Players are disgusted that after Rob Manfred unequivocally told Players and fans that there would 100% be a 2020 season, he has decided to go back and his word and is now threatening to cancel the entire season," the statement read. "Any implication that the Players Association has somehow delayed progress on health and safety protocols is completely false, as Rob has recently acknowledged the parties are 'very very close.' This latest threat is just one more indication that Major League Baseball has been negotiating in bad faith since the beginning. This has always been about extracting additional pay cuts from Players, and this is just another day and another bad faith tactic in their ongoing campaign."
The owners and the players need to work this out as baseball needs to be played as its popularity is undoubtedly on the decline and will continue to dip if they don't have a season this year.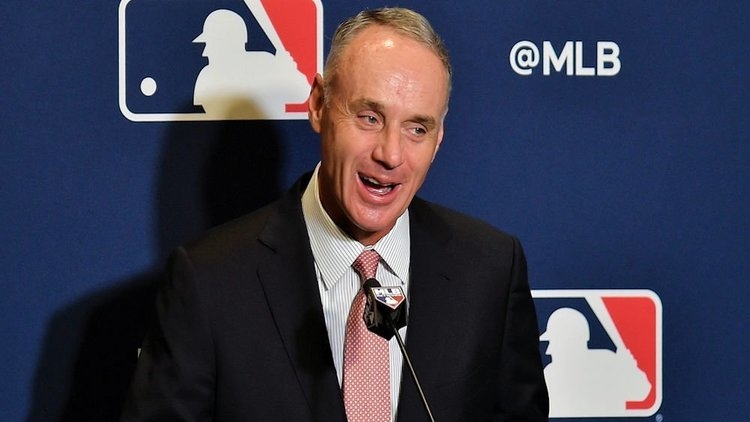 Can we bring Bud Selig back?

— Steven Souza Jr. (@SouzaJr) June 15, 2020
Dear Adam Silver,

... you up?

- MLB Players

— Jason Kipnis (@TheJK_Kid) June 15, 2020
Baseball is counting on America caring if it goes away. Not so sure this time, under these circumstances. Foolish, greedy owners. Myopic players. Bigger onus on owners but both sides seem a tad bit out of touch with fans who just want to debate analytics again and enjoy sport.

— David Haugh (@DavidHaugh) June 15, 2020
??????

— Adbert Alzolay (@adbert29) June 15, 2020
This is what happens when you allow people to be placed in powerful positions that don't love the game of baseball. This is a slap in the face to the people that have dedicated their lives to make baseball special. Never been so disappointed in @MLB.

— Kevin Youkilis (@GreekGodOfHops) June 15, 2020
If you're a baseball fan and really want to know what's going on. Look no further ???? https://t.co/2EvsVs0aPP

— Christian Yelich (@ChristianYelich) June 15, 2020
Just sick of this shit where anyone pretends owners care about anything more than $$. Sure, some like baseball, maybe even love it. Some also like seeing their teams win. They'll pay for that... to a point. Eventually, it always comes down to $$ and how much they have. That's it

— Sahadev Sharma (@sahadevsharma) June 15, 2020
Manfred is said to remain "100 committed" to trying to play a season but is also saying he needs to open dialogue with the union. That they need to get in a room and negotiate, and that many issues are yet to be resolved. https://t.co/IIWzkQJ12P

— Jon Heyman (@JonHeyman) June 15, 2020
"Here's what we need to do as interest in our sport reaches historic lows: we need to generate MORE hostility and show FEWER games. Let's just take the sport off the air entirely for 18 months while all the other sports play. That'll do it! Rrrrrrrready BREAK!" https://t.co/yB5iAAHzvc

— Bleacher Nation (@BleacherNation) June 15, 2020