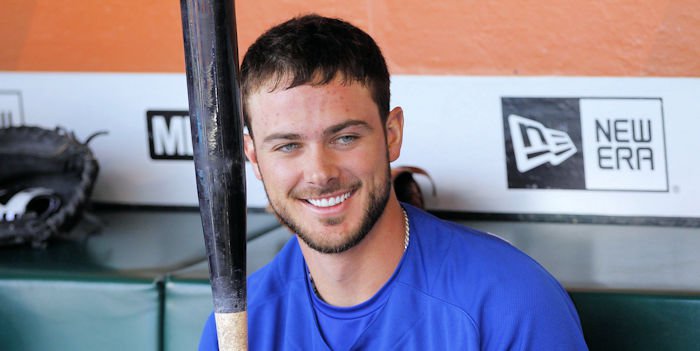 | | |
| --- | --- |
| Cubs News: Molina calls Kris Bryant 'stupid and loser' for comments about St. Louis | |
---
| | | |
| --- | --- | --- |
| Saturday, January 19, 2019, 3:26 PM | | |
The National League Central looks to be intense in 2019.
Former Cubs pitcher Ryan Dempster hosted his self-titled 'Friday Night with Ryan Dempster' show during the first night and had Kris Bryant discussing his down time this offseason.
Bryant talked about hanging out with Bryce Harper alongside their wives and meeting the rapper Nelly during a concert in St. Louis.
"He's (Nelly) a big Cardinals fan. BOOOOO. He was trying to work his magic on Bryce," Bryant said in the interview. "Who would want to play in St. Louis? It is so boring. So boring. I always get asked where you like to play and where you don't like to play. St. Louis is on the place I don't like to play."
Cubs veteran catcher Yadier Molina heard about Bryant's 'boring' St. Louis comments and had the following reaction on his Instagram account.
"All Stars, elite players and leaders of their teams do not speak bad about any city. There should be respect and you should play and compete with respect...only stupid players and losers make comments like the one made by Bryant and Dempster..
#ceroRespectforthisstupidplayers
#QuevivaStlouis #LOVESTL
It appears that the Cubs-Cardinals rivalry is already heating up and we still have a few months until they meet up.
Molina might still be mentally upset after Bryant's foul tip into his groin last season:
A few Cardinals' players are commenting about the situation:
And here comes Ozuna, Jose Martinez, and Alex Reyes. #STLCards #Cubs#ItsASlobberKnockerKing pic.twitter.com/FFIAp9q7Is

— Tim McKernan (@tmckernan) January 19, 2019
BREAKING: Cardinals fans not upset at all that Bryant said St. Louis was boring, and there's many reason why he said this. pic.twitter.com/PKJyIQqcgv

— Baseball's Best Fans (@BestFansStLouis) January 19, 2019
I really can't imagine why current Cubs would think that playing for the Cardinals isn't fun. Not a single reason. pic.twitter.com/hBDYba9Jq4

— Desipio.com (@desipiodotcom) January 19, 2019