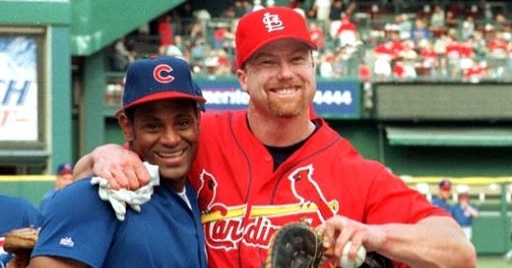 | | |
| --- | --- |
| Ozzie Guillen blasts Cubs for treatment of Sammy Sosa | |
---
Former Cubs slugger Sammy Sosa is still not reunited publicly with the Chicago Cubs.
There was a new Cubs Hall-of-Fame ceremony recently but no mention of the all-time slugger.
NBC Sports analyst Ozzie Guillen had to comment about the unusual situation regarding Sosa and the Cubs.
"It's not my business. I'm not part of the team," Guillen said on NBC Sports Chicago's "White Sox Postgame Live" Sunday. "They treat Sammy Sosa like he was convicted of something (felon)."
Guillen knows that at one point, Sosa was one of the biggest stars in any sport.
"The reason the Cubs were back on the map was because of Sammy Sosa. The reason people knew the Cubs during that time was Sammy Sosa," Guillen said.
Guillen was Sosa's teammate with the White Sox from 1989-91.
During Sosa's career, he batted .273 with 609 homers and 1667 RBIs. However, his career has been linked with performance-enhancing drugs since his retirement.
Hopefully, the Cubs and Sosa can figure out a way to reunite one day because he still means a lot for many people in Chicago.
Ozzie Guillen and Chuck Garfien on the Cubs' handling of Sammy Sosa:

"They treat Sammy Sosa like he was a convicted felon." pic.twitter.com/G85Y6T9kk2

— Cubs Talk (@NBCSCubs) August 29, 2021