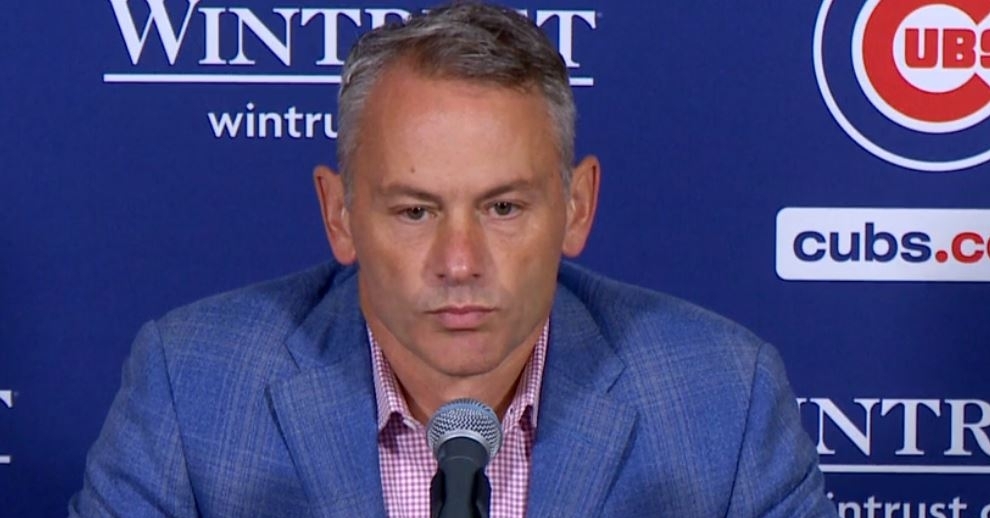 | | |
| --- | --- |
| Cubs News: Quick notes on Jed Hoyer's end-of-season press conference | |
---
At the end of each season, each team's front office meets the media for a breakdown of the previous season. In previous seasons, it was this press conference that saw Theo Epstein say "Out offense broke" or this will be the "season of reckoning." Now, it's Jed Hoyer's first turn to handle the end-of-season press conference, and here is what the Cubs President of Baseball Operations had to say:
On the Cubs offseason plans:
"We are certainly going to be active."
"We have financial flexibility. We have money to spend this winter."
"We need to dramatically improve our pitching. I don't think there's any question about that. ... That simply was the downfall of this season."
"We weren't effective enough in terms of run prevention."
On the firing of hitting coach Anthony Iapoce:
"Both sides realized it was the right time to make that break. Nothing but positive things to say about a great baseball man."
Hoyer also mentioned that Mike Borzello will be "moving on."
Next season:
"We have to be better. We've raised those expectations."
"[Frank Schwindel will be a] big part of our team next year."
"I think Frank is going to be a big part of our team next year."

Watch: https://t.co/H3zb8lL7lW pic.twitter.com/IA0l5z4s8e

— Marquee Sports Network (@WatchMarquee) October 6, 2021
"Adbert [Alzolay], [Justin] Steele, Keegan [Thompson], those guys are going to be a significant part of what we're doing moving forward."
* This all comes after the Cubs' first losing season since 2014, so it obviously is much different than what we have seen from the past. However, the Cubs enter the offseason with more financial flexibility than they have had since before the 2016 season, and a few glaring holes that need to be fixed — with pitching at the forefront of that.
* Hoyer expressed pleasure with the way Patrick Wisdom, Frank Schwindel, Adbert Alzolay, Justin Steele and Keegan Thompson played down the stretch, but understands the Cubs need to massively improve their pitching to be successful.
* Hoyer also made it known that while the Cubs are looking to extend David Ross, hitting coach Anthony Iapoce and pitching infrastructure coach Mike Borzello will not be returning to the club in 2021.
* Hoyer expressed the need of starting pitching and a general manager and mentioned the Cubs will be "opportunistic" in spending. Hoyer gave away nothing in terms of which free agent or in which tier the Cubs will be shopping this offseason though.
Jed Hoyer: "we need to dramatically improve our pitching." #Cubs

(??: @Cubs) pic.twitter.com/CRCjaNMhF2

— Cubs Zone ™? (@CubsZone) October 6, 2021
* The Cubs president of baseball ops also expressed optimism with Brennen Davis and some other Cubs top prospects. It is clear the sights are set on the future, building the next great Cubs team. Now it's time to see if this offseason can be a part of that.