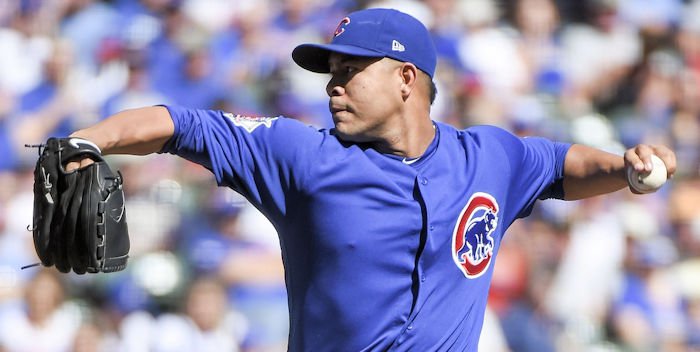 | | |
| --- | --- |
| Epstein on trading for Quintana: "It was well worth it" | |
---
| | | |
| --- | --- | --- |
| Thursday, November 16, 2017, 10:33 AM | | |
One of the biggest blockbuster trades of 2017 was the crosstown swap of Jose Quintana to the North Side shipping out four minor league prospects to the White Sox with slugging outfielder Eloy Jimenez, pitcher Dylan Cease, first baseman Matt Rose, and infielder Bryant Flete.
The shocking trade on July 13 helped the Cubs get back on track to make the postseason this past season and Quintana will stabilize the starting rotation for the next three years at a team-friendly price (roughly $10 mil per season).
However, Theo Epstein gave up one the most exciting young sluggers in Eloy Jimenez. So was the deal really worth it?
"It was well worth it," Epstein said to the media on Wednesday at the annual winter meetings. "Without Jose Quintana, I don't think we make the playoffs, honestly, (after) seeing what happened to our starting rotation. Jonny Lester went down. Jake Arrieta went down. 'Q' was a consistent performer for us in the second half. He pitched really well in two of the three playoff games.
"The bottom line: I don't think we make the playoffs without him. And the biggest factor in that deal was not even 2017. It was 2018, '19 and '20 and solidifying a pitching staff and putting us in a position to be able to make a couple more moves and have a really outstanding starting rotation."
In 2017, Quintana had an 11-11 record with 4.15 ERA with 207 strikeouts and 1.22 WHIP. For this career, he had a 57-57 record with a 3.53 ERA.
"Pitching is expensive especially Top 20-level pitching is expensive," Hoyer said during the winter meetings. "The free-agent market is expensive in dollars and the trade market is expensive in cost. That's just the nature of it."