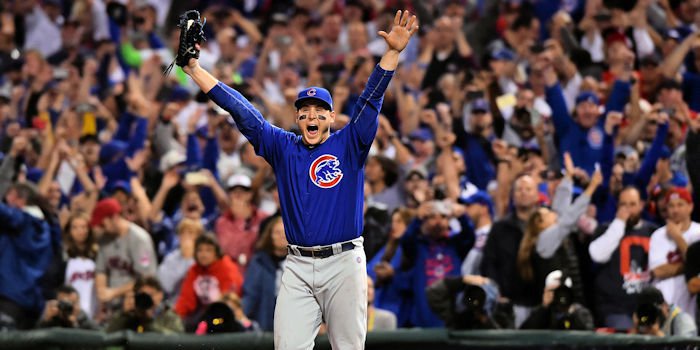 | | |
| --- | --- |
| Cubs News: Rizzo: "I want to be a Cub for my whole career" | |
---
| | | |
| --- | --- | --- |
| Monday, March 11, 2019, 6:15 PM | | |
Veteran first baseman Anthony Rizzo is the unofficial captain of the Chicago Cubs.
He is a fan favorite and hugely respected by all his teammates over the years and with everyone associated with major league baseball. The dude has won Man of the Year awards with his pediatric cancer research and charity work with his Anthony Rizzo Family Foundation.
Rizzo signed a seven-year, $41 million extension with the Cubs which keeps him on the North Side until at least through 2021 (team options for $14.5 million for each of the next two seasons). It was a great deal for the Cubs as it was one helluva steal to get someone of his caliber in his prime at a discounted price.
He is a three-time All-Star and one of the reasons that the Cubs have a World Series title after that 108-year drought.
"When I signed the deal, I knew if I panned out to be who I thought I would be, I would be underpaid," Rizzo said via the Chicago Tribune. "I think in a couple of years it will probably even out if I continue to play the way I know I can play. I am set for life. I have a lot of money. Financially, I am OK. Everything else will be gravy on top of it."
Rizzo wants to stay in Chicago if possible, but he understands that baseball is a business first and foremost.
"I love this city and everything we have done here," Rizzo said. "The fans, the people, the hospitality we get in Chicago, I feel like Chicago is home for me. Two more years after this year is the contract. Right now, I can never visualize playing for another team. Still, you can't be that naive as to how businesses are run."
The 29-year old veteran hopes to sign an extension with the Cubs or eventually sign with them when his contract is up in three seasons.
"There has been a little bit," Rizzo said of contract talks with Cubs. "There is nothing to where we are going to put pen to paper yet. Obviously, it is no secret I want to be a Cub for my whole career. It would be very special to do that. This, however, is 2019 and we all are focusing in on this season. That is the big picture."
As one of my favorite players to watch on the Cubs, I hope that Rizzo gets to retire as a Cub too. Nobody wants to see him finish up his career in a Blue Jay uniform or something.
Rizzo hit .283 with 25 homers, 101 RBIs, and had a .376 on-base percentage in 2018.
For his career, he is hitting .270 with 191 homers and 635 RBIs.