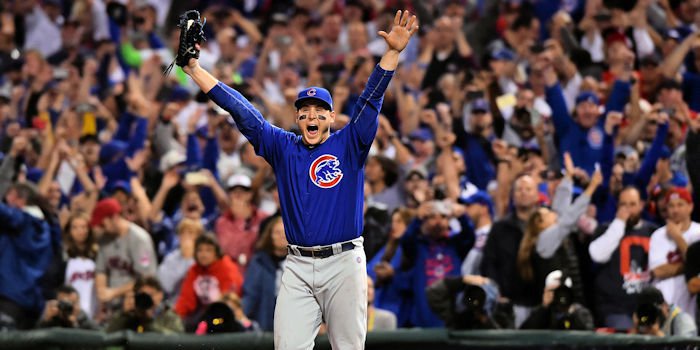 | | |
| --- | --- |
| Twitter reacts to Anthony Rizzo being traded to Yankees | |
---
| | | |
| --- | --- | --- |
| Thursday, July 29, 2021, 7:33 PM | | |
Cubs standout first baseman Anthony Rizzo was traded to the New York Yankees for prospects Kevin Alcantara and Alexander Vizcaino on Thursday night.
The Cubs will reportedly be on the books for the remainder of Rizzo's salary, which is nearly $6 million.
Cubs fans were in shock with the news that their captain had been traded away as social media was abuzz with different takes, mostly sadness.
Check out some of the emotional reaction on Twitter below:
Anthony Rizzo that's the tweet.. pic.twitter.com/YuKR5GQdsT

— Adbert Alzolay (@adbert29) July 30, 2021
If you're a fan of Anthony Rizzo, aren't you happy for him? The guy gets drafted by Red Sox, wins World Series with Cubs and now gets to chase playoff spot with Yankees. Iconic franchises. Best of luck to 44 -- who can't wear that # in NY because it's retired for Reggie Jackson. https://t.co/vzIWo4GLqT

— David Haugh (@DavidHaugh) July 29, 2021
Wilson Contreras' Instagram post to Anthony Rizzo:

"What you did for the Cubs and the city of Chicago it will never be FORGOTTEN, you made history @ARizzo44 Good Luck ??" pic.twitter.com/mkezudB5wq

— Cubs Zone ™? (@CubsZone) July 29, 2021
Anthony Rizzo and Joey Gallo at their first team lunch with the Yankees in Miami tomorrow pic.twitter.com/gqPvuHPz10

— Dan Federico (@DanJFederico) July 29, 2021
"You're one of the best to ever do it."

Jason Heyward's Instagram post on Anthony Rizzo being traded pic.twitter.com/ULkrrKIK8a

— Daniel Greenberg (@ChiSportUpdates) July 29, 2021
The New York Yankees are finalizing a deal to acquire first baseman Anthony Rizzo from the Chicago Cubs, per @JeffPassan pic.twitter.com/8scTB21tvo

— Sports Illustrated (@SInow) July 29, 2021
The Chicago Cubs messed up today by not letting Kris Bryant and Anthony Rizzo pinch hit.

They deserved a standing ovation.

— Daniel Greenberg (@ChiSportUpdates) July 29, 2021
Thanks for the memories, @ARizzo44.@Cubs #GoCubsGo pic.twitter.com/11nQw6UAPo

— Billy Krumb (@ClubhouseCancer) July 29, 2021
Breaking: The Yankees are finalizing a deal to acquire first baseman Anthony Rizzo from the Chicago Cubs, sources confirmed to @JeffPassan, first reported by YES Network. pic.twitter.com/ztQ033QynN

— SportsCenter (@SportsCenter) July 29, 2021
I thought I would never have to say goodbye because you would be a Chicago Cub forever. Anthony, thank you so much for everything. You're a hero & have been my favorite player since the moment you got here. I love you & appreciate you so much. ?? pic.twitter.com/v4sjLODvik

— T (@TiannaFarias) July 29, 2021
The one thing consistently heard the past few weeks (and as recently as last night) is once the Cubs actually start dealing the big names, the Padres will be on that.
So now that Anthony Rizzo has left a hole at first base in Chicago...

— Kevin Acee (@sdutKevinAcee) July 29, 2021
The heart of our Chicago Cubs is gone. This hurts. No more lovable, we are just losers.

— Jessica (@Slinkyka) July 29, 2021
In Anthony Rizzo's 10 year tenure with the Cubs:

• 1,308 games
• .272/.372/.489
• 243 HR
• 3x All-Star
• 4x Gold Glove
• Caught the final out to clinch the pennant and win the World Series
• World Series Champion

Thank you, #44. Anthony Rizzo is a Chicago legend. pic.twitter.com/a7dAh79bvl

— Cubs Live (@Cubs_Live) July 29, 2021
Wow. Anthony Rizzo to the Yankees. Unreal. As a life long Cubs fan, this is brutal. Thank you for all your years in Chicago, @ARizzo44.

— Tabor Hill (@TaborTimeYT) July 29, 2021
Not suppose to have favorite players while working in the media …. I'm hear to say that new @Yankees 1B @ARizzo44 is my fav MLB player … overcame cancer, demotion to minors, a couple of trades … HE WAS THE BLOOD & GUTS of the 2016 WS Champion @Cubs . pic.twitter.com/yKsH3TEulD

— Dan Plesac (@Plesac19) July 29, 2021
.@ARizzo44 has been the solid oak tree in the heart of the @Cubs lineup for a decade. A great player; a quiet, classy leader; his acquisition in 2011 put the club on the road to a championship. And he was a great and generous citizen of Chicago.
Thanks, Anthony! pic.twitter.com/ZBjr6NjPgU

— David Axelrod (@davidaxelrod) July 29, 2021
The #Cubs break off the 1st big piece of the championship core. Anthony Rizzo to the Yankees. He'll always be a ?? in Chicago. #NobodyBeatsTheRizz https://t.co/MvAK2ycUnq

— Ryan Baker (@RyanBakerMedia) July 29, 2021
A Chicago Cub forever.

A hero in Chicago forever.

In our hearts forever.

Thank you, @ARizzo44. pic.twitter.com/x3JBxQUxBq

— Cubs Insider (@realcubsinsider) July 29, 2021
The last 10 years were the best in modern @Cubs history of which Anthony Rizzo was a huge part. pic.twitter.com/b9rd3aO8nF

— Billy Krumb (@ClubhouseCancer) July 29, 2021
From the day of Anthony Rizzo's #Cubs call-up in 2012. pic.twitter.com/9kBTZ1dIGL

— Bruce Miles (@BruceMiles2112) July 29, 2021
It was a 'crime against fans' for David Ross and the #Cubs not to get Kris Bryant, Anthony Rizzo one last ovation at Wrigley Field, @MattSpiegel670 says. https://t.co/38L90b0nTQ pic.twitter.com/Aj3LdD9jgA

— 670 The Score (@670TheScore) July 29, 2021
Anthony Rizzo's best hitting breakdown, uttered often over the years: "See the ball, hit the ball."

— Jesse Rogers (@JesseRogersESPN) July 29, 2021
It is absolute malpractice that the Chicago Cubs did not give Anthony Rizzo one final at-bat today at Wrigley Field knowing he would be traded after the game.

Such a heartless move from the @Cubs. He deserved one final at-bat in front of the fans after all he's done for Chicago.

— Josh Jordan (@NumbersMuncher) July 29, 2021
Never Forget:

Anthony Rizzo taking Clayton Kershaw deep in Game 6 of the NLCS. pic.twitter.com/cHsPu6stc4

— Chief Cub (@ChiefCub) July 29, 2021
Anthony Rizzo and Kevin at Wrigley Field. pic.twitter.com/19Nwf4kjbK

— Andy Martínez (@amartinez_11) July 29, 2021
Anthony Rizzo's walk up song should be retired at Wrigley Field. What a vibe. pic.twitter.com/BLEHQp84NY

— Cubs Live (@Cubs_Live) July 29, 2021
Thank you, Anthony Rizzo. ??https://t.co/ccJXWuo5ng pic.twitter.com/17eORRmllg

— Cubs Zone ™? (@CubsZone) July 30, 2021