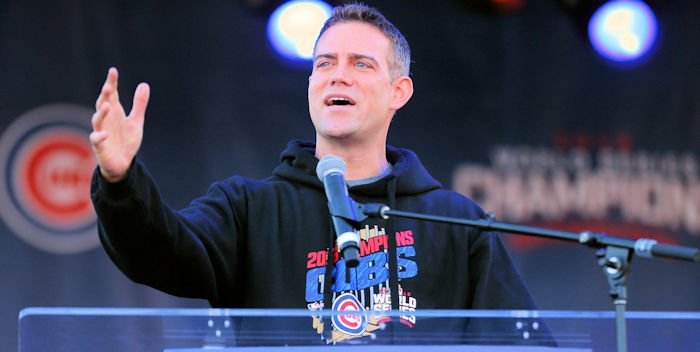 | | |
| --- | --- |
| Twitter reacts to Theo Epstein resigning as Cubs President | |
---
| | | |
| --- | --- | --- |
| Tuesday, November 17, 2020, 12:36 PM | | |
Tough news for Cubs fans today.
The Chicago Cubs announced that President of Operations Theo Epstein has resigned from the ballclub after a nine-year run.
Epstein's achievements the last nine years include the first World Series win in 108 years for the Cubs, 705 regular-season wins, five playoff appearances, and three NLCS.
Obviously, Cubs fans, media, and others took to social media to react to the breaking news with Epstein.
Check it out below:
Theo Epstein has resigned as President of Baseball Operations after nine seasons, the Cubs announced.

Jed Hoyer will be named the new President of Baseball Operations. pic.twitter.com/LHa8g3khju

— SportsCenter (@SportsCenter) November 17, 2020
THANK YOU, THEO EPSTEIN!

Theo has stepped down and resigns as President of Baseball Operations of the Cubs.

• 9 years
• 705 regular season wins
• 5 playoff appearances
• 3 NLCS
• First World Series in 108 years
• Changed the Cubs culture

Theo forever. pic.twitter.com/sUGgVrq3sM

— Cubs Live (@Cubs_Live) November 17, 2020
From Theo Epstein's first press conference with the Chicago Cubs, he emphasized creating a foundation for sustained success.

9 years later, he can go out by saying he created a winning culture and created THEE Cubs roster that broke a 108 year curse. pic.twitter.com/XtcvYj8MFh

— Cubs Live (@Cubs_Live) November 17, 2020
Extension for Hoyer part of promotion from GM to team president.

— Gordon Wittenmyer (@GDubCub) November 17, 2020
Theo Epstein is stepping down from his role as president of baseball operations for the Chicago Cubs

Jed Hoyer will take over the role pic.twitter.com/A2xPwnaprk

— Bleacher Report (@BleacherReport) November 17, 2020
Source: Theo Epstein intends to take the upcoming season off. He's not resigning in order to pursue a position with the Mets or Phillies. @MLBNetwork @MLB

— Jon Morosi (@jonmorosi) November 17, 2020
Since @Ken_Rosenthal just did several days of digging on how interested Theo and others are in the Mets/Phillies jobs, we got strong indications that Theo isn't interested in doing the same job a 3rd time:

"The more likely path for Epstein might be to form an ownership group."

— Jayson Stark (@jaysonst) November 17, 2020
Theo Epstein often has cited the Bill Walsh maxim that coaches/managers/top executives should seek change after 10 years in the same job.

This would have been Year 10 for him with the @Cubs. @MLBNetwork @MLB

— Jon Morosi (@jonmorosi) November 17, 2020
When found out Theo Epstein was leaving the #Cubs... I was totally fine. pic.twitter.com/VUY4lkWvXP

— Michael Cerami (@Michael_Cerami) November 17, 2020
Theo Epstein's statement reads in part: "The organization faces a number of decisions this winter that carry long-term consequences; those types of decisions are best made by someone who will be here for a long period rather than just one more year. Jed has earned this."

— Patrick Mooney (@PJ_Mooney) November 17, 2020
I'm not surprised Theo Epstein is leaving the Cubs rather than spending next season as a lame duck. I will be surprised if he stays in baseball, as there's nothing left for him to accomplish after ending the Cubs and Red Sox droughts. He's going to get some interesting calls.

— Phil Rogers (@philgrogers) November 17, 2020
Theo Epstein is already a first-ballot Baseball Hall of Famer. He built two long-suffering franchises into World Series champions. And he's just 46 years old.

Epstein's next profession likely won't be in baseball. He has passions outside of the game, including in politics.

— Chris Emma (@CEmma670) November 17, 2020
I've had my differences with some of his choices over the years, especially in the last three years, but the Cubs absolutely would not have won a World Championship — creating one of the most singular moments of joy in my life — without Theo Epstein. I'm grateful for that.

— Rian Watt (@rianwatt) November 17, 2020
It makes sense for the Cubs to move past Theo Epstein at this point. He wasn't going to stay beyond the end of his contract, and with the team facing a major crossroad, the power should be in the hands of the next Baseball Ops leader, Jed Hoyer.

— Buster Olney (@Buster_ESPN) November 17, 2020
Theo Epstein resigning from the Cubs to then join an ownership group where he buys the A's and makes Kevin Youkilis a member of his front office (and official ballpark beer supplier) would be an interesting "Moneyball the Sequel" storyline. pic.twitter.com/NAv9Ne5ZPL

— Melissa Lockard (@melissalockard) November 17, 2020
THEO EPSTEIN DESERVES A STATUE.

— Michael Bolling (@mikealexbolling) November 17, 2020
Would not surprise me to see Theo Epstein join the political world. Specifically the President-Elect. File it away.

— Craig Mish (@CraigMish) November 17, 2020
.@Cubs announce that Theo Epstein will step down as President of Baseball Operations. pic.twitter.com/9HkoDms7PI

— MLB (@MLB) November 17, 2020
In a letter sent today to friends, Theo Epstein outlined his reasons for leaving the Cubs. As far as him going to the Mets or Phillies, though -- well, this is from the letter: "Next summer will be my first in 30 years not clocking into work every day at a major league ballpark."

— Jeff Passan (@JeffPassan) November 17, 2020
Theo Epstein deserves a statue outside of Wrigley for how he transformed the Cubs. He brought a World Series title to the North Side for the first time in 108 years! On top of what he did in Boston. Theo = Goat. Thanks from a very grateful Chicagoan and Cubs fan. pic.twitter.com/DFkpBq44Y3

— Joe Kilgallon (@joekilgallon) November 17, 2020
Theo Epstein plans to take a year off and then could emerge with an ownership group or even a potential expansion franchise like Nashville if he stays in baseball

— Bob Nightengale (@BNightengale) November 17, 2020
Rockies fans: Theo Epstein is available!

Rockies Front Office: Nah. pic.twitter.com/4SoJUuzgeU

— Purple Row (@PurpleRow) November 17, 2020
All Theo Epstein has done, in the same career, is end a combined 194 years of World Series waiting in Boston and Chicago. It makes him one of the great baseball executives of all time, and the greatest of this time.

— Mike Lupica (@MikeLupica) November 17, 2020
In 2016, Theo Epstein helped lead the @Cubs to their first #WorldSeries title since 1908.

Legend forever.pic.twitter.com/xJ0nVJoyDI

— MLB Vault (@MLBVault) November 17, 2020
You earned it, Theo. #JedsInCharge@Cubs #GoCubsGo #TheoEpstein pic.twitter.com/UQ7tvlTobL

— Billy Krumb (@ClubhouseCancer) November 17, 2020
It was a life-changing nine years for a lot of us. Thank you, Theo. pic.twitter.com/W29eTovu9H

— Bleacher Nation (@BleacherNation) November 17, 2020
Thank you to Theo Epstein. I don't know the man. Never met the man. I'm a baseball fan. What Theo and his staff did with the Cubs was simply remarkable. He is a lock for the Hall of Fame and one day will be Commissioner of MLB. Book it.

— chuck swirsky (@ctsbulls) November 17, 2020
I don't keep track of who the Veterans Committee votes for each year, but whenever they're considering execs next, Theo Epstein should be on the ballot and a unanimous selection.

— Joe Sheehan (@joe_sheehan) November 17, 2020
One of my favorite Theo Epstein moments came right after the Cubs broke the 108 year curse and won the World Series. Theo Epstein drops the F Bomb on live TV. ?? pic.twitter.com/LQX0GG0abu

— Cubs Live (@Cubs_Live) November 17, 2020
I dreamed my whole life of a run like the Cubs have had the last several years. To see the Cubs make the playoffs year after year, have players win top accolades, and ultimately to see the Cubs win the World Series.

Theo Epstein made that all a reality. Thank you forever, Theo. pic.twitter.com/coihmgIP5Z

— Corey Freedman (@CFCubsRelated) November 17, 2020
According to league sources the Phildelphia Phillies will come after Theo Epstein aggressively regardless of his desire to take a year off.

— Bruce Levine (@MLBBruceLevine) November 17, 2020