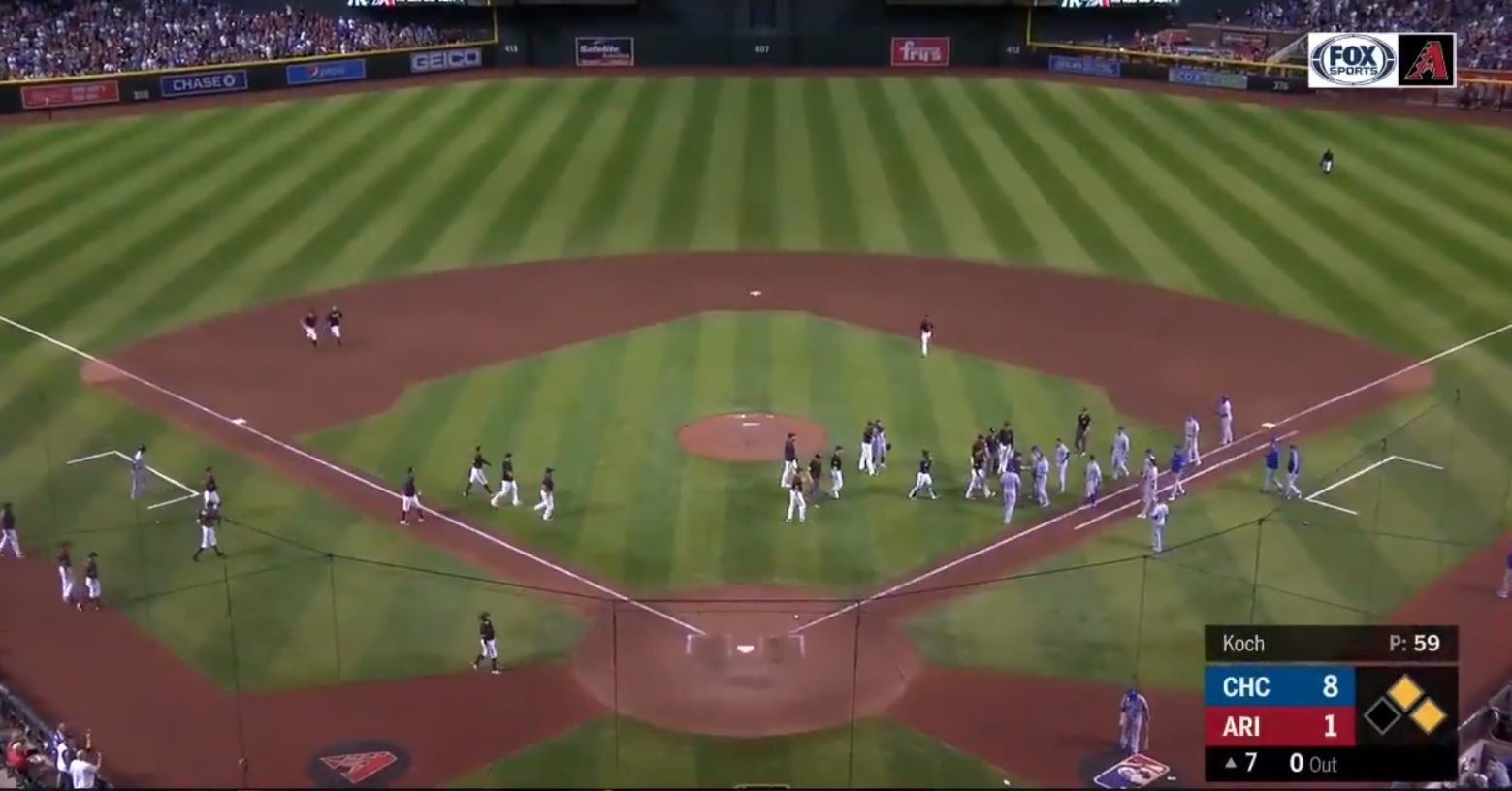 | | |
| --- | --- |
| WATCH: Benches clear after Bote gets hit by pitch | |
---
Chicago Cubs third baseman David Bote did not shy away from tossing his bat and celebrating at the plate with his teammates after either of his two home runs against the Arizona Diamondbacks on Saturday. Perhaps, D-backs pitching took umbrage at Bote doing so, which led to Bote being hit by a pitch in the seventh inning. At least, Bote initially thought that to be the case.
Arizona reliever Matt Koch beaned Bote on the second pitch of his at-bat in the top of the seventh, and Bote shouted some choice words at a confused Koch before taking first base. Koch seemed innocent of intentionally hitting Bote, and, for what it is worth, the pitch that resulted in the HBP was only far enough inside to hit Bote's outstretched elbow. Therefore, there was likely no intent behind it, and, once he cooled off, Bote essentially apologized to D-backs catcher John Ryan Murphy for his outburst while trotting down the first-base line.
Regardless, both benches cleared, and both dugouts emptied, which is customary in a situation like that. No confrontations came from the mild fracas, as the players likely took to the field merely to prevent a scuffle from breaking out between Bote and the D-backs' battery.
VIDEO: After hitting 2 HR's tonight, @Cubs 3B @DavidBote13 gets drilled by @Dbacks P @mattykoch20 and the benches clear. #GoCubsGo pic.twitter.com/SU5qwfk8WW

— Billy Krumb (@ClubhouseCancer) April 28, 2019
Also of note, Cubs starting pitcher Yu Darvish unintentionally hit Arizona's Adam Jones with a pitch earlier in the contest and threw several other near-misses that D-back hitters were forced to dodge in the batter's box. While that could have provided additional incentive for Arizona to opt to drill the hot-hitting Bote, the chance of there being any intent behind it is slim to none.