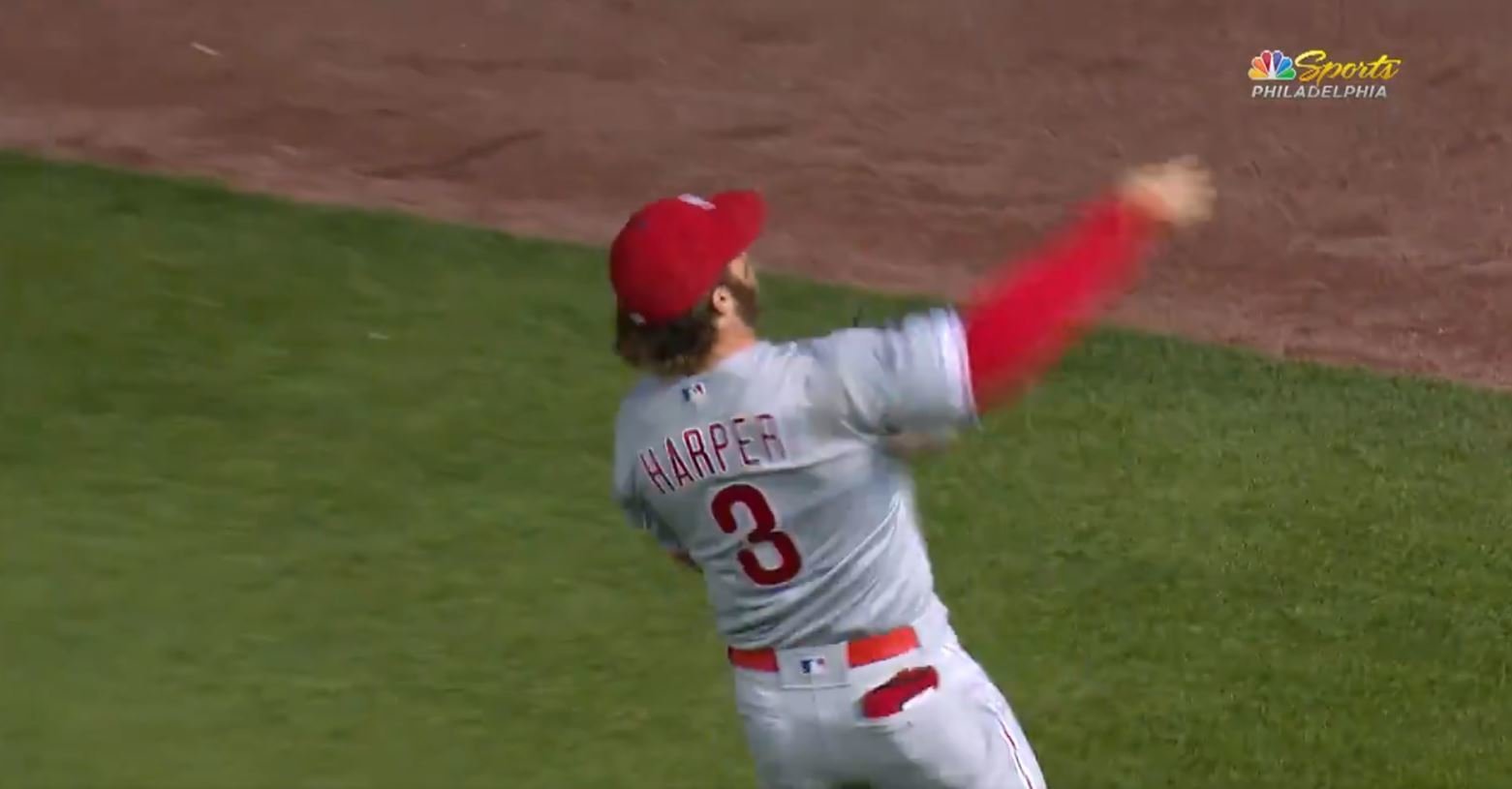 | | |
| --- | --- |
| WATCH: Bryce Harper trolls Cubs fans by throwing ball over their heads | |
---
| | | |
| --- | --- | --- |
| Wednesday, May 22, 2019, 2:03 AM | | |
Through the first two games of the current 4-game set between the Chicago Cubs and the Philadelphia Phillies, superstar Phillies right fielder Bryce Harper has faced his fair share of booing, heckling and jeering from the Bleacher Bums at Wrigley Field. The series marks the first meeting between the Cubs and the Phillies this season, and, after a drawn-out free-agency process that culminated in Harper spurning the Cubs to sign with the Phillies a few months ago, it was expected that Harper would not receive much hospitality at the Friendly Confines.
With a comical turning of the tables, Harper opted to show up the Cubs fans in the right-field bleachers who had assuredly dished out a heavy dosage of trash talk throughout Tuesday's contest by throwing a caught fly ball over their heads at the conclusion of the sixth inning. After catching a flyout for the third out of the bottom half of the sixth, Harper decided to feign a throw to the taunting Cubs supporters and instead heave the ball out of Wrigley Field altogether and onto the adjoining Wrigley Rooftops just behind the stands.
After making the final out in right field in the sixth inning, Bryce Harper trolls Cubs fans and LAUNCHED the ball out of Wrigley Field and on to the rooftop. ?? pic.twitter.com/31Yec16lGe

— NBC Sports Philadelphia (@NBCSPhilly) May 22, 2019
Although the spiteful act will likely serve to intensify the colorful language spewed at Harper by the bleacher creatures in games three and four, it would have been unjustifiable for Harper to reward an antagonist with a souvenir anyway. Besides, with Harper having gone 0-for-8 thus far in the series, those diehard Cubs zealots are primed to get the last laugh.