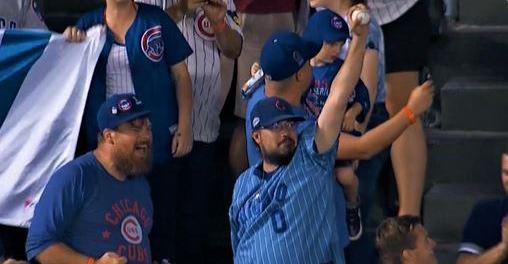 | | |
| --- | --- |
| WATCH: Cubs fan yanks Schwarber walk-off home run ball from two kids | |
---
| | | |
| --- | --- | --- |
| Wednesday, July 17, 2019, 9:20 AM | | |
The Chicago Cubs had a wonderful walk-off win against the Reds on Tuesday night, courtesy of Kyle Schwarber's blast in the 10th inning.
Schwarber hit his 21st homer of the season as the baseball was laying in the basket hanging over the outfield walls at Wrigley Field. Two young kids were reaching for the epic souvenir and an adult fan with a custom 'Mai Tai Guy' jersey sitting next to them stretched over and grabbed it away from them.
Obviously, the home run ball is fair game but the optics of an adult taking it away from two kids that were going for it looks horrible. Nobody knows for sure what they would do in that moment, but I would hope that I would take a deep breath and give it to one of the kids for a cherished keepsake for a lifetime.
I usually notice things like the Mai Tai Guy, but missed this one originally. Due to, you know, rare glee.

Anyway, here's a @Cubs fan who's really proud of stealing the Kyle Schwarber walkoff HR ball from a couple of kids. pic.twitter.com/A7AIMEFVOi

— Billy Krumb (@ClubhouseCancer) July 17, 2019
July 17, 2019
Hello @FBI please arrest this man for stealing the ball from 2 kids. pic.twitter.com/eLrwt2jN1Z

— Antonio Slader (@AntonioSlader) July 17, 2019
"Mai Tai Guy" is a dick... #Cubs @cubs pic.twitter.com/bQOvzlCr5D

— ????_???????? (@JS_IU94) July 17, 2019
I think it's safe to say that I speak for all @cubs fans here when I say that we renounce the rights to Mai Tai Guy. Bro straight up taking a ball from kids in the basket isn't cool.

— J Carl (@JCarl1994) July 17, 2019