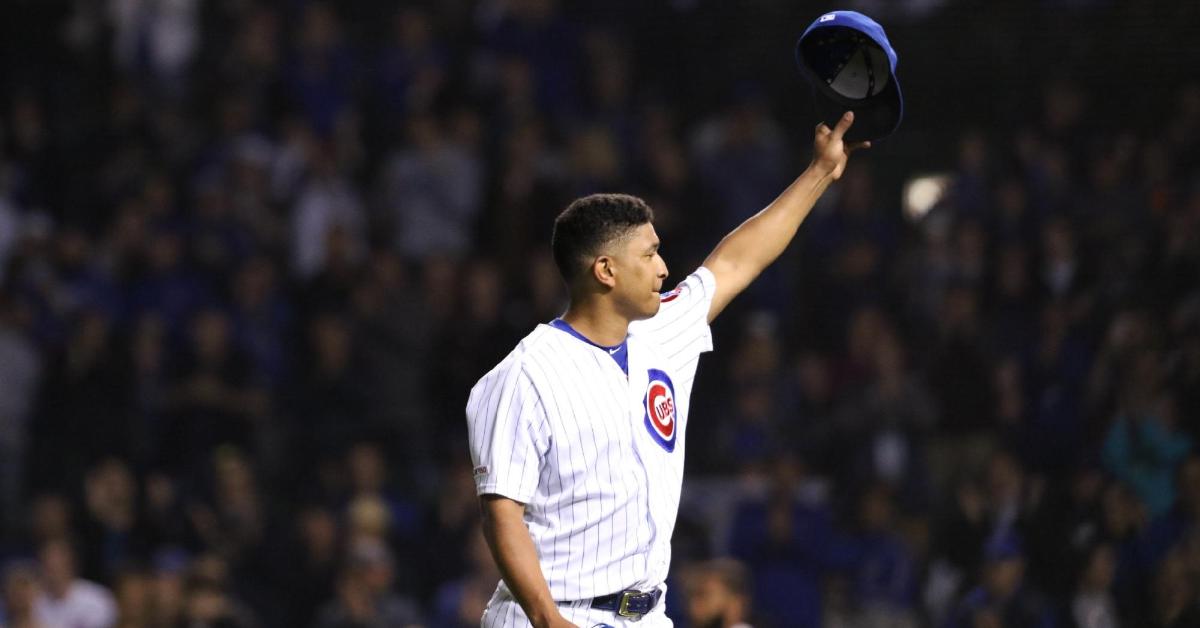 | | |
| --- | --- |
| WATCH: Cubs players troll Adbert Alzolay in handshake line | |
---
| | | |
| --- | --- | --- |
| Friday, June 21, 2019, 1:09 AM | | |
CHICAGO — For a big-league rookie, no matter how well he performs, hazing of some form or fashion is always a possibility. Chicago Cubs pitcher Adbert Alzolay learned that the hard way when he made his MLB debut on Thursday night, pitching four efficient innings out of the bullpen after being called up earlier in the day. Alzolay struck out five and earned the winning decision for his efforts but became the brunt of a joke once the game ended.
Alzolay, who was widely considered the top pitching prospect in the Cubs' farm system prior to being promoted, received a standing ovation from the Wrigley Field faithful upon exiting the game in the top of the ninth. Naturally, the right-hander tipped his cap to the supporters in a display of gratitude. Unfortunately for Alzolay, the hat tip presented his teammates with the opportunity to troll him.
Sweet moment at Wrigley. Cubs top prospect Adbert Alzolay gets a standing O after his MLB debut.

He came in for long relief and mowed down the Mets: 4.0 IP 1 H 1 ER 2 BBs 5 Ks.

Todd Frazier's 200th dong the only blemish. pic.twitter.com/bLoQM6DQdu

— tony pierce (@busblog) June 21, 2019
Poking fun at the fact that Alzolay tipped his cap after pitching four innings of relief, the Cubs opted to switch up the normal handshake-line routine that followed the 7-4 win over the New York Mets by trading in the high-fives for high-hats. By raising their hats and swatting them into other players' hats while going through the line, Cubs players mocked Alzolay's expressive hat tip, which saw Alzolay completely remove his cap and raise it high above his head instead of performing a simple tip.
This is great stuff. After @adbert29 doffs his cap to the #WrigleyField crowd when exiting the game in the 9th, his teammates salute him by raising their own caps after sealing the victory. #FlyTheW #GoCubsGo pic.twitter.com/GUUtAR20Eb

— Billy Krumb (@ClubhouseCancer) June 21, 2019
True to form, Cubs first baseman Anthony Rizzo seemed to lead the way in the trolling of Alzolay, and the team jokester continued to bust Alzolay's chops following the game. During his locker-room media session, Rizzo praised Alzolay for his solid outing but also curbed the hype by saying that Alzolay needs to get some more big-league experience under his belt before "we crown him the next Pedro Martinez." All in good fun, Rizzo provided Alzolay with the rookie treatment, even after the youngster pitched a gem. Some things will never change.
Anthony Rizzo, trying to temper expectations for Alzolay-mania in Chicago: "Let's pump the brakes a little bit. Let's let him settle into the big leagues and play baseball before we crown him the next Pedro Martinez, which I hope he is."

— Patrick Mooney (@PJ_Mooney) June 21, 2019