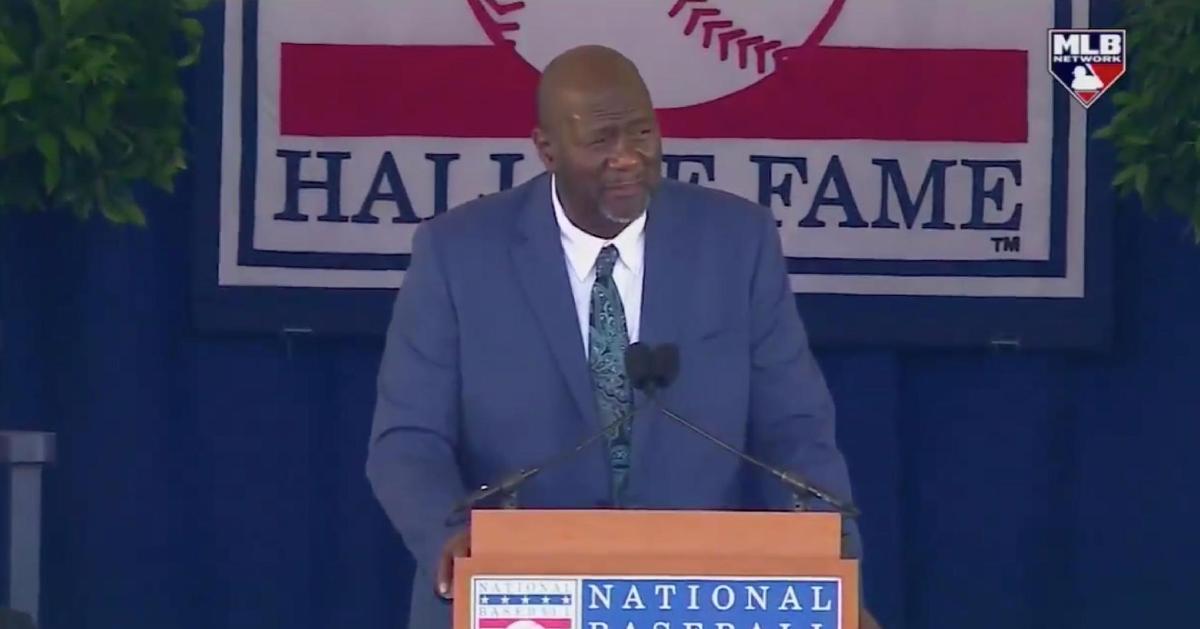 | | |
| --- | --- |
| WATCH: Lee Smith inducted into Baseball Hall of Fame after introduction from Rick Sutcliffe | |
---
| | | |
| --- | --- | --- |
| Sunday, July 21, 2019, 5:01 PM | | |
COOPERSTOWN, N.Y. — Lee Smith, the all-time leader in saves for the Chicago Cubs, was enshrined into the Baseball Hall of Fame in Cooperstown, N.Y., on Sunday afternoon. Smith is one of the greatest closers in the history of the game, and he pitched out of the Cubs' bullpen from 1980 to 1987, accruing 180 saves during that time. Smith pitched for seven other teams in his big-league career, which spanned from 1980 to 1997, and was a seven-time All-Star, four-time saves leader and three-time Rolaids Relief Man Award winner.
Becoming one of just eight full-time relievers to get inducted into the Hall of Fame, Smith was unanimously elected by the members of the Today's Game Committee last December. At the time of his retirement, Smith was MLB's all-time leader in saves, and his record of 478 saved games was not surpassed until Trevor Hoffman, a fellow Hall of Fame closer, surpassed it in 2006. Along with Smith, former New York Yankees closer Mariano Rivera, the current all-time saves leader, was also enshrined as part of the six-player 2019 Baseball Hall of Fame class.
Lee Smith's achievements, forever immortalized today. #HOF2019 pic.twitter.com/PSV5KU44Q1

— Chicago Cubs (@Cubs) July 21, 2019
Congratulations to one of baseball's greatest closers, Lee Smith! #HOF2019 pic.twitter.com/5AcWWcl1Vk

— Chicago Cubs (@Cubs) July 21, 2019
Although Smith remained the premiere closer in baseball for several years after he departed Chicago, he is best known for his Cubs tenure, which came at a time when shutdown closers were not nearly as common as they are today. Naturally, Smith chose to have his likeness on his Cooperstown plaque sport a Cubs hat. Prior to his induction speech, Smith was introduced by a video that was narrated by Cubs legend Rick Sutcliffe, who was a Cubs starting pitcher for part of Smith's stint with the North Siders. The clip, as well as Smith's speech, were shown on the video board at Wrigley Field during Sunday's Cubs game.
Welcome to baseball immortality, Lee Smith. @Cubs #HOFWKND pic.twitter.com/9dsHbZFR7T

— Baseball Hall ? (@baseballhall) July 21, 2019
Lee Smith's time to enshrine! #HOF2019 pic.twitter.com/mP5zWHgTPj

— Chicago Cubs (@Cubs) July 21, 2019
From the Confines to Cooperstown.

Congrats, Lee Smith! #HOF2019 pic.twitter.com/rDiNf5Xq9Y

— Chicago Cubs (@Cubs) July 21, 2019
While highlights from Smith's career played, Sutcliffe recalled a funny incident about a game in which Smith intentionally threw an inside pitch after one of his teammates was intentionally beaned earlier in the game. Standing at 6 feet 6 inches and weighing 265 pounds, Smith was a mountain of a man, and, as Sutcliffe remembered it, he glared at the opposing team's dugout, daring the players to come out and challenge him to a fight. However, Smith was ignored by his opponents, who assuredly had no desire engage in fisticuffs with "Big Lee."
"When Lee Smith came into the ballgame, you knew that it was over and you knew that we were going to go home with the win"@Sut_ESPN introduces @BaseballHall inductee Lee Smith. #HOFWKND pic.twitter.com/zojMs6Z47o

— MLB Network (@MLBNetwork) July 21, 2019
In his enshrinement speech, Smith, a native of Castor, La., thanked all of those who had a role in shaping his Hall of Fame Career. He also mentioned that his first love was basketball, as he briefly played collegiate hoops at Northwestern State University in Natchitoches, La., before devoting his full attention to becoming a successful professional pitcher. According to Smith, he discovered that his fastball was better than his jump shot, and the rest, as they say, is history.