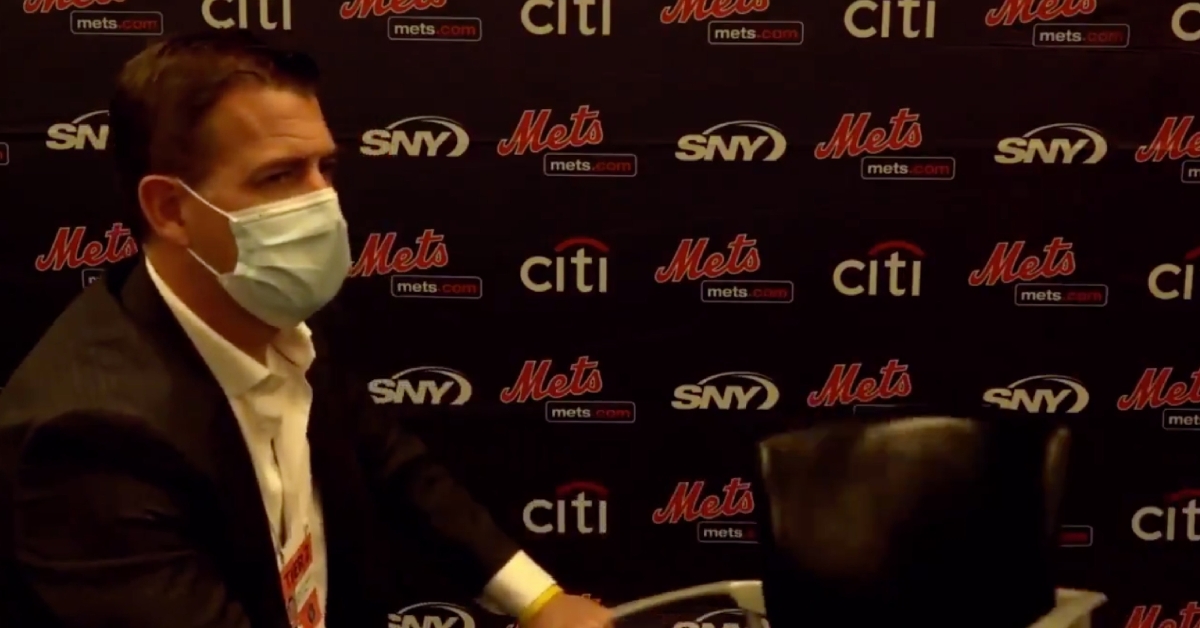 | | |
| --- | --- |
| WATCH: Mets general manager caught on hot mic criticizing Rob Manfred | |
---
| | | |
| --- | --- | --- |
| Thursday, August 27, 2020, 9:06 PM | | |
NEW YORK — A hot mic caught New York Mets general manager Brodie Van Wagenen criticizing an idea that MLB Commissioner Rob Manfred supposedly had regarding the Mets' plan to peacefully protest social injustice. Like many rosters around MLB, the Mets' players discussed not playing on Friday, and Van Wagenen unknowingly spilled the beans on the entire the situation.
The Mets were scheduled to play the Miami Marlins at Citi Field on Friday, and, according to Van Wagenen, both Manfred and Mets owner Jeff Wilpon did not seem too keen on having to postpone the game and make it up. Therefore, when informed of Mets players' intentions, Manfred suggested that the team essentially carry out a publicity stunt by walking off the field at the originally scheduled start time only to return to the field an hour later so that the game could be played.
"He just doesn't get it," Van Wagenen was captured telling someone on a hot mic at an empty press conference. "They're not playing. But that's Rob's instinct."
As it turns out, the Mets and Marlins did stage a peaceful protest prior to the first pitch, which saw them both take the field to bow their heads for a moment of silence before exiting the field. The 42-second moment of silence was a tribute to Jackie Robinson in advance of Friday's Jackie Robinson Day.
The Mets and Marlins took the field, had a 42-second moment of silence, and then walked off.

The only thing left on the field: a Black Lives Matter shirt.pic.twitter.com/JyckWkGQai

— Complex Sports (@ComplexSports) August 27, 2020
The only thing left on the field is a Black Lives Matter t-shirt, resting atop home plate.

— Anthony DiComo (@AnthonyDiComo) August 27, 2020
With the game officially postponed soon afterward, it became apparent that the plan to resume play after an hour did not come to fruition after all. Van Wagenen released a statement beforehand, claiming that he had been misinformed and was actually referring to Wilpon when he criticized the proposed plan. In essence, by defending himself against accusations of degrading Manfred, Van Wagenen admitted that he was degrading his owner, who is currently working on selling the franchise.
"And, with Jeff, scheduling's going to be a nightmare," Van Wagenen was heard saying on the hot mic.
No MLB organization has become more synonymous with avoidable controversies quite like the Mets, so this is fuel to the fire, especially since the hot mic footage aired on the Mets' very own app. Hopefully, it will not take away from the powerful statement made by Marlins and Mets players departing the field and leaving behind only a "Black Lives Matter" T-shirt that symbolically covered home plate.
Check out the video, and read the full statements below:
Full transcript of the video: pic.twitter.com/me5s6xpbXv

— Jeff Passan (@JeffPassan) August 27, 2020
In a statement, Brodie Van Wagenen says the plan to play an hour later came from Jeff Wilpon, not Rob Manfred: pic.twitter.com/vgPS15DAD8

— Tim Britton (@TimBritton) August 27, 2020