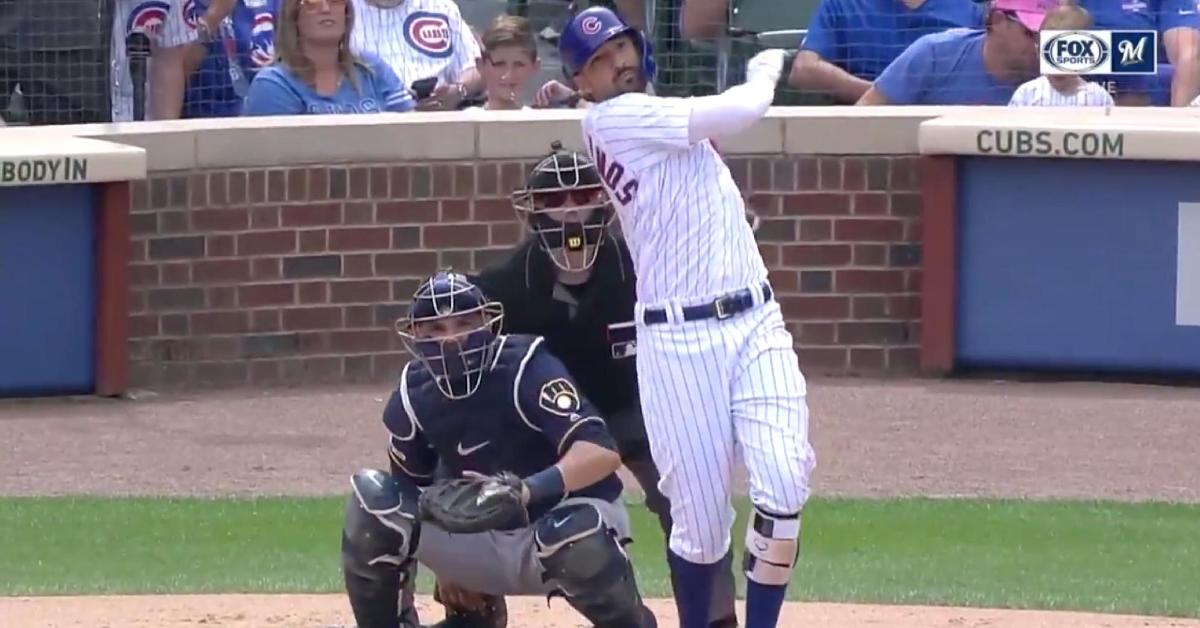 | | |
| --- | --- |
| WATCH: Nicholas Castellanos does epic bat slam after 2-run dinger | |
---
| | | |
| --- | --- | --- |
| Friday, August 30, 2019, 3:35 PM | | |
CHICAGO — Chicago Cubs right fielder Nicholas Castellanos was fired up after drilling his second 2-run home run of the afternoon on Friday. For the second time on the day, Castellanos went yard off Milwaukee Brewers starting pitcher Chase Anderson.
Hammering a 422-foot blast out to left-center at Wrigley Field, Castellanos plated Cubs center fielder Ian Happ and increased the Cubs' lead to 5-0 in the second frame. The round-tripper came on a fastball, and it exited the field at 105 miles per hour and 28 degrees.
Castellanos was jacked up as soon as the no-doubter left his bat, as he turned to face the Cubs' dugout before slamming his bat on the ground in celebration. Castellanos has already hit 11 home runs through 27 games with the Cubs, which is the same amount of dingers that he hit through 100 games with the Detroit Tigers.
Nicholas, did you see what they're saying about you on Twitter?

Nope. pic.twitter.com/8u33z6iE4A

— Chicago Cubs (@Cubs) August 30, 2019
CASTELLANOS SMASH! ???? pic.twitter.com/U92FBO8PkT

— Cubs Talk (@NBCSCubs) August 30, 2019
Bat slam?
Bat spike?
Bat thwomp?

Nicholas Castellanos redefines the game every day. pic.twitter.com/BVqLPcV8vD

— Chicago Cubs (@Cubs) August 30, 2019
Glad he's on our side.#EverybodyIn pic.twitter.com/ckwe2QlnM0

— Chicago Cubs (@Cubs) August 30, 2019
Nicholas Castellanos! With 2 HR today, he now has 11 HR in August, the most by a @Cubs player in his first calendar month with the team in franchise history.

Only Justin Upton (12 HR in April 2013 with the Braves) has ever hit more in his 1st month with a team. h/t @EliasSports pic.twitter.com/BtaznWqlLB

— ESPN Stats & Info (@ESPNStatsInfo) August 30, 2019
Nicholas Castellanos hit two-run homers in the 1st and 2nd innings today. The only other @Cubs to do that:

Hack Wilson, 7/26/30
George Altman, 8/13/59
Ryne Sandberg, 7/9/85#EverybodyIn

(There have been five other instances of multi-run HRs by Cubs in the first 2 innings.) pic.twitter.com/sXEllUCFhf

— Stats By STATS (@StatsBySTATS) August 30, 2019
Nicholas Castellanos home runs just with the @Cubs this season ?????? pic.twitter.com/cPSU5n7djP

— Daren Willman (@darenw) August 30, 2019