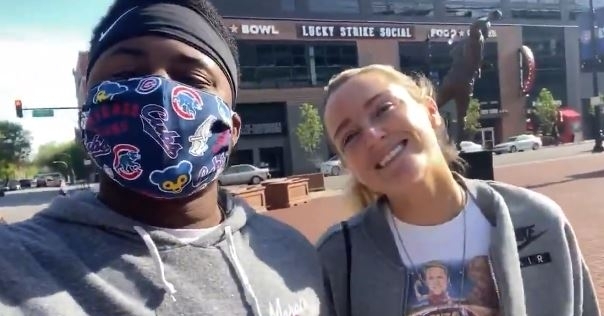 | | |
| --- | --- |
| WATCH: Organ music being played at Wrigley Field | |
---
| | | |
| --- | --- | --- |
| Friday, May 15, 2020, 6:34 PM | | |
The Chicago Cubs are trying to bring back some happiness to their surrounding neighborhood.
On Friday night, they played live organ music at Wrigley Field to try to bring back some normalcy to the baseball area.
The Cubs talked about the subject of organ music during a conference call to season ticket holders on Thursday.
"After receiving feedback from neighbors that they miss the activity and buzz around the ballpark that Cubs baseball provides, we thought this would be a nice thing to do to bring some energy back to the neighborhood. We hope they enjoy the music, and it provides some comfort during a difficult time as we head into the weekend.
"Tonight's organ music will be played by John Benedeck. He is one of the three rotating organists we will have entertaining fans at Wrigley Field when baseball resumes."
The neighborhood has been a little quiet lately. We wanted to help with that. ?? pic.twitter.com/BoCtvUBRf4

— Chicago Cubs (@Cubs) May 15, 2020
The sweet sound of organ music coming from Wrigley Field tonight! pic.twitter.com/CH14wc09SG

— Marquee Sports Network (@WatchMarquee) May 15, 2020
Thank you @Cubs for bringing some life and hope back to our neighborhood ?? pic.twitter.com/9HGkl78c6g

— Tank4Tua (@themaz123) May 15, 2020
Home Sweet Home. #WrigleyField pic.twitter.com/C8lKDwEAnE

— Michael Bolling (@mikealexbolling) May 15, 2020
The *sounds* of the #FriendlyConfines. The @Cubs may not be playing baseball, but you can hear the organ playing from 5pm-6pm. @WGNNews pic.twitter.com/DbhQq4Nau1

— Shannon Halligan (@ShanHalligan) May 15, 2020
@Cubs We can hear the organist from our rooftop and it makes us so happy to hear the sounds of Wrigley Field again!

— Jess Bequette (@jessbequette) May 15, 2020
@Cubs Thanks for giving us a little organ concert, even though we don't have baseball.? Gave me a little smile today while walking the dog. pic.twitter.com/2F1j9ymM2c

— Kimberly Ross (@KimberlyRoss1) May 15, 2020
Proud to announce my good friend, Club 400 alum, and new #Cubs organist @JohnBenedeck! Give him a follow and get ready for some great music and interaction! John is one of the best! Proud of him!!some pictures from his audition video pic.twitter.com/86CYytvRh3

— Crawly's Cubs Kingdom (@crawlyscubs) May 15, 2020
Seriously wish these seats were filled, but seeing everyone gathered (safely) outside the confines was the next best thing. Wrigley is alive folks.

Lindsay Foreman and Josh Langhoff coming up in the next couple of weeks. @Cubs pic.twitter.com/fQsUi0UxeT

— John Benedeck (@JohnBenedeck) May 16, 2020