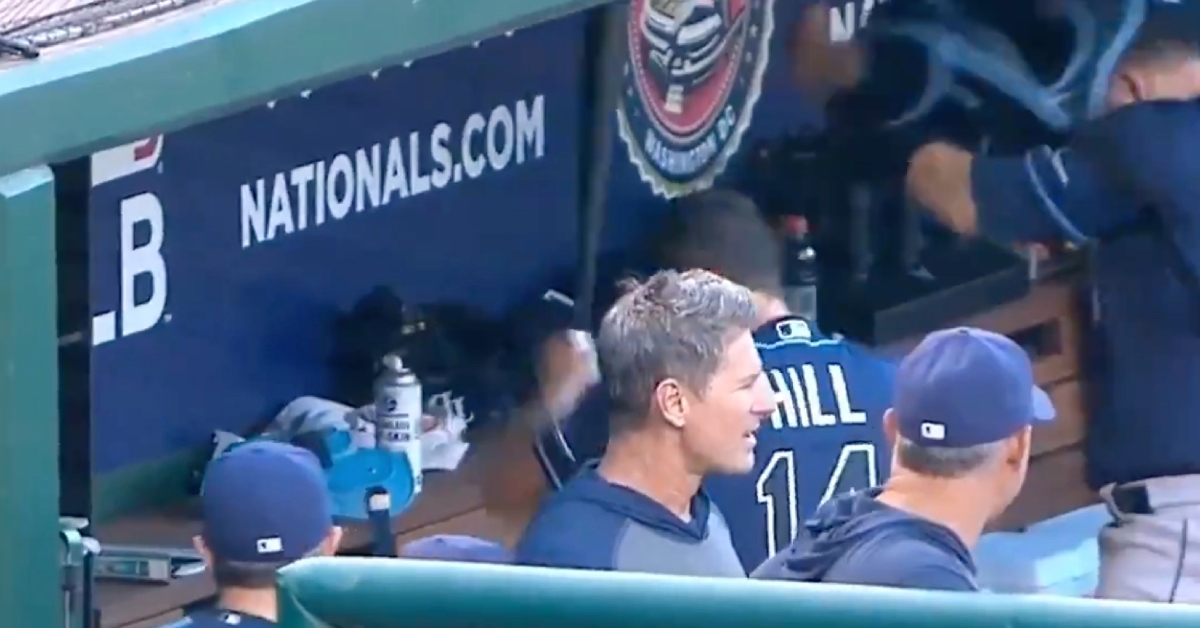 | | |
| --- | --- |
| WATCH: Rich Hill throws tantrum in dugout, repeatedly swings bat at bench | |
---
| | | |
| --- | --- | --- |
| Tuesday, June 29, 2021, 9:22 PM | | |
WASHINGTON — In a matchup of former Chicago Cubs, Washington Nationals left fielder Kyle Schwarber won the battle against Tampa Bay Rays starter Rich Hill on Tuesday. Schwarber continued his homer-hitting tear by going yard out of the leadoff spot, smacking a 434-foot dinger to right on the very first pitch of the bottom of the first.
Right fielder Juan Soto also took Hill deep in the first frame, hitting a two-run blast to put the Nats up 3-0 at Nationals Park. Center fielder Victor Robles became the third Nationals outfielder to homer on the evening when he led off the bottom of the second with a round-tripper.
Although he forced Schwarber to ground into a double play in the second frame, Hill was not pleased after giving up three dingers in just two innings, so he took his frustrations out on the dugout bench following the second inning. The 41-year-old furiously hacked away at the bench, furiously swinging the bat until he blew off enough steam.
Dick Mountain Erupts. ???? pic.twitter.com/5VfiVI8pNM

— Rob Friedman (@PitchingNinja) June 29, 2021
Hill retook the mound in the bottom of the third and pitched a scoreless inning. As for Schwarber, he has powered out 16 home runs in his last 18 games and has thrived out of the leadoff spot, with seven of the 16 long balls coming in first-inning leadoff at-bats. He has 25 "Schwarbombs" and 53 RBIs on the season.
Here's your daily Kyle Schwarber June HR tally update:

6/12 - SCHWAR??
6/13 - 2 SCHWAR??s
6/14 - SCHWAR??
6/19 - 2 SCHWAR??s
6/20 - 3 SCHWAR??s
6/23 - SCHWAR??
6/24 - 2 SCHWAR??s
6/25 - SCHWAR??
6/28 - 2 SCHWAR??s
6/29 - SCHWAR??@kschwarb12 // #NATITUDE pic.twitter.com/8MzZMA7UVO

— Washington Nationals (@Nationals) June 29, 2021
#Rays 0 @ #Nationals 1 [B1-0o]:

Kyle Schwarber homers (25): fly ball to RF (solo)

Hit: 434ft, 112.1mph??, 28°??

Pitch: 83.4mph Four-Seam Fastball (LHP Rich Hill, 11)

— Home Run Tracker (@DingerTracker) June 29, 2021
?? KYLE SCHWARBER JUST HIT ANOTHER LEADOFF HOME RUN WE'RE NOT KIDDING ??#ScheduledTweet // #NATITUDE pic.twitter.com/7gxWzlRz3Z

— Washington Nationals (@Nationals) June 29, 2021
Home Runs Since June 12:

Kyle Schwarber - 16
Mets - 16
Tigers - 16
Marlins - 15
Royals - 15
Phillies - 14
Reds - 14
Pirates - 13
Cardinals - 11
Dbacks - 9
White Sox - 8@kschwarb12 // #NATITUDE pic.twitter.com/fdZzZJscqv

— Washington Nationals (@Nationals) June 29, 2021
Here are all SWEET SIXTEEN of Kyle Schwarber's home runs since June 12.@kschwarb12 // #NATITUDE pic.twitter.com/vaSLibYPJr

— Washington Nationals (@Nationals) June 29, 2021