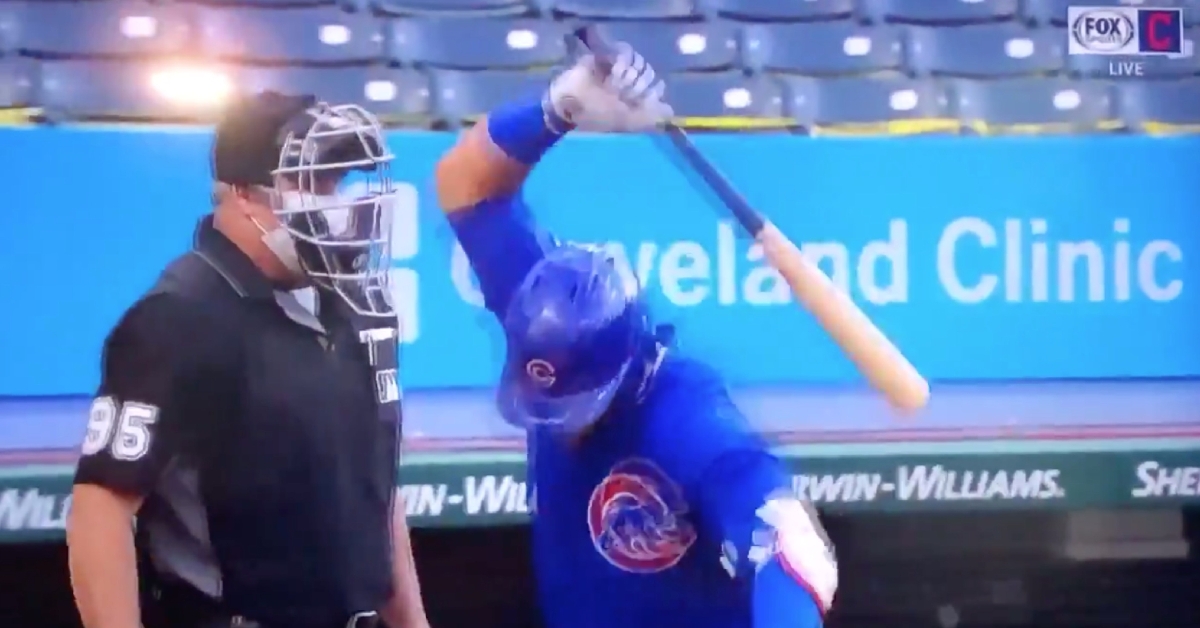 | | |
| --- | --- |
| WATCH: Willson Contreras ejected after slamming his bat down in disgust | |
---
| | | |
| --- | --- | --- |
| Wednesday, August 12, 2020, 7:58 PM | | |
CLEVELAND — Chicago Cubs catcher Willson Contreras is very passionate and can occasionally let that passion boil over. That resulted in a controversial ejection at Progressive Field on Wednesday. Contreras was upset after striking out swinging on three pitches in the fifth and got tossed as a result.
Contreras swung and missed at two pitches and fouled off another in the at-bat, which came with runners on second and third and the Cubs leading the Cleveland Indians 1-0. The third strike came on a checked swing that Contreras felt like he did not go around on. Contreras argued with the home plate umpire about the strike call before slamming his bat down in disgust.
The ejection came with Contreras walking back to the dugout and can essentially be chalked up as a fairly unwarranted ejection. While Contreras was overly emotional, Tim Timmons arguably was, too, when sending Contreras to the showers. Cubs manager David Ross came out to protest the ejection during a pitching change, giving Timmons a piece of his mind.
Willson Contreras was just ejected for the #Cubs. Borderline check swing, David Ross wanted the home plate ump to check with the guy at first.

Ross could be heard on TV at the end of his argument: "I know you know baseball, but that's trash." pic.twitter.com/M0xBT8q7dp

— Billy Heyen (@BillyHeyen) August 12, 2020
This is a terrible ejection. Willson did not argue. Was a bat slam really a good excuse to eject him? NO. pic.twitter.com/uYM3TgvsTl

— Cubs Zone ™? (@CubsZone) August 12, 2020
Not Astros, but David Ross arguing with the ump in a dead quiet ballpark is awesome:

"I know you know baseball, I know you know baseball. But that's *crap*. Come on." pic.twitter.com/Tws0dn0Os4

— 2020 Astros Shame Tour (@AsteriskTour) August 13, 2020