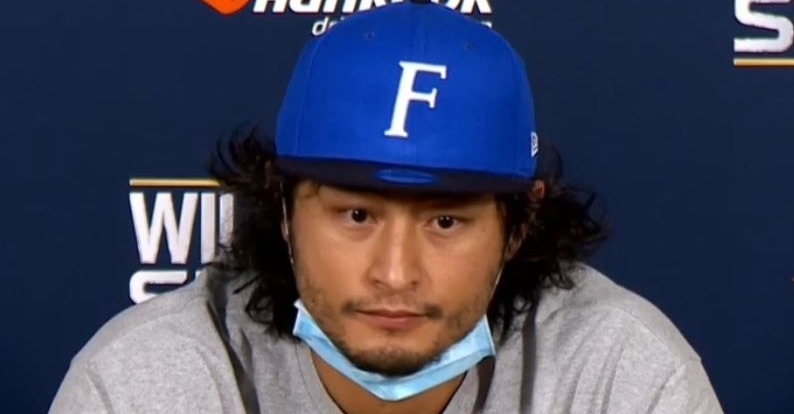 | | |
| --- | --- |
| Cubs News: Yu Darvish expresses disappointment over Jon Lester not getting to start in postseason | |
---
CHICAGO — The Chicago Cubs' season ended with a 2-0 loss to the Miami Marlins on Friday. The Marlins swept the best-of-three Wild Card Series at Wrigley Field, with Cubs ace Yu Darvish receiving no run support in his start on Friday.
In his postgame press conferences, Darvish revealed that what disappointed him most was fellow Cubs starter Jon Lester not getting to toe the rubber in the series. If the Cubs had won Game 2, Lester would have started on the mound in Game 3, marking what might have been his final outing in a Cubs uniform or at least his final Cubs start at Wrigley Field.
"I'm very sad right now," Darvish told reporters via a translator, "because my focus today was to have Lester pitch one more start at Wrigley. That was my goal today and I couldn't make that happen. I'm very disappointed."
Yu Darvish says that he is disappointed because his goal was to give Jon Lester another start. pic.twitter.com/HmpnkigIR5

— CubsHQ.com (@ChicagoCubsHQ) October 2, 2020
The Cubs could choose to buy out the final year of Lester's contract, as the 36-year-old left-hander is slated to make a hefty $25 million in 2021 unless the Cubs pay him $10 million to buy the contract out. In the wake of yet another disappointing ending to a promising season for the North Siders, the Cubs' front office is expected to be busy in the offseason, and bringing back an aged, pricy Lester may not be in the club's best interests.
"For us, as a pitcher, he is a huge guy that I wish will pitch again next year," Darvish said of Lester.
Darvish pitched 6 2/3 scoreless innings and received no run support prior to coming unglued and giving up a pair of two-out runs in the top of the seventh on Friday. Darvish was handed the losing decision in his first playoff start as a Cub, but, afterward, the right-hander's main disappointment concerned Lester not having the chance to pitch in Game 3.
In 12 starts this year, Lester went 3-3 with a 5.16 ERA, but his contributions to the Cubs over the course of the past six seasons cannot be measured statistically. It is reasonable to believe that the Cubs inking Lester to a contract in December 2014 was the player personnel decision that set up the chain of events culminating in the Cubs winning the 2016 World Series, and, regardless of when Lester's Cubs journey concludes, "Big Jon" will forever remain a Cubs legend.