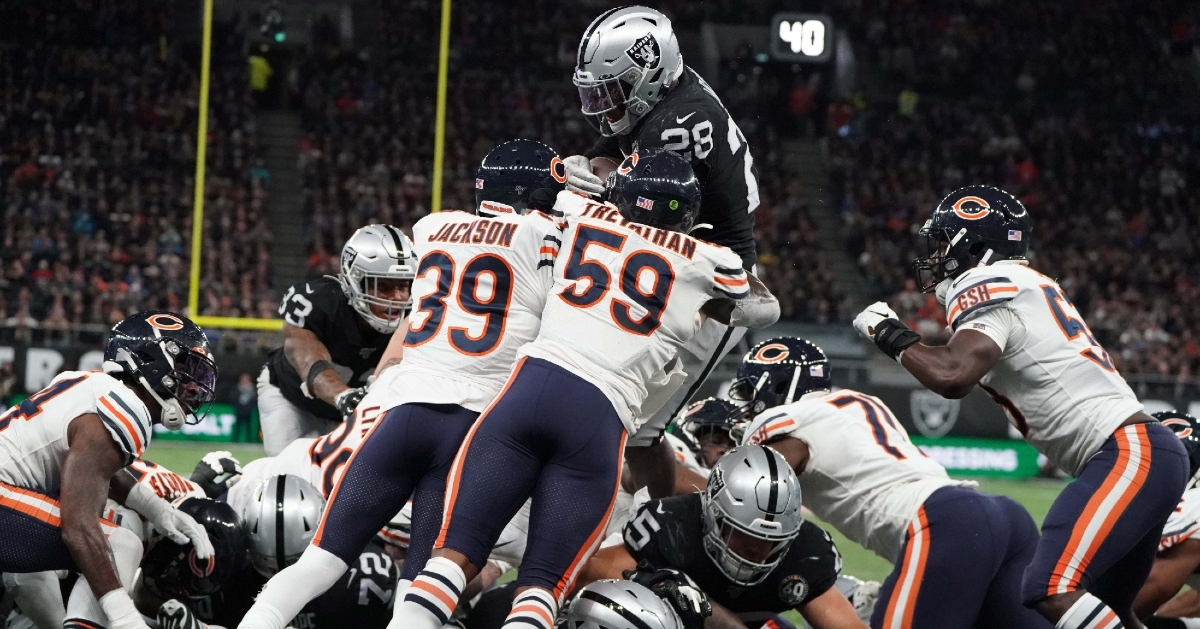 | | |
| --- | --- |
| Are these Chicago Bears similar to 2007 Bears? | |
---
| | | |
| --- | --- | --- |
| Wednesday, October 30, 2019, 9:25 AM | | |
Coming into the 2019 season, no team may have had more hype and optimism than the Chicago Bears and rightfully so. Not only were they coming off their best season in nearly a decade, winning nine of their last ten games to finish 12-4, but they captured the NFC North title in relatively easy fashion finishing 3.5 games ahead of the Vikings.
They did that with a young quarterback still trying to figure things out in this league, free-agent spending on offense trying to bring weapons to Chicago, and then trading for Khalil Mack to make what was already great defense elite. The future was sure looking bright for this team as they looked to build on 2018 with another impressive 2019.
Then the season started in which the Bears got off to the same start as they did last season going 3-1 after dropping their season-opening game against the Packers. However, instead of continuing to elevate their play the past month, the Bears found themselves going winless over their last three games to fall to 3-4 and their playoff hopes fading into the night. Things need to change in a hurry.
The more I look at this season, the more it is starting to look like a repeat of the 2007 team, which was also a team that had a ton of hype. In case you don't remember, the Bears entered the 2007 campaign with many believing they were the team to beat coming off their Super Bowl appearance against the Colts the year before. However, not only were the experts dead wrong on that assessment, but the Bears were not even one of the best teams as they failed to qualify for the postseason in 2007.
If you want to go further back, this season is also starting to look like the 2002 season which saw the Bears go from last place in 2000 to 13-3 and division champs in 2001, to missing the playoffs in 2002. Looking at that trend, it is almost similar to what we have now as the Bears went from last in 2017, to first in 2018, to where they are now in 2019. The good news for Chicago is that they are only 3-4, and there is still plenty of time to rebound and salvage the season.
Much like last season, the Bears were the surprise team in 2001 going from worst to first. That is not a rarity in the NFL as much as you would think, but it was the way the Bears did it that made them the surprise. The same thing can be said about last season in which the Bears surprised everyone and did so in rather dominating fashion. Another similarity that both of those two teams had was they both lost to the Eagles in the postseason, putting a damper on what was a fantastic run.
With expectations equally as high in 2002 as they were this season, some significant differences have transpired from those two years. Take 02, for example, when the Bears lost their star defensive tackle Ted Washington to an injury early in the year. Not only was that a massive blow to the defense, but the Bears seemed to let that get to them mentally as they were never able to recover the rest of the way.
I'm not saying they will follow that same path this season, but at 3-4, you are starting to see more and more similarities with every passing week. Take the injuries, for example. The Bears have lost Mitch Trubisky, Akeem Hicks Roquan Smith, and Kyle Long, among others, so far this season. That has tested the Bears' depth as a team and has forced a team that was never very good on offense to struggle to get anything going.
Another issue that is starting to pop up once again is special teams. After being the biggest flaw in the Bears last season, Chicago addressed their kicking situation this offseason, bringing in a pair of kickers to compete for the job. It was Eddy Pinero winning the job out of camp, and it looked as if he was going to be Mr. Dependable this season. That was until he missed two clutch kicks in the loss against the Chargers that had the Bears searching for answers yet again. Yes, Pinero has only missed three kicks this season, but now we must see how he rebounds next week.
The final similarity I see is that the Bears do not surprise anyone anymore. Much like in 2001, the 18 Bears surprised the league by sneaking up on them and eventually cruising to the division title. With teams knowing the Bears offense is not on the same level as their defense, they are forcing Chicago to beat them offensively, which has not happened much so far. This is not MLB, NBA or NHL, and the margin from the first and last place teams one season to the next is never far.
With nine games left in the season, the Bears have plenty of time to get back on track and find their way back into postseason discussion. However, if we want to continue to dive into the numbers, we see an eerie trend in Bears football history as it seems every time Chicago surpasses expectations, they take giant steps backward the year after. Let's see if Chicago can put an end to that trend and get back on track this season.

Upgrade Your Account
Unlock premium boards and exclusive features (e.g. ad-free) by upgrading your account today.
Upgrade Now