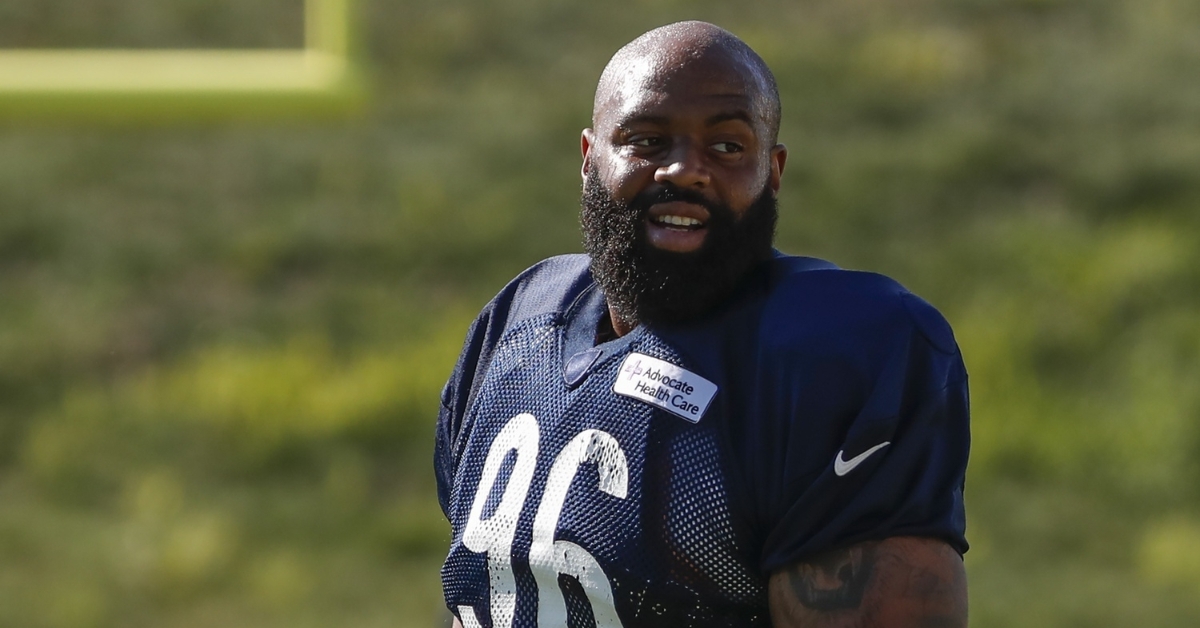 | | |
| --- | --- |
| Bears defense will look drastically different in 2022 | |
---
When the Bears are doing well, a big reason for that falls on the hands of their defense. Going back to 2017 and 2018, when Matt Nagy took over for John Fox, the Bears were one of the better teams in the NFC anchored by the best defense in the league. Vic Fangio was calling the plays on defense and was a mastermind when it came to knowing how to control a game in the trenches.
Ever since Fangio left for the Broncos head coaching job, the Bears defense has been a shell of itself, and you can see the repercussions of that right now. Chuck Pagano left during the offseason after calling plays for two years and handed things off to Sean Desai, who is a Fangio disciple. The Bears expected a lot out of Desai, and there have been times where he has gotten that defense to play well, but for the most part, the defensive side of the ball has been less than appealing.
You can't put all the blame on Desai, however, as the Bears have been stuck in salary cap hell and had to make some tough decisions. Kyle Fuller was the toughest decision during the offseason as the Bears cut ties with their best corner to open up more cap space. Jaylon Johnson has taken over the No. 1 corner spot with ease, but apart from him, the secondary hasn't been good.
You also have to look at players like Khalil Mack, Eddie Jackson, and Akiem Hicks, who have been huge parts of the defense for the last several years. Not only has their play decreased this season, but all three have been injured this year with Mack out for the season with a foot injury. Those are some big names to replace, and you can see why the Bears defense is in their position.
However, things might be getting worse for Chicago before they get better as the Bears may be losing more pieces over the next offseason. Going back to 2018, when Hicks, Eddie Goldman, and Bilal Nichols were anchoring the defensive line, and you had a trio that combined for 123 tackles, 22 TFL, 13.5 sacks, 25 QB hits, two forced fumbles, and two fumble recoveries. Four years later, you have a drastically different unit as an end of an era is brewing in Chicago.
Hicks acknowledged it last week when talking about possibly his final year in Chicago. Not only will he be a free agent this offseason, but at 32 years old and coming off several injury-riddled seasons, you have to wonder how much he has left in the tank. He hasn't played since November 8, and even when he wasn't performing the way he would have liked in the lineup.
In his seven games this season, Hicks has logged a total of 18 tackles, three QB hits, and just 1.5 sacks, possibly ending an impressive six-year run with this team. He is an incredible teammate and one of the most down-to-earth guys on this team. However, you have to think about the future at some point, and Hicks may not be part of this future.
Nichols was drafted in 2018 and has proven to be one of the steals of the draft that year. Across his career, Nichols has logged 130 tackles, 18 TFL, 10 sacks, and 25 QB across his career, all while playing a platoon role until last season. This season, Nichols was off to an incredible start before
landing on the COVID IR, where he should be returning soon.
At just 25 years old, Nichols wants to get paid this offseason, which he deserves, but out of all the defensive linemen on this team, he has the best shot of staying given his age and production. That leaves Goldman, who has been a big disappointment the last two seasons. Much like Hicks, Goldman has been a significant part of this roster the last few years and has been with this team through the good and bad.
However, the last two years have seen his production decline as he, too, has dealt with plenty of injuries. Not to mention he elected to opt-out of the 2020 season due to COVID concerns, so he was away from the game for an entire season. I don't care how good of a player you are, but it is tough to come back when you miss an entire season that isn't injury-related.
Goldman is owed nearly 8.6 million dollars next year, making him a huge salary cap liability. Unless he is willing to restructure and take a pay cut, he too could be on the way out as the Bears have some massive retooling to do. Mack isn't safe either when you look at his recent production compared to what he is on the hook for.
If fans thought the Bears defense looked different this season, wait until next year when it could be even worse. This team is entering uncharted territory as they could be on the verge of a complete rebuild on both sides of the ball. Fortunately, the offensive side seems to be in better long-term shape as this team needs to get back to playing winning football.

Upgrade Your Account
Unlock premium boards and exclusive features (e.g. ad-free) by upgrading your account today.
Upgrade Now