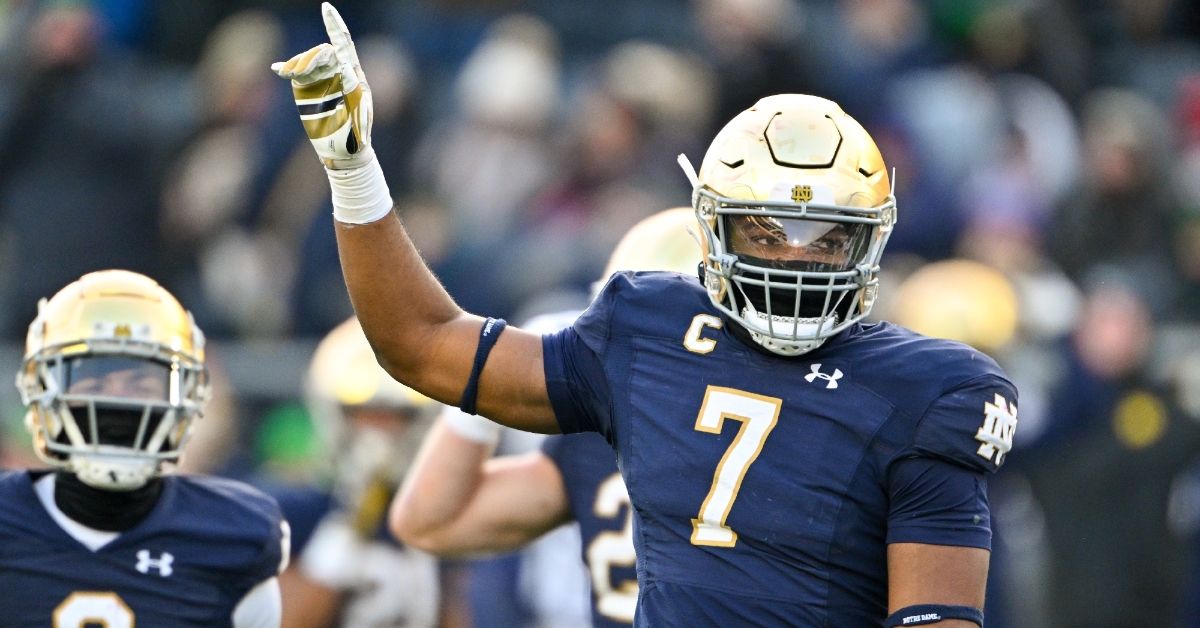 | | |
| --- | --- |
| Bears Draft Target: Isaiah Foskey | |
---
| | | |
| --- | --- | --- |
| Tuesday, February 28, 2023, 7:54 AM | | |
They always say that defense will win championships, and for the Chicago Bears, their defense needs a ton of work. After finishing the 2022 season with a 3-14 record, the Chicago Bears have the No.1 pick in the NFL draft. That record was the worst record in franchise history as well as a 10-game losing streak which is the longest losing streak in franchise history.
A big part of their struggles was an offensive unit that was inconsistent at best despite seeing a ton of growth from Justin Fields. However, an even bigger issue that needs to be discussed more is how bad the Bears defense was last season. After trading away virtually every playmaker over the past few seasons, the Bears responded with the third-worst defense in scoring and the second-worst defense when it comes to stopping the run.
It doesn't help when you have next to no pass rush, but at some point, you need to adjust to the personnel you have, and the Bears didn't do that. One way to get back on track on the defensive side of the ball is by targeting some of the best prospects like Jalen Carter and Will Anderson, but also targeting some lesser-known products who could make an impact on day one.
One of those guys is Notre Dame Edge rusher Isaiah Foskey who continues to fly under the radar. When right, Foskey has all the traits you look for in a top-10 pick and has left a lasting legacy during his time at South Bend. Foskey finished his career with more sacks than Justin Tuck and hall-of-famer Bryant Young so you can see where the talent level is.
Unlike in the past, where defensive ends were at a minimum of 280 pounds, that position has gone with a hybrid approach now, where the EDGE rusher title came into play. Foskey is a hybrid, as his 6-5 265-pound frame would indicate. When you compare his production against other defensive linemen in this year's class, you can see that Foskey has the best stats.
This is a guy that has tallied 122 career tackles in his career with 26.5 sacks and seven forced fumbles. That includes a 45 tackle and 11 sack season this year as he anchored the Notre Dame defense. Foskey is the definition of an elite pass rusher, as he uses strength and finesse to get after the QB. Foskey is the type of player that plays with a high motor and will give you 100% on every play.
While sacking the QB is an art, Foskey has another art which is strip sacks. That is a lost art in the NFL when you look at how much QBS are protected nowadays, so to have a guy that can make those types of plays would be huge. Foskey is the kind of player that gives offensive coordinators nightmares, as they have to account for his every whereabout on the field.
Unlike many first-round prospects, Foskey doesn't have a ton of negatives stacked against him, and the ones that are can be fixed. For example, this is a guy that is more effective in a two-point stance as opposed to three. Look for him to adjust to the three-point stance at the NFL while continuing to be a great playmaker.
Although he has incredible numbers, you would like him to be a better tackler overall. When you look at his size, he doesn't tackle with as much conviction, and he may need to find a new level to find that aggressive nature. Another thing teams would like to see is his ability to disengage from an OL to make plays in the running game quicker.
Chicago is coming off a season where they were last in the NFL in sacks and pressures. Chicago had 20 sacks on the season, and the NFL average was 40. They also had just 85 pressures compared to 135 on the NFL average, so you can see the need for more pass rushers.
Sacks and pressures are critical to a successful defense, and when you look at teams that ranked in the top 10 in sacks, they averaged to win 12 games last season. That is not only a playoff contender, but one that would be contending for a Division title annually. Foskey draws a lot of comparisons to Vic Beasley, and this is a guy who could come in and contribute right away.

Upgrade Your Account
Unlock premium boards and exclusive features (e.g. ad-free) by upgrading your account today.
Upgrade Now