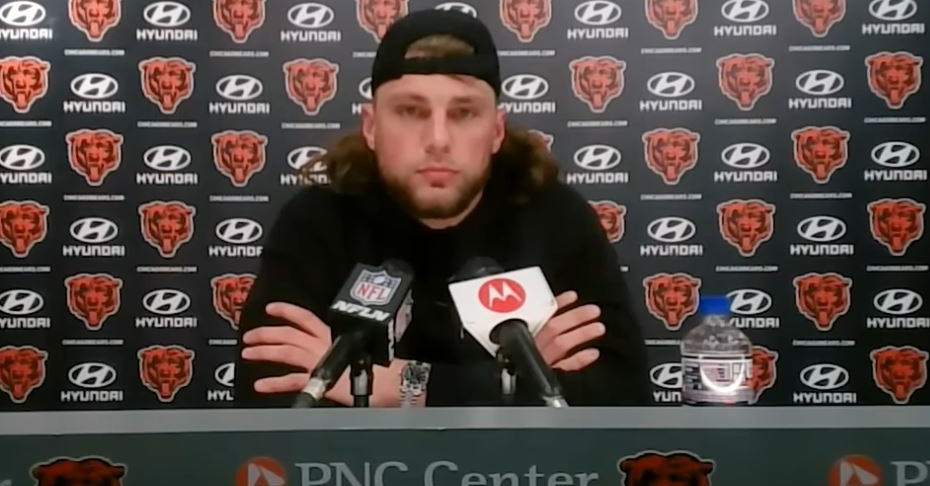 | | |
| --- | --- |
| Cubs News: Dreams come true: Robert Tonyan joins his hometown team | |
---
| | | |
| --- | --- | --- |
| Saturday, March 25, 2023, 8:29 AM | | |
Another offseason, another player acquired from the rival Green Bay Packers. Last offseason, Chicago signed wide receiver Equanimeous St. Brown, who was given a one-year contract extension this offseason. Now, the Bears have signed former Packers tight end Robert Tonyan to a one-year, $2.65 million-dollar contract which included a $750,000 signing bonus. Tonyan is actually a lifelong Bears fan, going to school in McHenry, Illinois.
"I was a Bears fan growing up, big Brian Urlacher fan. Got his jersey and signature in the basement," Tonyan said. "Did I think I'd be a tight end for the Bears? No. But did I think I would play for the Bears? Absolutely. I was playing for the Bears my whole life.
Newest Chicago Bears tight end Robert Tonyan was a big Brian Urlacher fan growing up.

(Picture via @ChicagoBears) pic.twitter.com/0BcAQgGJRK

— Daniel Greenberg (@ChiSportUpdates) March 26, 2023
Tonyan has actually played a number of different positions throughout his football career. He's been a quarterback, wide receiver and a tight end. His versatility is something that greatly contributes to his value to the Chicago Bears playing alongside fellow tight end Cole Kmet. Kmet started all 17 games last season, recording 50 receptions for 544 yards. This duo is greatly going to help quarterback Justin Fields continue to develop next season.
"This offense (goes) through the tight ends. Whether it's passing, blocking, whatever it is, it's just a great pair. Cole, you know, is a great tight end. He's big, strong and I think that adding that complement, me and him, I'm super pumped," Tonyan said. "Just an opportunity to bring some pass-catching and play-making ability. They do already have a lot of talent across the board, offensive talent. So, just kind of come into that and just, again, playing my brand of football and hit the ground running as soon as possible … Big fan of the quarterback (Justin Fields) so, just moving forward in that aspect. I just knew this was the stop to be in."
Speaking of Fields, Tonyan talked about his progress throughout the season last year. Playing for the Packers, Tonyan had two opportunities to see Fields as a quarterback and his style of play. His run ability is something that really developed as the season went on, being capped off by his performance against the Miami Dolphins. In that game, he set the regular season record for rushing yards by a quarterback with 178 yards.
"I think he's a young, mentally strong, young player. I mean, that's hard to do when you come in the league when you have, whether it's positive or negative things being said about you and the media, just kind of keeping your cool and playing your game," Tonyan said. "He progressed so well throughout the year last year … So that's what you kind of want in a quarterback and a leader, someone who just doesn't quit and back down, playing through injuries or whatever it may be. So, I'm super excited to be a part of that."
Tonyan himself has also progressed. Back in 2021, he suffered a torn ACL. While he didn't miss any games in 2022, he still did not feel like himself for most of the season last year. This is reflected in his numbers, as he only had 470 receiving yards even though he had a few more receptions than Kmet did last year. Now that he's back to full strength, that is the level of talent he is bringing to Chicago.
"For me, it was just get back on the field as soon as possible just in terms of my mental because I just wanted to play football and I came back in 10 months, probably got nine or 10 practices before I played the first game. So, I didn't miss a game or a practice all year," Tonyan said. "You know, it is different. It's difficult because you don't play football for a whole year. Your body and mind change of check out of the actual football aspect of things. Like, neurologically speaking, you know, your body's not used to those movements … Towards the end of the year, like the last four games after our late bye week, I just kind of started feeling like myself again and being able to put my brand of football out there."

Upgrade Your Account
Unlock premium boards and exclusive features (e.g. ad-free) by upgrading your account today.
Upgrade Now