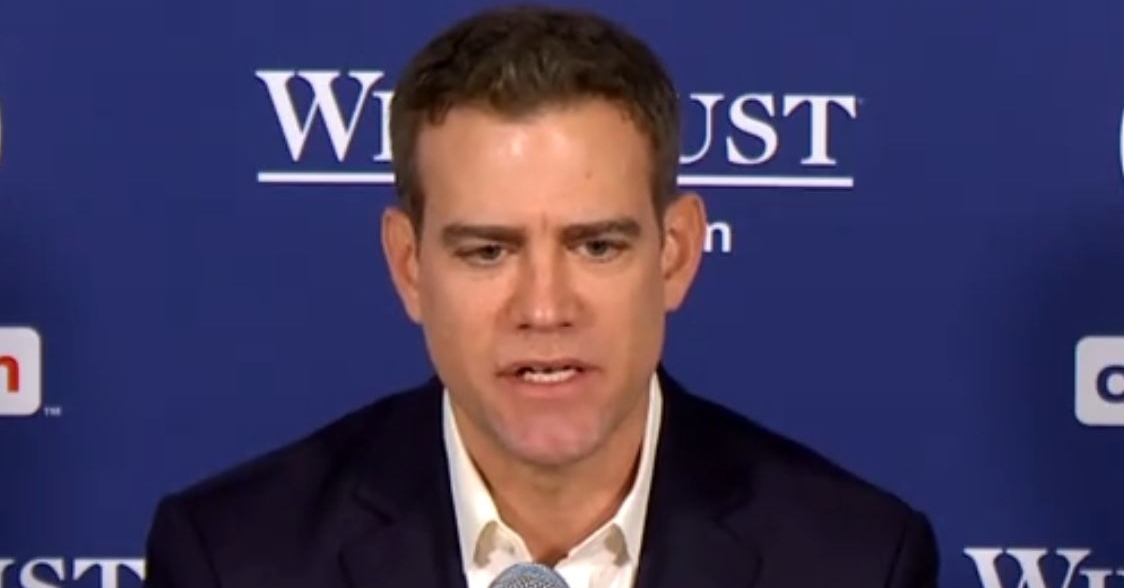 | | |
| --- | --- |
| ESPN analyst says Theo Epstein should take over Bears | |
---
There is no secret there is tension currently surrounding the Bears' higher-ups. From a team lacking offensive firepower to the recent free fall from one of the best teams in the NFC, there is a lot of blame to go around.
Matt Nagy deserves his fair share of the blame, but he can only work with what roster is given to him. Ryan Pace is the one that has constructed this roster, and to say there have been questions would be an understatement. From trading up to get Mitch Trubisky to unloading draft picks to acquire Khalil Mack, Pace has crippled this roster, especially on the offensive side of things.
That could be why he is viewed as being on the hot seat the rest of the season, leaving his future uncertain. Should he indeed be in his final months as GM, who would the Bears look at in terms of replacing him? If you ask Chicago Native and ESPN Pardon the Interruption host Michael Wilbon, he certainly has an idea.
During the first show, after Epstein announced he was stepping down, Wilbon immediately went on to say that he is a straight hall of Famer no matter what he does from here on out. Epstein has said he is taking the year off and wants to get away from baseball, but all speculations at this point have him going out East to take over the New York Mets or Philadelphia Phillies. There has even been talk about him supplanted Rob Manfred in the commissioner's office.
While those reports seem logical, Epstein has also hinted at the possibility of a third chapter in his life, outside of baseball. That is what led Wilbon to say he should take over the Bears GM job. Not only did he say that, but he said that Epstein is the best and that he knows he would be successful.
Before you call this scenario crazy, let me enlighten you as to why this could make sense. The two things Theo has been great at has always been drafting/player development and building a contender. We saw that with the Red Sox. We also saw how his draft picks were in Chicago.
We have seen from Pace that the draft department is not good as many of his picks have not panned out. Pace also doesn't seem to understand the concept of building a championship roster as he tends to focus on one side of the ball (defense).
The thing Epstein has never been able to do consistently is maintaining a championship-level roster. A lot of that has to do with MLB not having a salary cap and competing with so many large market teams, but football is different. It not only has a salary cap, but everyone has the same cap number. That would allow him to build a winner and not have to overspend against other teams.
Wilbon is not the only one who feels this way as multiple news outlets circulate that and have begun to say the same thing. Two years ago, Epstein proved he not only followed football but knew a bit about the draft. In 2018, Epstein was on 670 the score as they discussed the ins and outs of the sports world. A question was asked who he would take with the eighth pick if he were the Bears GM.
Granted, Roquan Smith was the selection so give Pace credit on that one, but the answer Epstein gave is undoubtedly one to note. "Even if it's not the sexiest pick, that Notre Dame offensive lineman seems like he'd be a good fit," Epstein said. "He's punishing and plays to the whistle. That Notre Dame offensive lineman seems like he'd be a good fit."
In case you haven't figured out who the player is, Epstein was referring to Notre Dame offensive lineman Quenton Nelson who a lot of mock drafts had going to the Bears. Pace watches more film than Epstein in the football world, but there is some thought to what Epstein is talking about.
They always say defense wins you championships, and kudos for Pace drafting Smith. It turned out to be a slam dunk pick, and he is the heart of the Bears defense. However, good defense or not, you still need an offense to get you there, and it all starts with two things. Quarterback and offensive line.
The Bears thought they had their quarterback in Trubisky, and honestly, maybe they do. The problem has been the lack of an offensive line to produce anything. Epstein knew how important an offensive line is and immediately said that is the direction he would go. Baseball mind or not, Epstein knows what he is doing and knows how to draft.
Epstein has said he wants a different challenge and one perhaps outside the baseball world. What better situation than coming across town to reenergize one of the all-time great NFL franchises. Heck, working with a salary cap for the first time in his life might be enough to entice him as that would require a whole new side of strategies.
Should this be a challenge, he would openly consider, it would undoubtedly come with struggles, but that is something the Bears should now instead of later. Much like his tenure with the Cubs, if Epstein took on the GM job of the Bears, expect a full rebuild and a lot of losing early. While that may not be music to Bears fans' ears, there is a method behind it.
Rebuilding and starting from scratch would allow him to put an immediate stamp on the Bears organization and develop the team how he wants to. Keep in mind that Aaron Rodgers will not play forever and realistically has roughly two maybe three years left with the Packers. Why not deal with the losing now to set yourselves to be kings of the north post-Rodgers era.
Theo Epstein is straight drafting his fantasy football team in the stands right now. @BN_Bears pic.twitter.com/oxyOnR9Iuv

— Michael Cerami (@Michael_Cerami) September 6, 2020
Epstein could retool this roster, find a franchise quarterback, and give him a great offensive line before Rodgers leaves the Packers. When that time comes, the Bears would be set to rule the North. Much like Rodgers and Favre have done the past 30 years. What seems like a crazy idea may not seem so crazy the more you think about it.
Epstein has proven to be one of the best general managers in the history of baseball. Why not try and become the best GM of all time. If he could come in and change this team like he did the Red Sox and Cubs, what more needs to be said about the man other than genius.

Upgrade Your Account
Unlock premium boards and exclusive features (e.g. ad-free) by upgrading your account today.
Upgrade Now