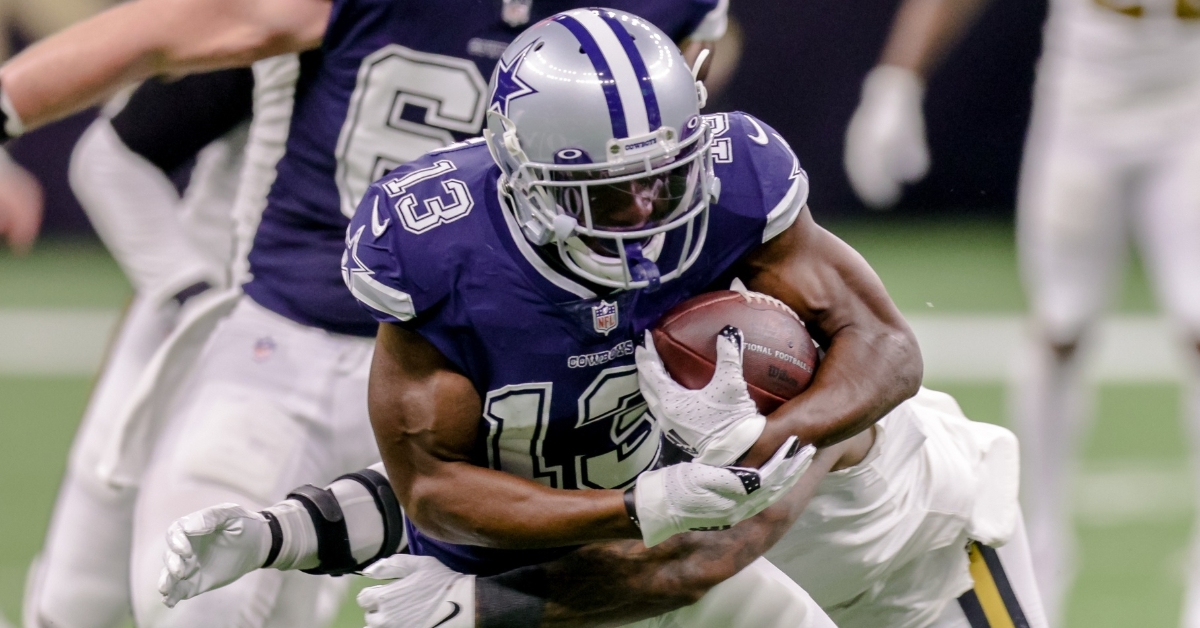 | | |
| --- | --- |
| Five WR options for Bears to help Justin Fields | |
---
When the Bears drafted Justin Fields last spring, it signified the beginning of a new era in Chicago. This wasn't just the Bears drafting a QB to fill a need; it was a team that believed in Fields and feels he has what it takes to be the franchise QB they desperately need.
Fields showed plenty of signs of being that guy throughout the season, but there were also plenty of moments where you could tell he was a rookie. He had more interceptions than touchdowns, he fumbled the ball away too much, and he took plenty of sacks as the offensive line wasn't as good as it needed to be.
Now that a new regime is in place, they are committed to winning with this team. That starts with the QB position and putting him in the perfect situation to succeed. As we approach what could be a fascinating free agency, the Bears have identified their needs on this team and have said they want to give Fields as much help as possible.
Although that starts with the offensive line, Chicago is focussing on another part of the offensive side of the ball as they will be targeting WR help this offseason. Given that Allen Robinson will be a free agent and Marquise Goodwin and Damiere Byrd are not reliable options, that leaves Darnell Mooney as the team's No. 1 and most trusted option.
For Fields to thrive at the NFL level, adding more weapons around him to maximize his talents are critical. Looking at this year's free-agent WR class, there are plenty of options for the Bears as they have the potential to add a No. 1 or No. 2 WR into their offensive mix.
Michael Gallup
Listed as the No. 5 WR, Gallup will be looking for a four-year deal with an AAV of 16 million per season. That is not a cheap option, but he is worth that type of contract when you look at how he has produced over his career. The former Dallas Cowboys WR missed most of last season with various injuries, including a season-ending ACL injury.
Still, Gallup produced on the field as he hauled in 35 catches for 445 yards and a pair of scores. Despite being stuck behind Amari Cooper and CeeDee Lamb, Gallup has been one of the better No.3 WR's in the league, amassing 1950 yards and 11 scores in 2019 and 2020. He may not be a No. 1 option, but he will produce great numbers on a team needing WR help.
Marquez Valdez-Scantling
Ranked 13th among FA WR's, Valdez-Scantling is an intriguing option as he is one of the fastest players in the game. Looking for a three-year deal in the eight million AAV range could be a price the Bears are willing to pay as he would add an element to the team they don't have.
With Luke Getsy now the team's OC, he could be reunited with a familiar coach, and that is something a lot of NFL players like to happen, although it doesn't happen often. Although plagued with drops most of his career, the 6-5 Scantling runs a 4.37 40, making him one of the fastest players in the game. Given that Fields has such a big arm, the two of them would work very well together.
Scantling had to battle his own injuries this season and was limited to 11 games where he hauled in 26 passes for 430 yards and three scores. That followed up a season where he had 33 catches for 690 yards as he continues to average close to 20 YPC. Those may not be No.1 WR qualities, but when Davonte Adams gets most of the attention, you do what you can. Scantling should thrive with a more prominent role, and the Bears can give him that.
DJ Chark
Another overlooked WR is DJ Chark from Jacksonville. Another player looking for a three-year deal in the eight Million range, Chark, has been a No. 1 option before for the last three years with Jacksonville. Like Scantling at 6-4, Chark is fast, but not as fast as his 4.3 40 time will show you.
Over the past two seasons, Chark has provided the Jaguars with 126 receptions for 1714 and 13 scores. Keep in mind that production came with Trevor Lawrence and Gardner Minshew as his QB, so you can see his potential. This is a guy the Bears could bring in who could be their No.1 WR, and it wouldn't come at a steep cost.
Christian Kirk
Ranked No. 9 in terms of free agent WR, the Arizona Cardinal WR is seeking a three-year deal upwards of 13 million annually. That might be out of the Bears price range, but Kirk is someone on the verge of breaking out. Stationed between DeAndre Hopkins and A.J. Green, Kirk was a reliable target for Kyler Murray this season and was the second-best receiver on the Cardinals roster.
Not only did he bring in 77 catches, but he came down with 982 yards and five scores. Kirk also ranked 12th in the NFL, being targeted 100 times while ranking in the top five in YAC with 259. Kirk checks a lot of the boxes the Bears are looking for, but he will not come cheap. Getting away from Hopkins could be a good thing for him as it will allow teams to see the real Kirk.
Will Fuller
If the Bears are looking for a short-term fix, Fuller is the perfect example of just that. Seeking a one or two-year deal, Fuller is not only a burner on the field, but has been a very reliable weapon for the Houston Texans. Stuck between Hopkins for years, Fuller finally had his chance to be the team's No.1 as Hopkins landed in Arizona.
Immensely talented, Fuller does come with a bit of risk as injuries have kept him off the field for the better part of the last two seasons. Still, in 11 games in 2020, Fuller had a career-high in catches (53), yards (879), and touchdowns (8) as he proved what he could do when trusted more. His season ended that year after testing positive for PED's which also ended his tenure in Houston.
Fuller was looking for a change of scenery this season and signed a one-year deal to join Miami. Fuller spent most of the season on the IR, so he will be looking for another one-year prove-it deal as he tries to rebuild his career.