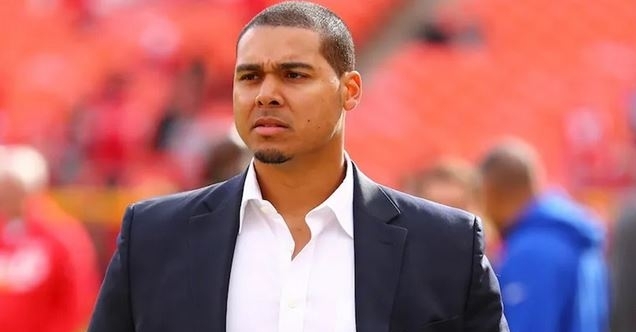 | | |
| --- | --- |
| Raiders reportedly tried to get No. 1 pick from Bears | |
---
| | | |
| --- | --- | --- |
| Monday, March 20, 2023, 10:39 AM | | |
When the 2022-23 NFL regular season came to a close, and it was announced that the Chicago Bears would hold the No.1 pick, the clock immediately started ticking for Ryan Poles and the organization. However, unlike other organizations with the No. 1 pick, the clock wasn't necessarily ticking for who they would take, but more so if they were going to keep that pick.
With Justin Fields cemented as the Franchise QB for the foreseeable future, the Bears didn't need a QB and were in a great position to trade the No. 1 pick for future assets. Once that talk started to happen, the Bears had plenty of suitors lining up to make a deal, and all of them made a ton of sense.
However, one offer stood out among the rest as the Bears pulled the trigger on the Carolina Panthers offer and traded the No. 1 pick to Carolina. In exchange, the Bears received their No. 9 pick this season, a second-rounder this year, a first-rounder next year, and a second-rounder in 2025. Chicago also received DJ Moore as a part of this deal, as he will land in Chicago for the next three years and is eager to become the team's No. 1 WR.
Looking at the haul the Bears received in this trade, you can see why they pulled the trigger on this deal. However, what would things have looked like if they didn't do business with Carolina? Did this team have other options or discussions when they pulled this deal?
The answer is yes, and they almost had another suitor lined up until this deal went final. According to recent reports from The Athletic, it was revealed that the Las Vegas Raiders and Chicago Bears nearly committed to a trade that would have given the Raiders the No. 1 pick and the Bears the No. 7. It was no secret that the Raiders loved CJ Stroud and would have taken him No. 1, but after that trade fell through they elected to go with Jimmy Garroppolo and signed him to a three-year deal.
Surely, it would have taken more than just the No. 7 pick to get this deal done, but was the other compensation being discussed in this proposed package? Looking deeper into this report, the Raiders were willing to give the Bears pick No. 7, a second-round pick in 2023, and a second-round pick in 2024. Other than that, the offer seemed too steep, as Las Vegas didn't even include a player in the package.
Granted, it may have been better for the Bears to take the No. 7 pick as the Raiders sit two picks ahead of where Chicago is now, but adding a guy like DJ Moore is too hard to pass up, and it became a no-brainer. It was also reported that the Raiders never made a formal offer considering the asking price, but if they did, you can bet the Bears would have tried to counter.
If a player were to be included in the package, Darren Waller would have made a ton of sense especially considering he was recently traded to the Giants. Adding Waller to this offense to pair him with Cole Kmet would have given Chicago a great two-TE look and one that would have been tough to defend.
You also have to look at the WR position, where Hunter Renfroe could have been the asking price for Chicago. Renfroe may not be as good as Moore, but he has proven to be a reliable receiver that Fields could have built instant chemistry with.
If Chicago wanted to swing for the fences, they might have tried to get Josh Jacobs off the Raiders roster and then tried to sign him to an instant extension. With David Montgomery in Detroit, Chicago could be looking for their RB of the future, Jacobs would have been a great fit here, but an offer never came through hence the deal with Carolina being made.
Going from No. 1 to No. 9 has consequences, as it takes the Bears out of the running of drafting whomever they want with the first pick. However, Poles and company are still in a great position to draft one of the premiere Defensive Linemen or Offensive Linemen at No. 9, which are two of the more prominent needs on this team.

Upgrade Your Account
Unlock premium boards and exclusive features (e.g. ad-free) by upgrading your account today.
Upgrade Now