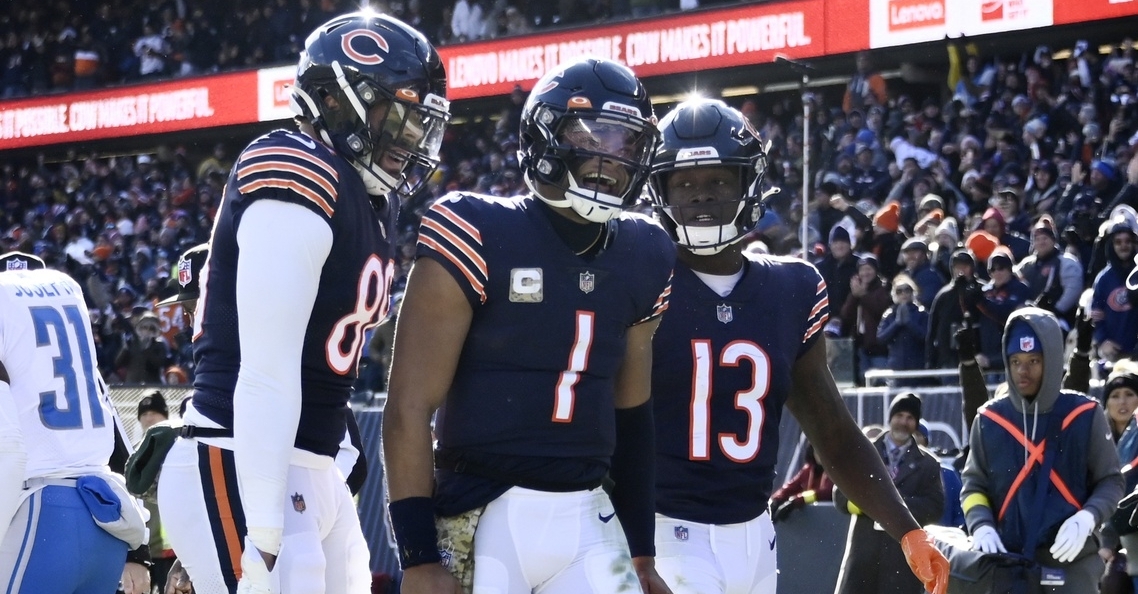 | | |
| --- | --- |
| Report Card: Bears Season Postition grades | |
---
| | | |
| --- | --- | --- |
| Tuesday, January 10, 2023, 7:45 AM | | |
The Bears' season has officially come to an end, and according to the record books, it was the worst Bears season of all time. The Bears finished the season on a 10+ game losing streak, but they do head into the offseason, the No. 1 overall pick in next year's draft, and a ton of cap space.
So let's take a look and give out some grades based on the performances by position after the 3-14 season by the Bears.
Quarterback B-
Justin Fields was the Bears' QB all season long and showed many dynamic flashes for Chicago. Fields did miss a pair of games, and a collection of Trever Siemian, Nathan Peterman, and Tim Boyle filled in — but this season was all about Fields. Fields threw for 2.242 yards and launched 17 touchdowns, to go along with 11 interceptions. It was a massive sign of improvement in the passing side of things — he just needs to get better at throwing the ball away when under heavy pressure and make better decisions in two-minute drill scenarios. However, where Fields really made his presence felt was in the running game. He led the NFL's number one rush offense with 1,143 yards in just 15 games, to go along with 8 touchdowns.
Fields was the only NFL player all season long who won a player of the week in a loss — and he accounted for 25 total touchdowns this season. Some of his other highlights include becoming the first QB to have three runs of 50+ yards for touchdowns. He also had three 100-yard games on the ground and had a streak of 6 straight games with a rushing touchdown. Fields needs better talent around him and better protection, but he displayed in 2022 that he has the tools to be a franchise QB.
Running backs B
David Montgomery and Khalil Herbert were the main backs this season. The Bears had three players with over 700 rush yards with Fields, Montgomery, and Herbert. Montgomery and Herbert combined for almost 2,000 total yards and 11 touchdowns. Montgomery was less efficient but made his presence felt far more in the run blocking and in the receiving game. Montgomery may or may not return to the Bears in 2022 as he is due to be a free agent, but the Bears had the No. 1 rush offense in the NFL this season. Darrynton Evans and Tristen Ebner were a part of the rotation in the running back room, and combined for just over 100 yards and a TD. 10 other players netted carries for the Bears in 2022, but only Velus Jones turned anything into a touchdown.
Wide Receivers D
The passing game was not nearly as active as it should've been, and a lack of talent in the receiver room Is a big reason why. No Bears wide receiver had 1,000 yards — in fact, none of them even had 500. Darnell Mooney led the way with 40 catches for 493 yards and two touchdowns — but he only played 12 games before suffering a season-ending injury. The Bears made a big trade for Chase Claypool at the deadline, but he only had 14 catches for 140 yards in seven games. Velus Jones Jr was the Bears' big draft pick, but also only had seven catches and one touchdown.
Dante Pettis had 245 yards but had the most touchdowns in the room. Byron Pringle and N'Keal Harry did not live up to the expectations their deals brought. Equanimeous St. Brown had 323 yards and a touchdown as well and was one of two receivers to play at least 16 games. No other receivers garnered over 50 yards. The Bears certainly have much more work to do in this department.
Tight Ends B+
This unit certainly has talent with Cole Kmet. Cole Kmet led the Bears with 50 catches for 544 yards and seven touchdowns. A nice year of growth for the third-year tight end. Ryan Griffin and Trevon Wesco each had 26 yards as well.
Offensive Line F
The offensive line was bad all year. They especially struggled in pass protection, allowing 58 sacks, 55 of QB Justin Fields. They partially made up for things in the run-blocking department, opening holes for Fields, Montgomery, and Herbert — but overall, this unit is a massive weakness and should be a point of focus once next season rolls around.
Defensive Line D
The defensive line was not very good. The D-line allowed big play after big play in the run game this season and did not muster up nearly enough pressure on opposing QBs. Justin Jones led the way with three sacks from this unit.
Linebackers D
Roquan Smith was traded to Baltimore after eight weeks and still finished as the Bears' third-leading tackler on the season. Robert Quinn was traded to the Eagles as well, which left this unit depleted. They began to show some flashes with Jack Sanborn, who had 64 tackles and two sacks. Joe Thomas and Nicholas Morrow led the way toward the end of the year, with Morrow leading the Bears with 116 tackles. Trevis Gipson also had a trio of sacks. Morrow and Smith also came away with three picks. This unit could use an off-season upgrade for sure.
Secondary B
The secondary was the highlight of the season for the Bears. The duo of rookies Kyler Gordon and Jaquan Brisker were great. Brisker had 104 tackles, 4 sacks and an interception. Gordon had 71 tackles and three interceptions. Eddie Jackson had a strong bounce-back season that included four interceptions before his season ended in week 12. Jaylon Johnson battled injuries but displayed that he could be a great cover corner as well. This is the group to build around moving forward.
Special Teams B
Kicker Cairo Santos was solid this year as a kicker. He made 21 of 23 field goals and 27-of-32 extra points. Michael Badgley kicked in one game and was four for four from field goals. Trenton Gill nailed 20 of his 66 punts inside the 20. The Bears did have almost 1000 return yards, most of which from Velus Jones Jr.
Playcalling C
The playcalling was not great, but there were flashes for sure. The Bears did have a stretch of four straight games with 29 or more points which was a massive step in the right direction. The playcalling was best when the Bears played into the strengths of their quarterback Justin Fields.
Nonetheless, the season has come to an end. We'll see what is in store for next season: year two of the Eberflus and Poles era.

Tags: Cubs Football
,
Justin Fields
,
David Montgomery
,
Khalil Herbert
,
Darnell Mooney
,
Cole Kmet
,
Roquan Smith
,
Robert Quinn
,
Trevis Gipson
,
Eddie Jackson
,
Jaylon Johnson
,
Cairo Santos