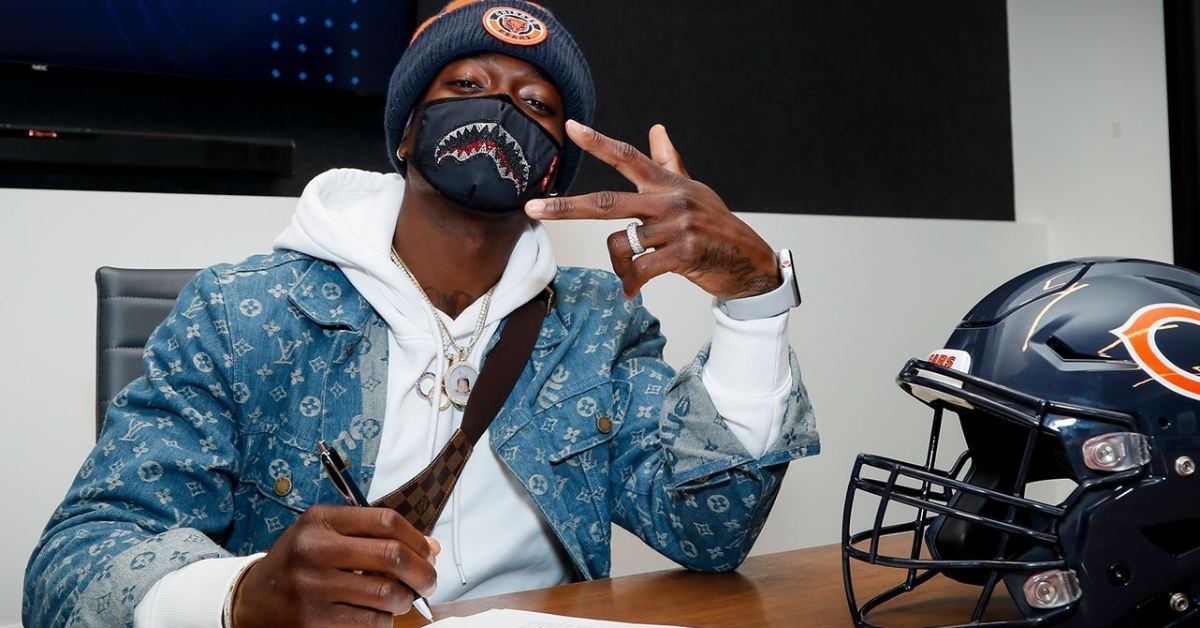 | | |
| --- | --- |
| Takeaways from Bears' signing of Marquise Goodwin | |
---
| | | |
| --- | --- | --- |
| Monday, April 19, 2021, 2:08 PM | | |
The Chicago Bears have been quiet the last few weeks, and that shouldn't come as a surprise. With limited cap flexibility, and the NFL draft approaching in 10 days, Chicago is hoping to focus on the draft before making any more significant moves.
However, quiet or not, Ryan Pace continues to scour the free agent market for potential low-risk, high reward pickups that could make a difference for this team. One of those signings took place over the weekend when Chicago reached a deal with free-agent WR Marquise Goodwin.
The 30-year-old speedster is not one of those franchise-altering types of moves but certainly, one that comes with a lot of intrigue. Goodwin sat out the 2020 season after his newborn son entered the world and didn't want to put his family at risk with COVID. Now ready to hit the field again, the Bears are adding not only a speedster to their group but one with tons of experience and is ready to go.
Potential for a breakout season
Allen Robinson and Darnell Mooney have emerged as the top two targets for the Bears, which should continue this season. With Anthony Miller continuing to struggle and a cast of unproven WR's behind him, Chicago needed to add some experience to this group and did so by adding Goodwin.
The 2013 third-round pick has played 75 career NFL games and has started 40 of those games. Although his numbers haven't been great, it seems like he started to come into his own with the 49ers, which was the last team he played for. In his first four seasons with Buffalo, Goodwin caught 49 passes for 780 yards.
The moment he arrived in San Francisco, he started to show his potential, hauling in 56 catches for 962 yards in 2017. In his two seasons since injuries have kept him off the field, he has totaled 35 catches for 581 yards and five scores in just 20 games. Given that he has now had a year off, Goodwin should be healthy and eager to go. If that is the case, he could be in line for a breakout season which could be huge for this Bears offense.
Another speedster
The Bears offense doesn't have a ton of speed, but their receiving core certainly does. While Robinson may not be the fastest guy out there, Mooney, Miller, and now Goodwin run sub 4.50 40's with Goodwin the fastest of them all. That will give the Bears offense more options than they have had in a while.
Adding a speedster like Goodwin allows Chicago to design plays specifically for him while teams focus on Robinson. You can use him as a deep ball threat which is what he excelled at in San Francisco, or you could use him in wide receiver screens to let his speed do the talking. Goodwin is never going to be a No.1 or No.2 for anyone, but he is an excellent No.3 who will make this unit much better than it was a season ago.
.@marquisegoodwin knows how to make an entrance. ?? pic.twitter.com/9heIHzkOVh

— Chicago Bears (@ChicagoBears) April 19, 2021
Lasting effects for Robinson
With Robinson signing the franchise tag this offseason, there are still some questions about his future with the Bears. Ideally, Chicago would love to sign him to a long-term deal, but I don't see how that will happen. Not only will the money be the issue, but it seems like Robinson's relationship with the Bears is iffy at best.
Not only that, should Chicago struggle out of the gates this season, Robinson immediately becomes the top trade target on this team as he would net the most significant return of anyone on the roster. That is another reason why this Goodwin signing is enormous for Chicago. With Goodwin on the roster, it gives Chicago another option should Robinson not come back or is traded.
Instead of losing their top receiver and having no one to replace him, both Mooney and Goodwin have shown flashes, and they could at least hold the fort down in a short-term scenario. Goodwin is also one of those players where if he comes out and has a decent year, the Bears may feel inclined to keep him around, especially if he makes the offense better.
There are many things to like about this deal, and to me, this is precisely what I think of in a low-cost high-ward type of signing. Goodwin isn't someone who is going to cost you a ton, but he is someone who can deliver when given a chance. This is quietly one of the better moves the Bears have made this offseason, and it will help the team in 2021.