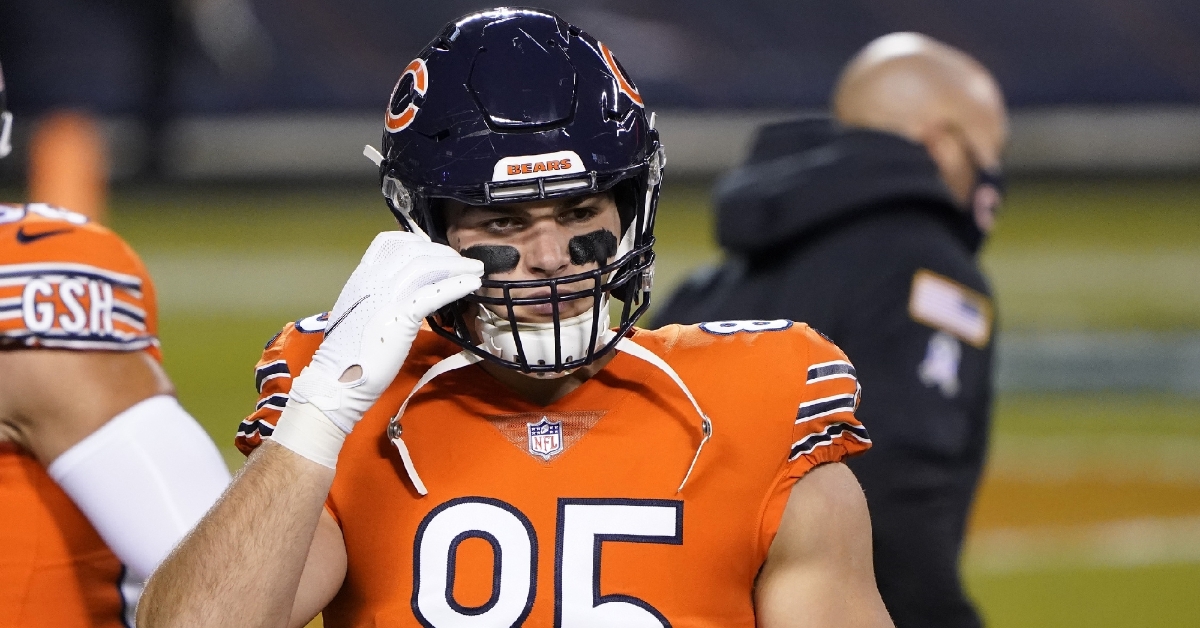 | | |
| --- | --- |
| Three breakout candidates for Bears offense | |
---
The Chicago Bears have gone through a dramatic transformation this offseason, which bodes well for their future. Not only has Ryan Pace spend time beefing up their defense with tons of great depth signings, but he has helped Matt Nagy create his desired offense with hopes of turning the corner on that side of the ball.
Even with Andy Dalton signed to be the starter this offseason, the Bears wasted no time drafting Justin Fields as the face of their franchise in the future as he continues to perform well in camp. However, for the Bears offense to take that next step they are looking to take, it all hinges on the offensive line and players who could have a breakout season.
I have highlighted three players who I think could have a breakout season for this Bears offense as their roles this season will be vital.
Cole Kmet: Taken in the second round of the 2020 NFL draft, the former Notre Dame TE was looked at as a game-changing tight end that could make this offense tick. Instead, Chicago saw little to no production from over the first half of the season only to see him pick things up during the final two months of the season.
In total, Kmet hauled in 28 catches for 243 yards while picking up two touchdowns. When on the field, Kmet displayed the excellent route-running skills that made him a desired TE coming out of college while also showing great hands. His role in the offense will be crucial to the Bears' success as Matt Nagy loves to involve his tight ends.
Look for Jimmy Graham to once again be the starter as the season opens, especially when you look at his red-zone production. Five or so years ago, Graham would have been the perfect fit for this offense as he was once a matchup nightmare to cover. However, given his age and injury history, those days are long gone, and Graham is starting to insert himself as a situational TE or red zone threat.
That is what I expect from him this season. I think Kmet takes over the starting TE role by week seven, pushing Graham to more of a Red Zone role. While Graham may end the season with more production in terms of touchdowns, Kmet will be one of those guys that extends drives as he will be used much more this season.
@ColeKmet looks like he's preparing to run over a couple Green Bay defensive backs

You love to see it pic.twitter.com/OJa2I1awLl

— 3 Kings Of The Midway (@3Kings_Midway) June 27, 2021
Damien Williams: One of the more overlooked pickups this offseason was that of RB Damien Williams. The former Miami Dolphin and Kansas City Chief has never been an every-down back, but when given a chance, has produced. Across the duration of his career, Williams has totaled 1231 yards on the ground to go with 1106 receiving yards and 22 touchdowns. In other words, he is a dual-threat back who plays very similar to Tarik Cohen.
Williams will be an interesting case this season as he will most likely be the third RB on the roster. Keep in mind that Cohen is recovering from a Torn ACL, so who knows how healthy he will be early in the season. That leaves the door open for Williams to get more playing time and gives him the chance to carve out a regular role in this offense.
Even if Cohen does come back healthy, the Bears may shy away from using him in the rushing game and ultimately may use him as a wing-back like Percy Harvin once was. That would not only allow him to be out in space and catch passes like he is great at, but it would allow Williams to take on a lot more touches in the running game, where he has proven to be reliable. This was a position that lacked depth last season, and suddenly, they have three very capable backs to shoulder the load.
Damien Williams > Tarik Cohen

Go about your day.

pic.twitter.com/xDtVvMpoJF

— Jeff Bell (@4WhomJBellTolls) June 11, 2021
Marquise Goodwin: If you are sensing a theme, you're right, as I expect a lot from the Bears' new acquisitions to have breakout seasons. Goodwin could be in line for a career year in Chicago, especially when you consider the sat out last season with COVID concerns. The year before that saw Goodwin hurt, as he has now had two years to recover from that injury and get healthy.
Goodwin has never been a No. 1 receiver, but has shown signs of being a reliable No.2. So far, he has surpassed 2323 yards to go with 13 touchdowns but was having his best years with San Francisco before getting hurt. With Allen Robinson continuing to see the most attention, it allowed for Darnell Mooney to emerge as the team's No. 2 receiver last season.
Mooney will not be overlooked this year, and now the Bears have Anthony Miller and Goodwin battling it out for the No. 3 spot. Goodwin, to me, earns that spot, and he could give the Bears tons of production from that spot. Given the speed and leaping ability, Goodwin gives the Bears their first legitimate deep ball threat in quite some time. While Dalton may not have the best arm, Fields has a cannon, and it is only a matter of time before he is starting this season.
When that time comes, Goodwin should take off as he will use his speed to capitalize on Fields' arm. Even though he may be listed as the team's No. 3 receiver when the season starts, don't be shocked to see his production be better than Mooney's this season as Goodwin is ready to break out in Chicago.
NFL athletes are special.

Major shoutout to @marquisegoodwin for the effort ??

(via @ChicagoBears) pic.twitter.com/iHNOrtlnG6

— B/R Gridiron (@brgridiron) June 25, 2021