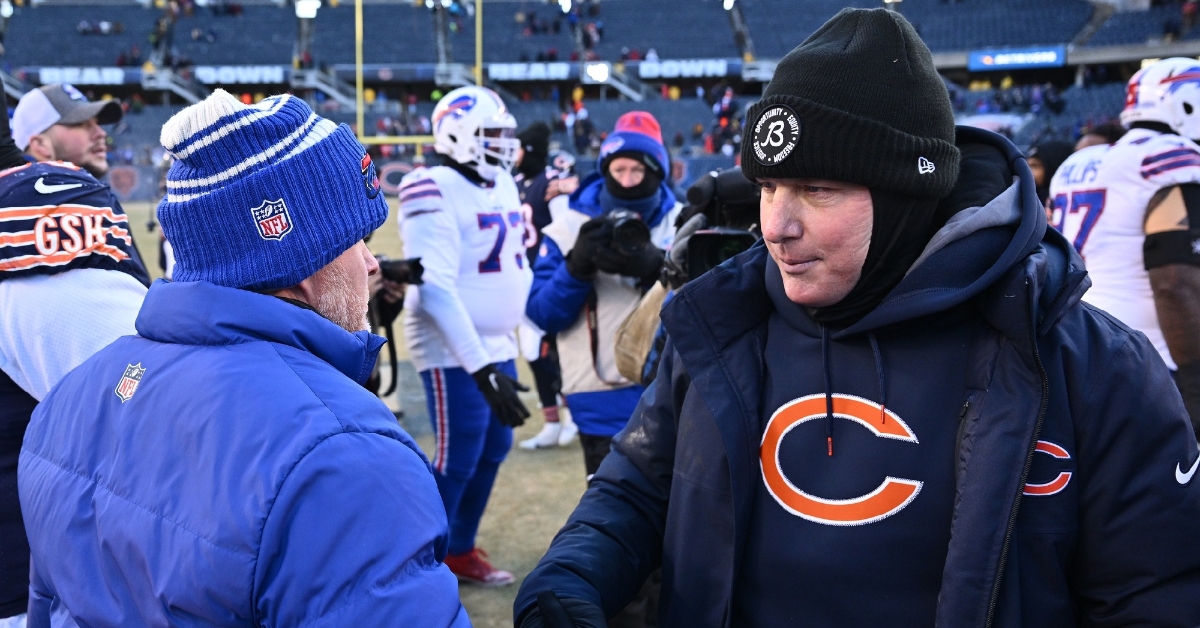 | | |
| --- | --- |
| Three Takeaways from Bears loss to Bills | |
---
| | | |
| --- | --- | --- |
| Monday, December 26, 2022, 9:43 AM | | |
It was another valiant effort from the Bears on Sunday, at least for one half, as the Bills scored 29 points in the second half to pull away 35-13. That has been an issue for the Bears all season as they tend to play well for one half, but for whatever reason, they can't put it together for a complete game.
As a rebuilding team, that is to be expected as this team has a first-year head coach and a young roster that is still learning how to win. All the fans can ask for at this point is for these players to gain valuable experience that will make them better in the long run next season.
Here are some takeaways from the game on Saturday:
A taste of their own medicine
Granted, the Bears offense has been a work in progress all season, but they have shown signs of life since the middle of October. A big reason for that has been their running game which emerged as the best running game in the NFL.
Having a QB that eclipsed the 1000-yard mark certainly helps, but David Montgomery and Khalil Herbert also added a nice compliment giving the Bears a three-headed monster to work with. The problem continues to be their passing attack, as they need more weapons to provide Justin Fields a legitimate chance to improve.
Despite leading the NFL in rushing most of the season, the Bills gave the Bears a taste of their own medicine on Saturday as they gashed through the Bears defense for 250 yards on the ground. Chicago was also held to their lowest output in quite a while, as they managed to rush for just 80 yards in the loss.
That is not the type of football this team can play if they want to win, and it was the Bills who gave this team a taste of their own medicine. This game was won and lost in the trenches, and the Bears were unable to match that physicality.
The Bears should sit Justin Fields
Although their 3-12 record may not indicate it, Fields has improved a lot in year two, which bodes well for the future. However, Fields has started to get banged up recently, injuring his shoulder three weeks ago and leaving the game early on Saturday.
This puts the Bears in a tough spot for the next few weeks as they need to figure out if protecting Fields is the best thing to do for the rest of the season. With a 3-12 mark, Chicago has already been eliminated from playoff contention and currently holds the No. 2 pick in the NFL draft. To keep that position, they will have to lose out, as other teams are right on their heels for that pick.
The best way to lose out is to rest some of your players, including Fields, down the stretch. If he is hurt even a little bit, throwing him out there and risking further injury is not good for his future. At this point, Chicago should go with Nathan Peterman the rest of the way and see what he can do and if he can be the backup next season.
The rookies are stepping up
Last week, Jaquon Brisker was coming through and making big plays against the Eagles. This week, Kyler Gordon was coming through to intercept Josh Allen in the first half. Despite the struggles this defense has had all season, they have played better lately, and a big reason for that has been the emergence of their rookies.
Gordon and Brisker have stepped up in recent weeks as those two will anchor this secondary for years to come, along with Jaylon Johnson. When you use your first two draft picks on the secondary, you count on them to contribute from day one.
Granted, that has only sometimes been the case this season as both Gordon and Brisker dealt with early-season injuries, but they also went through the growing pains all rookies do. However, in recent weeks they are starting to prove their worth, which is a good thing for the Bears, their defense, and the future of what this team might be capable of doing.
https://www.youtube.com/watch?v=06nOWfPExqM