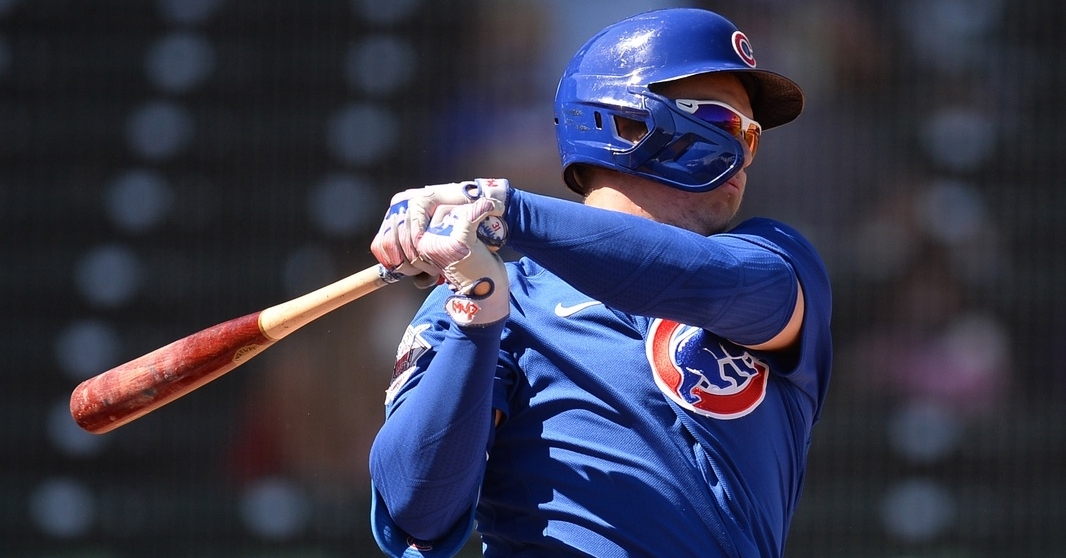 | | |
| --- | --- |
| 2021 Cubs Projections: Left Fielders including Joc Pederson | |
---
Now that we have moved out of the infield, it is time to focus on the outfield and what they could bring to the table this season. Of all the offensive positions on the team, this is by far the one that has gone through the most makeover this off-season.
Guys like Kyle Schwarber, Albert Almora Jr, Steven Souza Jr., and even Billy Hamilton are no longer with the team. That left Ian Happ and Jason Heyward as the only two outfielders returning to this roster. The Cubs did bring back Ian Miller and Cameron Maybin, but they needed to do a lot more than that.
The Nick Martini and Jacob Marisnick signing were strictly depth pieces, but the Joc Pederson signing could pay dividends. Pederson was brought in to replace Schwarber and could be become an everyday player for the first time in his career. If he proves that he can hit lefties even somewhat decently, then the Cubs will have a steal not only this season but perhaps more years down the road.
If spring is any indication of how some of these hitters are going to hit this season, this outfield will be a lot better than what many expected it to be. That is a good sign for this offense going forward.
Joe Pederson:: It is no secret the kind of talent Pederson is. The once top prospect in the Los Angeles Dodgers system had a decorated minor league career capped off by 30-30. Not only did Pederson possess power and speed, but he was a 290 plus hitter in the minors showing that he could be a complete hitter.
Upon arriving on the MLB stage, Pederson took the speed element away from his game as running was no longer much of a thing for him. The power numbers were still there and will always be there, but his batting average is more than 50 points lower than what he posted at the minor league level. Not to mention LA didn't give him much of an opportunity to hit lefties, so he settled into a platoon role the past seven seasons.
After entering free agency for the first time this offseason, Pederson was looking for a chance to be an everyday player. After the Cubs elected not to bring Schwarber back, they had an opening in left field, and Pederson fills that void. Pederson is pretty much the same player Schwarber is just maybe a little better defensively from a player standpoint.
The power numbers are very similar, and much like Schwarber, Pederson doesn't hit lefties well, although he has a limited sample size. This is the first time in his career that he will be given an opportunity to hit lefties consistently and be an everyday starter who will play the bulk of the team's games. Pederson could put himself in the conversation of long-term plans depending on the season he has.
Prediction: 134 games, .256 average, 31 homers, 93 RBIs
Pederson may never hit for a high average, but a lot of that will come from his ability to hit lefties. Outside of that, I am expecting big things from him this season, and Cubs fans should be excited. Not only is he getting a chance to play every day, but he is going from a division that had four pitchers' parks in it to a division with four hitters parks. Yet, he still hit 25 plus homers nearly every season, so you can imagine the numbers he could put up this season.
Pederson has all the tools to be a great player. He has power, underrated speed, and he has shown the ability to hit for a high average in the past. Average aside, Pederson will fit in well with this lineup and will put up numbers similar to, if not better than Schwarber this season.
Ian Miller: One of the more interesting players on this roster is that of Ian Miller. Entering the final weeks of spring before the Pandemic in 2020, Miller was having an incredible Spring and was the favorite to land the final bench spot. Ultimately that went to Jason Kipnis after the shutdown as Miller only saw a handful of games as a pinch-runner.
This season the Cubs decided to bring him back on a minor league deal and invite him to spring. Like last year, Miller will have to earn his way on the roster but could have a better shot to grab the final bench spot with a full spring. Speed is his best attribute which is something this Cubs team lacks. They need someone off the bench who can change the game with their legs, and Miller is that player.
Projection: 45 games, .250 average, 0 HRS, 6 RBIs, 14 steals
Miller may not break camp with the team, but he will be called up at some point. He can play all three outfield positions and the perfect weapon to have off the bench. When you look at a lot of teams, especially teams contending for the postseason, not only do they have reliable pinch hitters, but they always have a pinch runner that they deploy in late-game situations.
Miller could be that guy for the Cubs as he instantly becomes the fastest guy on the roster. Whenever the Cubs need a run late, especially down the stretch, don't be surprised to see him on the bases looking to make things happen. He may not get tons of at-bats, but he knows his role on this team and will be a great asset for them.
Brennan Davis: If we are going to cover left fielders, we must talk about Brennan Davis. Davis is not major league-ready and won't be for a few seasons, but he is the Cubs top position prospect and is turning heads. The former fifth-rounder dealt with injury issues in 2019 but still posted a 305 average with eight homers in just 52 games. Put that in perspective for a full minor league season, and he was on pace for 25-30 homers and roughly 20 steals.
Davis spent time at the Cubs alternate site in South Bend with a lost season last year before heading to the instructional league in the fall. During his time with the club, all his coaches raved about his ability as he continued to turn heads. That progress has given him an invite to spring training, where he has played nearly every game this spring, although limited innings. Still searching for his first spring hit, Davis has the highest ceiling of anyone in the system, and the Cubs feel that way too.
Projection (minors): 112 games, .291 average, 23 homers, 64 RBIs, 18 steals
Davis will most likely be staying with South Bend this season as they move up to High A for 2021. If healthy and should he play in most games, look for a breakout year by this kid. He has the offensive skill set to be not only a high average hitter but someone with 30-30 potential. Add in above-average defense in left field, and you are getting an outstanding player.
Davis is someone who I felt was ticketed for a 2024 Major League arrival, given how raw he was when the Cubs took him. Now two years later, he is rounding out to be quite the player, and you could be looking at a late 2022 early 2023 arrival for the left fielder of the future.

Upgrade Your Account
Unlock premium boards and exclusive features (e.g. ad-free) by upgrading your account today.
Upgrade Now