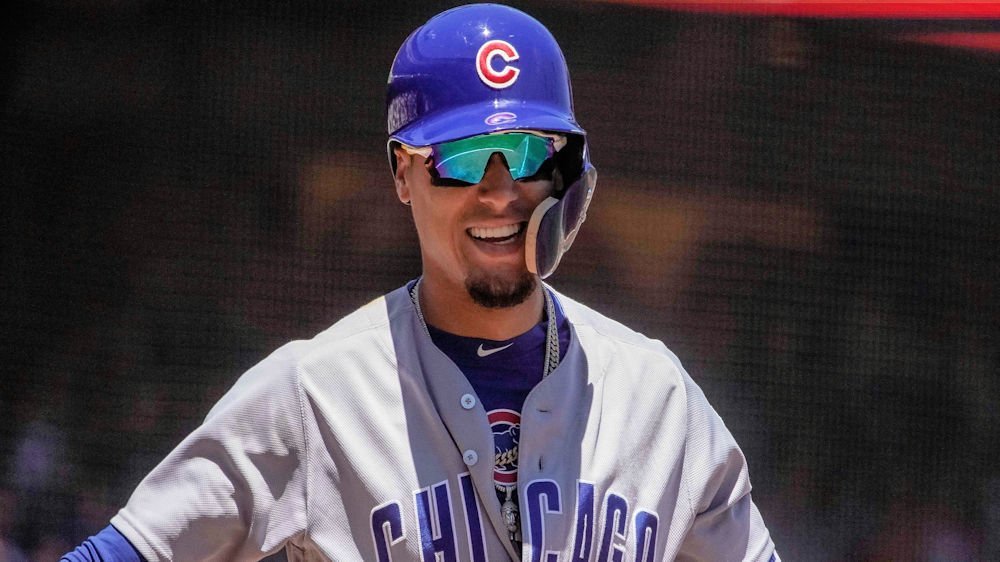 | | |
| --- | --- |
| 2021 Cubs Projections: Shortstops including Javy Baez | |
---
| | | |
| --- | --- | --- |
| Sunday, March 7, 2021, 8:22 AM | | |
While there are some roster questions on this year's team, shortstop is not one of them. If Javier Baez stays healthy this season, he will be the team's starting shortstop for as many games as they trot him out there.
Baez's future with this organization is an entirely different question as he is in the final year of team control before hitting free agency. The goal for both the Cubs and Baez is to work out a long-term extension which appeared close to happening before the pandemic last season. Then Baez went through his worst season as a pro leading to the question is, he is the Cubs future plans?
From all accounts, both Baez and the Cubs are interested in getting something done. If that is to happen, the two sides need to agree on something soon, or they need to have a deadline as to when talks can stop to focus on the season. Ultimately, Baez's future rests in his hands as it will be up to him to prove he is worthy of a long-term deal. Another season like last year, and his fate might be sealed.
Javy Baez: According to MLB stats, Baez was the worst hitter in the majors last season, and it wasn't even close. When you look at his inability to law off pitches and take walks, a decrease in power, and an average that hovered around 200 all season, and you can see why. Last season was the first time since his rookie year where he hit under 270, but unlike his rookie season in which he was just overmatched, he looked lost at the plate.
Baez has never been someone to lay off pitches or take walks, but that is just who he is. For fans to think that will ever change is nieve. To coincide with that, however, Baez, for the most part, has been able to make up for his wild approach at the plate, which is why he has consistently hit at least 270 every season minus his rookie year in 2014 and last year.
Before last season, Baez's 273 average in 2016 and 2017 were his lowest marks when playing at least 100 games. He hit a career-high 290 during his MVP runner-up finish in 2018 while posting a 289 mark in 2015 and 281 mark in 2019. To say last season will happen again is a little far-fetched if you ask me.
Projection: 152 games, .278 average, 28 homers, 91 RBIs
Baez may never hit at that MVP level again, but I also don't feel like he will play poorly as he did last season. When healthy and right, he is a dangerous bat in the middle of this lineup and will continue to be that way. Not to mention what he does on the bases and defense, and you get a game-changer across all three levels.
Baez is in line for a bounce-back this season like most of the Cubs returning core players. If he wants a long-term deal, he needs to prove last year was a fluke, and the numbers he was putting up the five years prior is something he can do every season. I feel that he will return to his old self this year if he can erase last year and focus on now.
Abiatal Avelino: Signed as a minor league free agent in November, the Cubs signed Abiatal Avelino to Iowa but invited him to spring training. The career 272 hitter in the minors is coming off a solid 2019 with Sacramento, where he hit a 283 with 12 homers and 62 RBI's. He also stole 17 bases in 22 attempts that season.
While Avelino has had great minor league success, the shortstop has played in just 10 MLB games, hitting a 278 with only one RBI. If the Cubs are leaning on him to play shortstop, they are in trouble.
Much like a lot of the players that are invited to camp, Avelino is someone who may not contribute now but could as the season rolls into September. You can never have too many players late in the season to give your guys days off.
Projection: 15 games .100 average, 0 homers, 0 RBIs, and 2 steals
If Avelino makes it to the bigs this season, it will most likely be as a September call-up. Any other reason would be for the sole purpose that the Cubs are in trouble and injuries are piling up. Even if he does make it to Wrigley at some point, expect him to get minimal at-bats and primarily be used as a Pinch Runner.
Chase Strumpf: This is someone I should have highlighted with the second basemen, but I will now. Taken in the second round of the 2019 MLB draft, Strumpf has a great bat and is already turning heads. After being invited to both South Bend and the instructional league in 2020, Strumpf put on a show in Arizona which has some scout's prediction a breakout season for him in 2021.
Now at spring with the big-league club, the second basemen has been seeing time at third, but don't expect that to continue long term. While the bat has never been an issue, the glove is still a work in progress. Either way, Strumpf could be the second basemen of the future for this team, depending on how the rest of the positions play out.
Prediction: 108 games, .280 average, 15 homers, and 64 RBIs
These numbers are what I expect him to do in the minors this season as he is not ready for the Majors. Look for him to start the season in South Bend with an inside chance he reaches Tennessee by the end of the year. In limited action in 2019, Strumpf showed a lot of poise and promise, which will only get better with more time.
The top 10 prospect is on the verge of having a breakout 2021 campaign if he does look for him to continue to climb in the prospect rankings and be a difference for this team in the future.