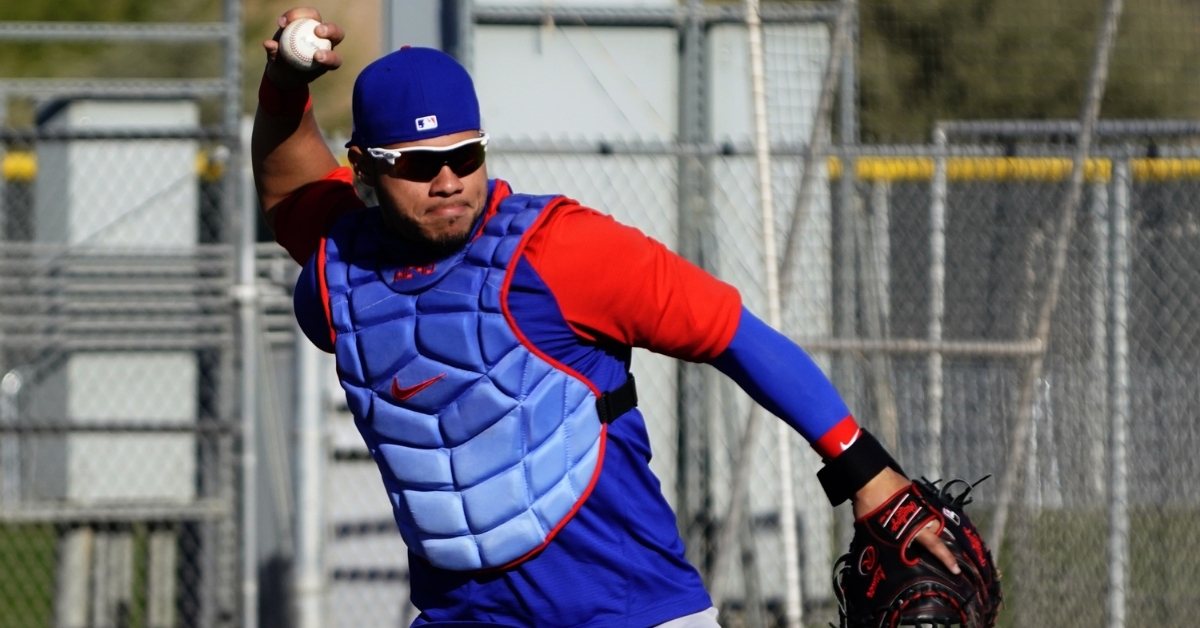 | | |
| --- | --- |
| 2021 Cubs Projections: Willson Contreras, other catchers | |
---
| | | |
| --- | --- | --- |
| Tuesday, March 2, 2021, 9:52 AM | | |
With Spring Training officially underway, it is never too early to look toward the regular season. With that being said, I will be starting my season projection series as I breakdown and try to predict what type of numbers the Cubs players will put up in 2021.
Today it is all about the catcher position, which is going to look much different this season. Willson Contreras is still going to be the primary guy behind the dish but in comes Austin Romine to replace Victor Caratini, so it will be interesting to see how that goes. Here is how I think their seasons will play out this year should the season go the full 162 games.
Willson Contreras: Ever since arriving on the scene in June 2016, Contreras has been stable in the middle of the Cubs lineup and has been one of the best offensive catchers in the game. Take away his seven-homer season last year, and Contreras has hit at least 10 homers every season with two seasons of 20 or more homers.
Along with his power and aggressiveness that he plays with, Contreras happens to have one of the more accurate and stronger throwing arms behind the dish. That means for a team that hasn't held runners on the best in recent seasons, Contreras is an X-factor behind the plate as his arm can change the outcome of a game on the bases.
Not only does he love to throw the ball to second and third base, but he loves to throw behind the runners at first, looking to catch them sleeping. Since 2017, no catcher in baseball has thrown the ball down to first more than Contreras, and he leads the MLB in pickoffs by catchers during that same time frame. The knock-on him has always been his inconsistency to frame pitches. Granted, he has dramatically improved over the past few years; the Cubs will need more from him this year as the Cubs rotation will be based on finesse, not power.
Projection: 118 Games (115 starts), .274 average, 20 homers, and 65 RBIs:
2021 outlook: Contreras had a monster summer camp and opening to the 2020 season, and he looked like he was on the verge of having a breakout year. Too bad that only lasted for two weeks as he hit a career-low .243 last season with seven homers and 26 RBI's. Considering that was a 60-game sample, he was on pace to have another solid 15-18 homer 60 plus RBI season.
If you look at the career track record of Contreras, for some reason, the even number years have been his down seasons. Take his rookie year of 2016 out of the equation, and the two seasons in which he hit less than 12 homers and batted under 250 were 2018 and 2020. Clearly a coincidence, yes, but in 2017 and 2019, he hit more than 20 homers in each season while driving in 60 plus.
With 2021 being a full 60-game season and an odd-numbered year for that matter, I like Contreras not necessarily to have a bounce-back year but get back to the numbers Cubs fans have seen from him. Offensively, he is about as good as they come in terms of catchers landing right up there with J.T Realmuto and Yasmani Grandal. Those numbers should continue this season as he looks to put the trade talks behind him.
Austin Romine (66 games 40 at catcher, 26 at first base): Replacing Caratini this season will be former New York Yankee and Detroit Tiger Austin Romine. The now 11-year veteran catcher has spent most of his career as a backup but has shown some promise when given a chance to play more frequently. Like most backup catchers, Romine will not hit for a high average coming in at .239 for his career. He does possess a little bit of power and has shown that in season's past.
The key for him this season is the ability to play first base as he will be both Anthony Rizzo and Contreras' primary backup. Rizzo continues to have back issues ail him from time to time, and Caratini was the one who filled in for him last year. Now it will be Romine's turn to fill in for two players who the Cubs hope will be counted on all season.
Projection: .232 average, five homers, and 23 RBIs
2021 outlook: While the playing time may be scarce for Romine, I expect him to deliver some production this year. Granted, that production may not be at the level of Caratini the past few seasons, but his numbers won't be terrible when you look at the ranks of backup catchers this season. I see him getting more playing time early in the year, but expect those numbers to go down as the season goes on.
Miguel Amaya (15-20 games): Ranked third in the Cubs Top 30 Prospect system by most publications, 23-year-old Miguel Amaya is the future for this team behind home plate. The catcher has spent time in spring training the past few seasons and was a crucial cog in the middle of the Myrtle Beach Pelicans lineup in 2019. He went on to hit .248 with 12 homers and 53 RBIs that season.
With the 2020 minor league season canceled, Amaya was one of the prospects invited to the Cubs alternate site, where he received plenty of work. He then went on to play winter ball in Venezuela this year, where he was knocking the cover off the ball. The biggest key to his season will how he performs this spring. With the AAA season starting April 9th compared to the rest of the minor league levels beginning May 4th, it will be interesting to see if the Cubs send him to Iowa right away to play more games or place him with Tennessee, where he would have been last season.
Regardless of where he ends up, Amaya is going to land in AAA at some point this season, and I would be surprised to see him in the MLB too. Barring a significant injury to Contreras, Amaya will most likely be a September call-up compared to guys like P.J. Higgins or Jose Lobaton, who would be Romine's replacement should he get hurt. If Amaya is called up, look for the Cubs to play him down the stretch allowing Contreras to see time at first or get some days off.
Projection: .225 average, two homers, and 7 RBIs
2021 and beyond outlook: Amaya has yet to turn into the hitter the Cubs expected him to be, but that will come as he starts to untap his power. Defensively, Amaya is as good as it gets in the Cubs system, which is going to massive for his development as a player. I expect him to struggle with big league pitching this year, but he also will have a chance to adjust on the fly. With Romine signed to a one-year deal and Contreras nearing the end of his deal, it will be interesting to see what the Cubs do with Amaya next season.