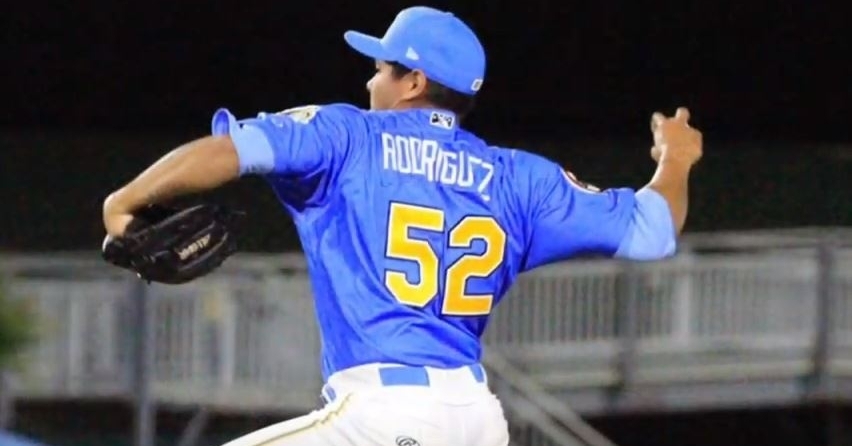 | | |
| --- | --- |
| 5 Potential Cubs Breakout Prospects for 2021 | |
---
| | | |
| --- | --- | --- |
| Monday, February 15, 2021, 8:02 AM | | |
Over the past five seasons, the Cubs have seen their farm system go from the best in baseball to one of the worst. Since reaching that level, the front office has slowly started to restock the system in hopes of building toward another World Series Championship. That process was in full swing a few months ago when the Cubs traded Yu Darvish for a boatload of young prospects in return.
Jed Hoyer has gone on record saying that this is a crucial season for this team's future. That doesn't just mean for the major league roster, but the entire farm system also. After losing a year of development in 2020, the 2021 season becomes crucial for the Cubs overall future. Players who continue to develop this season will continue to push towards the majors. Players that don't may not be with the organization very long.
We already know about the top 30 prospects in the Cubs system or at least ones who are expected to be in that range. What about some of the ones on the outside looking in that could make significant strides this season?
Here is a list of five Cubs prospects who could break out in 2021.
Manuel Rodriguez (RHP): One of the more well-known names on this list is Manny Rodriguez. The 24-year righty was acquired as an international free agent in 2016 and appears ready to land in Tennessee this season. Cubs fans got a chance to witness him firsthand in spring training last year as he wowed the Organization with his triple-digit heater and a wipeout slider.
His spring debut was cut short as a biceps injury ultimately ended his season. Durability is the biggest question with him as he has yet to throw 50 innings in a season. While his command was vastly improved last season, it was shaky many years before that. Add in a newly revamped sinker, and he has all the makings of being a high leverage reliever in the future.
Luke Little (LHP): The Cubs already have a Little in Brendon Little's system, who sits around 30 as we speak. On the other hand, Luke Little is the newest lefty in the Cubs system after being selected in the fourth round of last summer's draft.
Most people expect the southpaw to land in Myrtle Beach this season, and there is a lot to like about him. Going back to his 2019 JUCO season, Little appeared in 17 games, six of which were starts posting a 3-1 record with a 2.04 ERA. Little also registered two saves while striking out 69 hitters in 35 innings.
The thing that drew everyone to Little was his 102 MPH heater that was seen hitting 105. I don't know if he will ever hit that high again, but he should have no trouble averaging 97 with his large frame. His fastball is his best pitch, and at times it was the only pitch he needed to get through his JUCO season. The Cubs need to see his three-pitch mix evolve more this season as the changeup could be essential.
Hunter Bigge (RHP): With the system slowly restocking on pitching talent, Hunter Bigge is another arm to watch in 2021. Taken in the 12th round of the 2019 MLB draft, Bigge posted a 2-0 mark with Eugene in 2019 before not seeing action last year. Now ticketed for South Bend, this year will be an important one for Bigge.
His velocity is nowhere near what Little can hit, but he can reach 95-96 with relative ease. Bigge also has a big curveball that projects as a strong No. 2 pitch to go along with that heater. Bigge projects to be a starter long term.
The thing holding him back will always be his command, as that has been sporadic at best. While he would love to remain a starting pitcher long-term, I think a middle relief role is where he will end up, but it will be interesting to see where he lands in 2021.
Koen Moreno (RHP): Another name Cubs fans may recognize but often forget is RHP Koen Moreno. Much like Little, Moreno was taken in the 2020 MLB draft and was the Cubs fifth and final selection. Moreno has a long way to go out of high school but should enter the season with the AZL Cubs in the first stage of his development.
Moreno is being compared to Jeff Samardzija, but not from a pitching standpoint. He is by far the most athletic pitcher the organization has had since the Shark was going through the system. The Cubs love what they see from the athleticism as it translates well on the mound, especially with his effortless delivery.
His fastball is only in the 86-87 range right now, but that will only improve as he fills out his frame. The Cubs love his foundation and fell in love with what they see from him. Moreno is not a big pitcher size-wise, so hitting the weight room will be huge for him not only this season but beyond. If he can continue to put in the work and develop his pitching, Moreno has the skill set to be a middle of the rotation arm.
Yohendrick Pinango (OF): One of the least known hitters in the entire Cubs system is left-handed outfielder Yohendrick Pinango. After playing the 2019 season in the Dominican Rookie League, look for him to make the jump to Arizona this year.
When I watch Pinango, I immediately think of future leadoff hitter as the Cubs may have that problem solved. Not only is his left-handed stroke extremely smooth, but he has excellent bat to ball skills with the ability to drive the ball all over the field. He is a patient hitter for his age, and his athletic frame is only going to continue to fill out.
While Pinango may have great bat on ball skills, many of his hits are on the ground. Granted, he hits those balls with authority. The next step in his development would be to add some line-drive contact in his game. Once that happens, he can then tap into his pull side power as that will come later.
Pinango checks every box possible for a leadoff hitter if things go right, and coming off a 2019 season where he hit .358 in 62 rookie league games, and you can see why.
Pinango didn't hit a homer but did drive in 36 runners while taking 27 walks to 20 strikeouts. He also showed off his speed by stealing 27 bases in 34 attempts. This has leadoff hitter written all over it and someone the Cubs need to hold on to.
???????? w/ Yohendrick Pinango pic.twitter.com/cXn3Q67jTA

— REP1 Baseball (@REP1Baseball) June 12, 2020