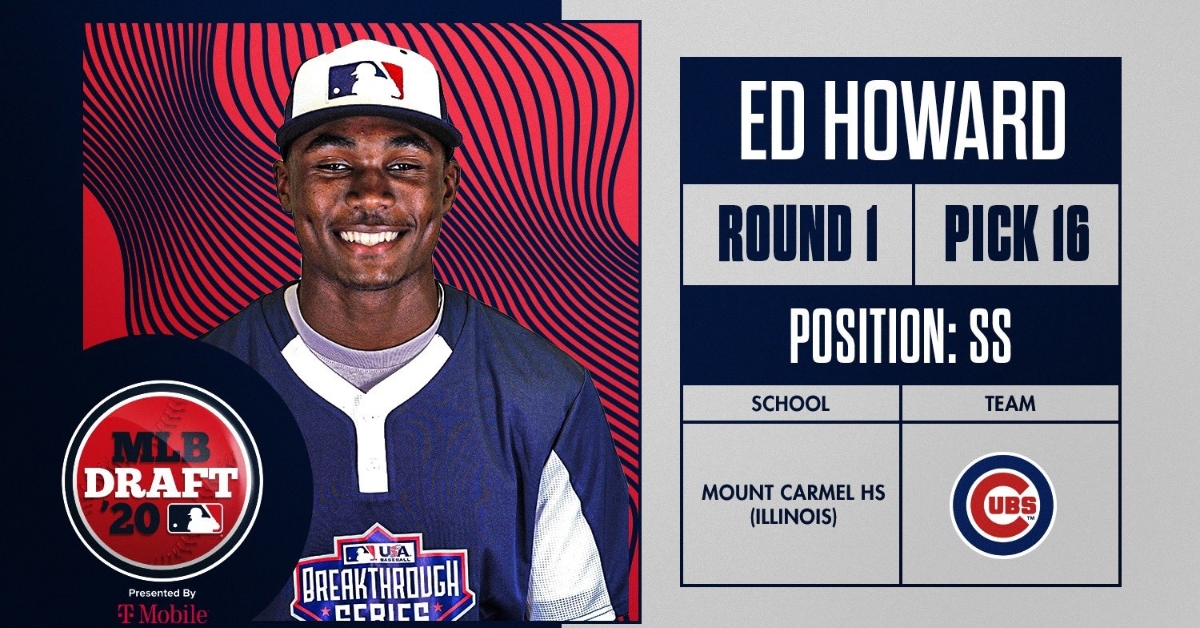 | | |
| --- | --- |
| Breakdown: Cubs 2020 Top 5 Prospects | |
---
| | | |
| --- | --- | --- |
| Sunday, January 3, 2021, 11:03 AM | | |
We have reached the final installment of the Cubs top Prospect series. That is until the list changes with the addition of the Padres four prospects acquired in the Yu Darvish deal. These are the prospects viewed as franchise cornerstones who can lead this team for years to come.
Some may be closer to arriving than others, and some may have already arrived even if it was brief. Regardless, the Cubs farm system isn't as deep as some, but these are the players that, in my mind, could stack up with a lot of top five rankings across the league.
When you look at who the Cubs have recently acquired and the potential of Willson Contreras getting traded, I think it is safe to say these five are off-limits in trade talks, at least for right now. That could all change over time, but if the Cubs intend to restock the farm, they need these five to stick around.
Here are the top five rankings:
5. Cole Roederer (OF): Taken in the second round of the 2018 MLB draft, Cole Roederer is an intriguing OF prospect that primarily plays in center field. I got to be honest, I like Roederer as a player, but I don't love him to this point so seeing him this high always surprises me, but that leads me to believe he has a bright future.
Roederer was taken out of high school and has drawn comparisons to Andrew Benintendi. The lefty was one of the better hitters in high school but was greeted to a rude awakening during his first full season with South Bend. After hitting .275 with five homers and 24 RBIs in rookie ball, Roederer saw his average plummet to .224 in 108 games with South Bend. He did lead the team with nine homers and 60 RBIs, so he was able to produce.
Taking last season aside, Roederer has all the tools to be a solid hitter who eventually should hit in the .280-.290 range and give you 20-25 homers. He has a smooth left-handed swing but does need to work on his approach a little bit as he gets more experience. He loves to work counts and isn't afraid to take his walks. A mainly pull-happy hitter, Roederer will need to do a better job using the entire field.
Not only should he hit, but his great instincts in the outfield could help him stay in centerfield long-term. Add that with plus speed that makes him a base-stealing threat, and you have a complete player. Depending on Ian Happ's future and where the Cubs see him could decide where they go with Roederer when he is ready.
4. Ed Howard (SS): It is no surprise to see Howard on the Cubs top prospect list, but I am a bit surprised to see him this high. Taken 16th overall out of high school this past summer, Howard is a home-town kid known for his Little League World Series days with the Jackie Robinson West team. He has yet to play a professional game but emerged as the best shortstop in the 2020 class.
When you think of shortstops, they are often the best athletes on the field and can play anywhere. On the other hand, Howard isn't one of those players as there is no doubt he is the future shortstop of this organization. He is a smooth defender in the field with quick hands and a strong and accurate arm. He also has a high baseball IQ, which helps slow the game down.
Offensively, Howard has had some inconsistencies as a hitter, but his short compact swing from the right side should allow for consistent contact. Not only is he 6-2, but he has impressive bat speed meaning more power will come once he fills out his frame. He could develop into an above-average power hitter but will be a strong hitter overall none the less with decent speed on the bases.
3. Miguel Amaya (C): Signed in 2015 as an international free agent, Amaya is by far the best catcher in the Cubs system that is suddenly loaded with Catchers. The once former top prospect still finds himself in the top 100 in baseball and is considered one of the best overall catching prospects in the game.
The Panama native was looking to start his season with either Tennessee or Iowa, but after Victor Caratini was traded and the possibility of Contreras going, Amaya could be at Wrigley at some point this season.
Amaya's offense is still a work in progress, but he projects to be an all-around hitter. Across his 331 career games, Amaya has hit just .243, with a career-high .256 coming with South Bend in 2018. Amaya is also coming into his own power-wise, hitting 23 of his 27 homers over the past two seasons to go with 109 of his 157 RBIs.
Even though the average may not be what fans would like, he does show impressive control of the strike zone, especially for a player of his age. He has a good feel for the barrel and is starting to come into his own as a hitter. Expect him to hit in the .260s and be a guy who can give you 15-20 homers every year.
The thing that the Cubs love about him is his defensive work behind the plate. His receiving does need to be more consistent, but Amaya does a great job at framing pitches and blocking pitches in the dirt. His arm strength and accuracy has also improved to the point where he threw out 35% of base stealers in 2019. He will only get better.
2. Brennan Davis (OF): A lot of talk has circled the Cubs top prospect, who we will get to in a minute, but 2018 second-round pick Brennan Davis is on the rise in a hurry. The former dual-sport athlete in high school, ultimately chose baseball as his career path and it has worked out nicely for him.
This left fielder can do it all and is the top hitting prospect in the Cubs system. Not only did he hit .298 in rookie ball, but he was even better during his first full season at South Bend. Despite being limited to just 50 games with various injuries, Davis put on a show hitting .305, with eight Homers and 30 RBIs. The potential to be a 30-30 player is there, and he has the highest ceiling among position players.
Davis has strong and quick hands that lead to elite bat speed, but he has already adjusted his approach. Davis has now tightened up his swing allowing him to not only crush the pull side pitches but drive the ball the opposite way with ease. He not only has above-average raw power but has shown no signs of struggling to make contact thus far.
Another top 100 prospect, Davis has plus speed but is still looking to take advantage of it. He has often struggled to read the ball off bats in the center, which is why he spent more time in left field. He can play anywhere in the outfield, and the Cubs have been happy with the amount of progress he has made and how quickly he has improved.
1. Brailyn Marquez (LHP) Without question, the Cubs top prospect is left-handed fireballer Brailyn Marquez. Another international signing in 2015, Marquez has spent a lot of time in the Cubs system but is now starting to figure it out. At just 21 years old, Marquez made his big-league debut last summer and should once again be knocking on the door of Wrigley at some point this season.
The big 6-4 lefty drew the Cubs scouts' attention in 2015 when he was hitting 92 MPH at just 16. The South Paw is consistently in the 97-98 MPH range
but topped out at 102 during the 2019 Midwest League All-Star game. Marquez began to reach his full potential that same year, posting a 1.17 ERA and an 8BB/48K ratio over his final 39 innings with Myrtle Beach and South Bend.
Since cleaning up his mechanics, not only has his fastball velocity increased, but his command is getting better too. Marquez continues to work on his secondary pitches, with his slider having the potential to be a plus offering that sits in the 89-90 MPH range.
Not only has he dominated lefties, but he has had success against righties too. His changeup sits in the 92 MPH range but has been inconsistent at best. Marquez has the stuff and makeup to be a front-line starter, but he reminds me a lot of Aroldis Chapman, given the high velocity and body makeup. Ultimately, and I may be in the minority on this, Marquez, I think he pans out better as a back end reliever where he can use his stuff to its full advantage.
He could become the Cubs version of a Josh Hader or another Chapman where you come in and throw pure gas for one or two innings. Whatever the Cubs have in store for him, He is a top Cubs pitching prospect who needs to stick around.