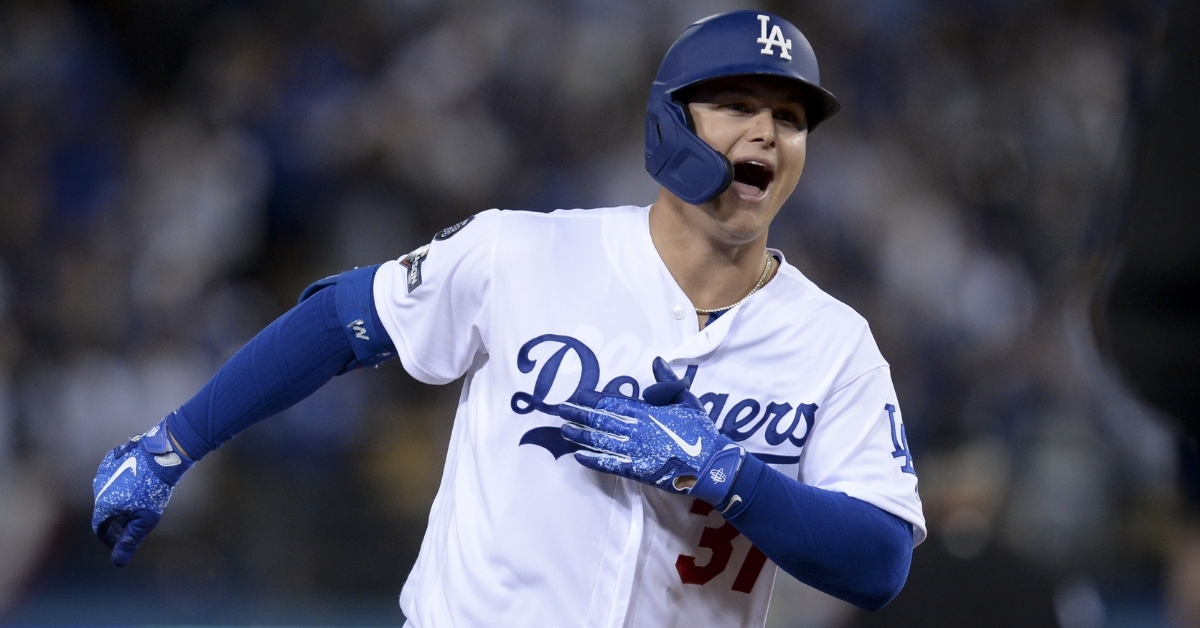 | | |
| --- | --- |
| Breakdown: Cubs replace Kyle Schwarber with Joc Pederson | |
---
| | | |
| --- | --- | --- |
| Saturday, January 30, 2021, 9:45 AM | | |
It is incredible what a difference one signing can make. After spending the first two-plus months of free agency signing players to minor league deals, the Cubs signed Austin Romine to a one year 1.5 million dollar offer to become Willson Contreras' backup. That signing proved to be the lone guaranteed positional big league contract this offseason, but that all changed Friday morning as the Cubs finally went and got a bat they needed.
After non-tendering Kyle Schwarber and watching him sign a 10-million-dollar deal with Washington, the Cubs had a gaping hole in left that they desperately needed to fill. Sure, there are some in-house options the team could use but considering the power that he brought to the table, that alone will be tough to replace.
When you looked at the free-agent market, names like Eddie Rosario and Joc Pederson made a ton of sense from the start. Both players play left field, both players have had good years prior to 2020, and both players provide the Cubs power from the left side that they desperately. Considering what Rosario and Schwarber were non-tendered for, it seemed like bringing anyone of these players to Chicago may be out of their price range.
Well, Chicago surprised us all Friday morning and felt the way fans felt this offseason. It wasn't Rosario inking a deal, but instead, former Los Angeles Dodger Pederson is on his way to the Northside on a one-year seven-million-dollar deal. Not only is this a reasonable one-year deal, but Pederson is a carbon copy of Schwarber and is coming at a slightly cheaper cost.
At 28 years old, Pederson is entering his prime and could be on the verge of tapping into that at this point. When you compare the numbers between him and Schwarber, they are extremely close, which becomes a replacement for him. For starters, both Schwarber and Pederson post identical batting averages of 230. Pederson has roughly 150 more games of experience, but both of them have played approximately the same.
Pederson has connected for 130 homers, where Schwarber belted 121 homers. Pederson also holds the lead in RBIs 303 to 279 along with stolen bases 17 to 11. You immediately look at the walk and strikeout percentage, where once again, things are close. Schwarber walks in 13% of his plate appearances, while Pederson walks 12.1% of the time. However, Schwarber strikes out 28% of the time on the flip side, whereas Pederson is at 24%.
Essentially this is the same player who has yet to be given a full-time role on an MLB roster. A lot of that has to do with his inability to hit left-handers. Pederson mashes righties to the point where he ranks in the top five in the National League in slugging against righties. The problem has been the inability to hit lefties, hitting just .174 against them over his career. Granted, a lot of that is because he hasn't been given a chance to do that consistently, so maybe the Cubs give him that chance.
Pederson has four seasons of 25 plus homers under his belt, including a career-high 36 in 2019. Should he get roughly 500 at-bats and play in 130 plus games this season, there is no question this team just added a 30 homer 90 plus RBI guy for a cheap one-year deal. I find it ironic how much Pederson has struggled since coming to the majors as he was a great hitter in the minor leagues.
Across his time going through the Dodgers system, Pederson hit .298 for his career, including a .245 average against lefties. Great, no, but miles better than what he has done at the big-league level against lefties. His power numbers were much lower than now, hitting just 87 homers, but his 114 stolen bases showed he could run a little bit.
His final full season in AAA is where he put things together and why executives expected him to be a star. Across 121 games that season, Pederson hit .303 with a career-high 33 homers and 78 RBIs. He also stole 30 bases that season for a second straight season, so there was 30-30 potential. What stood out to me the most when looking back that season was his patience at the plate in an everyday role.
Yes, a career-high 149 strikeouts that season was a negative, but a career-high 100 walks, 30 more than any season, was positive. Could that be a sign of things to come with an everyday role? Along with putting up numbers like Schwarber, Pederson also provides more versatility, making the Cubs a bit better.
Left field is the primary position Pederson has played, but he has seen plenty of time in center field. Expect him to see time in both left and center with the Cubs, which will allow Ian Happ to do the same. I also expect Pederson to potentially see time in right, which could ultimately make him the utility outfielder on the team.
I was one of the people that wanted the Cubs to ink Rosario to a two-year deal as I felt his bat fit better in the lineup. However, with Schwarber gone, the team needed a power bat from the left side, which Pederson brings. He fits the mold of many hitters in this team's lineup, which is a concern, but before fans get too upset, he has yet to be an everyday player and still put up the numbers he did. Look for those to all go up this season.