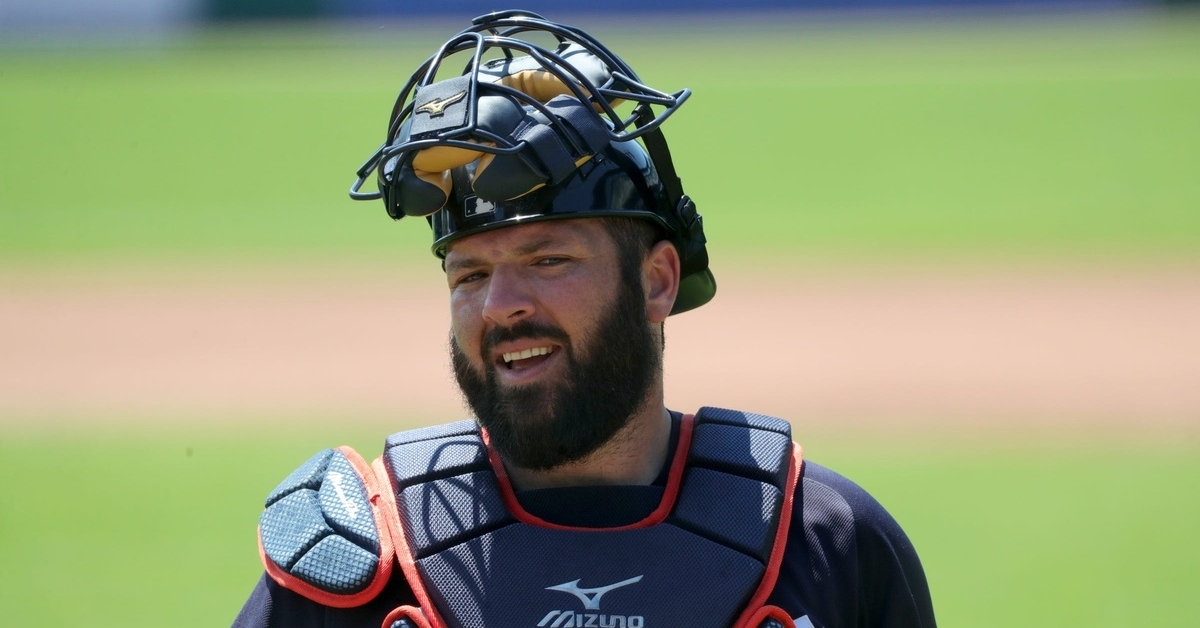 | | |
| --- | --- |
| Breakdown: Cubs signed their backup catcher | |
---
| | | |
| --- | --- | --- |
| Sunday, January 24, 2021, 6:13 PM | | |
The Cubs have made another signing this week, and this one seems to be the first of what fans hope isn't the last major league contract. With a need at backup catcher as still on the team's to-do list, they took care of that by signing Austin Romine to a one-year 1.5-million-dollar deal. The deal is official as the Cubs are taking care of one of their most significant needs heading into spring.
This is precisely the signing fans should have expected this team to make, but this is one they needed. Not only is Romine precisely what the Cubs are looking for in terms of a backup catcher, but he has also seen plenty of time at first base. With Victor Caratini in San Diego, Anthony Rizzo will need someone who can spare him some games from time to time. Romine is someone who can do that, so this becomes a win-win for the Cubs as they didn't have to break the bank to get him.
While the dollar amount isn't set in stone, it appears that he will be coming to the north side on a 1.5-million-dollar deal pending physical. When you consider that he signed a four-million-dollar agreement with the Tigers last season as one of the better catchers on the market, the Cubs are getting him for a bargain price at this point.
At 32 years old, Romine is no stranger to the big leagues spending the past 10 now 11 seasons on major league rosters. His first nine came as a member of the New York Yankees before joining the Tigers last season. This will be his first season as a member of the National League, so he will see some changes in how the game is played.
Romine has always been a backup catcher but has seen significant game action throughout his career. 2016 saw Romine get his first real shot to be the everyday catcher while Gary Sanchez was battling injuries. Although his defense was undoubtedly good enough to be the guy, the bat never materialized much as his hitting didn't come along until his late 20's. For some reason, you see that many catchers, especially backup ones, so that isn't all too surprising.
Despite getting sporadic starts here and there, Romine played in 60 games or more five times, including a stretch from 2016-19, where he played in at least 70. That includes a career-high 80 games in 2017. Romine may have always struggled with consistency in terms of hitting, but when his bat finally came around, he proved to be a very valuable bench piece for the Yankees.
His defense was always what stood out, and his bat was better than league average for backup catchers. It certainly wasn't something to get excited about, but being better than most backup catchers will certainly land you a job long term.
Romine has mounted a 237-batting average across his career, with a career-high 281 coming with the Yankees in 2019. He has connected for 27 homers during his career, with his only double-digit homer season coming in 2018 when he hit 10. Romine also drove in 42 runners that seasons, which also happens to be a career-high.
Heading into last offseason, the Tigers felt that his 2019 season could be a sign to come with more playing time and elected to bring him aboard last season. It proved to be a rough showing for Romine, who never got into a consistent rhythm with the shortened season. In total, he saw action in 37 games, hitting a 238, which was slightly above his average. His two homers were right around his career average, but his 17 RBIs put him well above his career average pace.
Much like the rest of this Cubs lineup, Romine tends to strike out a lot, roughly 30% of his plate appearances. He also walks less than 5% of the time, which is why the bat has never been what many expected it to be. Not only was offense an issue, but the defense was too, as virtually every part of his game was off last season.
For the first time in his career, his defensive skills declined, and the Cubs are hoping that had to do with an organizational change or the shortened season. That typically doesn't happen overnight to a 31-year-old catcher, so now the Cubs hope he can rebound and back to the numbers he was posting in New York.
If he can bounce back, Romine will give you solid defense behind the plate and knows how to call a good game. His bat isn't going to wow you, but it is above average for backup catchers. Romine also hits lefties slightly better than righties, which was an issue for this team last season. Romine may not be as good as Caratini, but for a team strictly looking for a backup catcher, he gives the Cubs what they need.
Austin Romine told us on @MLBNetworkRadio today that playing for @D_Ross3 was a major reason he chose to sign with Chicago. Romine was impressed by Ross' energy and engagement (top step, communicating with his players) during a @Tigers-@Cubs series in '20. @MLBNetwork @MLB

— Jon Morosi (@jonmorosi) January 25, 2021