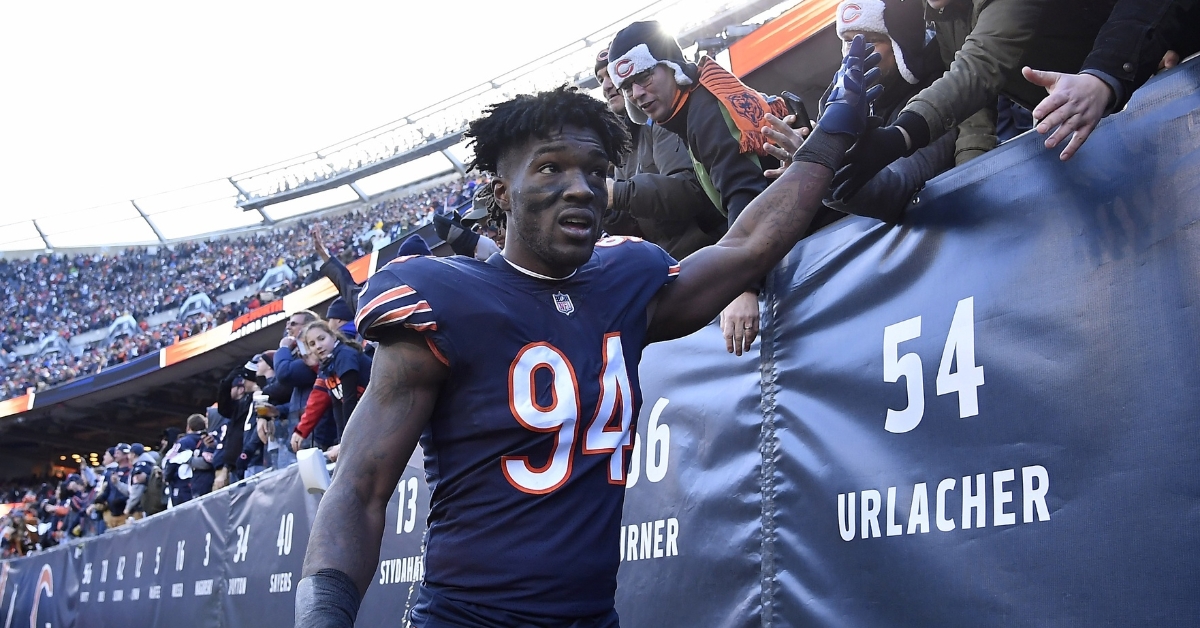 | | |
| --- | --- |
| Chicago Bears look to cut payroll in 2020 | |
---
| | | |
| --- | --- | --- |
| Tuesday, February 11, 2020, 5:43 PM | | |
Following a disappointing 2019 season, the Chicago Bears find themselves in a crossroads in terms of what to do with their offseason. On paper, they still have a talented group of players who won 12 games in 2018 en route to an NFC Title. Last year didn't go as planned mainly because of a lot of injuries early in the season and just individual players not living up to what they did in the year prior.
With obvious improvements needed to be made on this roster, especially the TE position, the Bears are faced with the harsh reality that they may need to cut some of their players to clear cap space this season. Looking ahead to next season, and current projections appear to have the Salary Cap set at just under 215 million dollars.
That is a ton of money, but the Bears do not have much wiggle room left before exceeding that level. Fortunately for the Bears, they don't have a ton of dead weight money left on this roster should they indeed decide to cut players this season. As of now, Chicago is just 4.9 million dollars under the cap, which doesn't give them much leverage to sign many players this offseason. Although not in the best of positions 29th out of 32 NFL teams, it could be worse as the Vikings currently sit 11 million over the cap.
We all know the Bears not only want to improve their roster but want to add as much competition also which means something must give if they plan to bring players in this offseason. The only way Chicago will be able to make something happen is if they find a way to clear cap space. Should the Bears want to make cuts to clear up some free agent money the most obvious move would be Letting Kyle Long, and his 8.1-million-dollar contract go.
Not only did Long announce his retirement that is an easy 8.1 million in savings that only comes with a 1.5 million hit in dead money. Taylor Gabriel is another player the Bears could look to move as he is on the hook for 4.5 million this season. Parting ways with Gabriel will certainly be a tough pill to swallow as he has two years remaining on his deal, and his speed will be desperately missed on this team.
However, the injuries have piled up for Gabriel since arriving in Chicago, and that is starting to make him a liability on the field. The worst part about his injuries is that the Bears never got the production from the receivers filling in for him they hoped for, but this year's free-agent receiver class is filled with talent top to bottom. Chicago won't be saving a ton of money with 4.5 million, but any little bit helps, and they should be able to find a receiver on the market that doesn't break the bank.
The biggest position of need for the Bears this off season is the TE position and two obvious cuts come from that group. Both Ben Braunecker and Adam Shaheen appear to be as good as gone as the two of them will combine to make 2.7 million this season. Not only would this move make sense in terms of shedding pay roll, but it also sets up the scenario for the Bears to reshape the TE room which will be one of their focuses in the off season.
So, let's review, should the Bears part ways with all four of these players mentioned above, they will be saving a total of 15.3 million dollars, which added to their current cap space gives them 19.3 million dollars to play with in free agency. That is much better in terms of having the wiggle room to add to this roster. However, could more be done?
Cutting three non-starters and a retired player isn't much of a hurdle at all and at the bare minimum would give the Bears money to play with. What if the Bears are thinking bigger picture with the hopes of adding tons of talent? Then the focus shifts to starters who are on the books to make a ton of money this season. The two players that come to mind are Leonard Floyd and Prince Amukamara.
Floyd is on the hook for 13.2 million this season, while Amukamara is scheduled to make around 9. Losing Floyd would be a big loss for this team, but the former top 10 pick has yet to live up to that billing since coming to Chicago. Outside the few games against the Packers, his passing rushing skills have not shown up frequently enough, and the Bears are starting to lose patience with him. With several free agents, including Vic Beasley on the market, releasing him is a realistic option at this point.
Amukamara is the hardest piece to figure out at this point, given the amount of production Chicago continues to get out of him. Obviously, Kyle Fuller is the best CB on the team, Amukamara has been steady across from him and has earned his money thus far. The problem with Amukamara is his lack of speed, as injuries certainly have slowed him down in recent seasons. Chicago could get creative and re-sign both players to extensions to lower the cap number, but should the Bears decide to part ways with both that opens $22.2 million in cap space.
Add that to the 19 million from the players above, and you now have 41 million to play within the free-agent market as you look to improve your roster. Do I think all moves will be made, of course not, but at least this gives Chicago a start. Even if the Bears make only a few of these deals, they should have no trouble giving themselves 15-20 million dollars in cap space this, offseason which can make all the difference in terms of improving your roster.

Upgrade Your Account
Unlock premium boards and exclusive features (e.g. ad-free) by upgrading your account today.
Upgrade Now