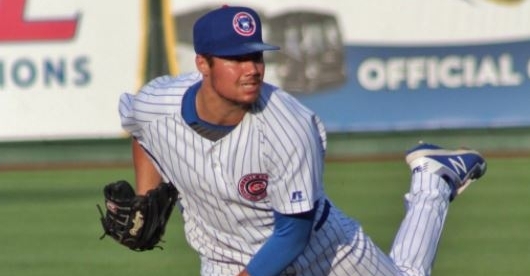 | | |
| --- | --- |
| Chicago Cubs Top 30 Prospect Rankings for 2021 | |
---
| | | |
| --- | --- | --- |
| Tuesday, March 23, 2021, 8:31 AM | | |
MLB recently released their Top 30 prospect list for each organization, and let me tell you; the Cubs are in good hands.
After spending the last several years towards the bottom in overall farm system rankings, the Cubs are poised to make a big jump this season which bodes well for this team's future.
Over the next several days, we will look at who cracked the top 30 list to open the season and what their chances are to contribute soon. With the Minor League seasons starting May 4th or later, I believe that most of these names will stick the next couple of years as everyone will be on a level playing field in terms of development.
Taken in the first round of the 2017 MLB draft, left-hander Brendon Little hasn't developed into the pitcher the Cubs hoped for. Once viewed as a future middle of the rotation arm, Little has compiled a 7-15 record in the minors with a 5.05 ERA. However, the good news is that he is coming off a 2019 season that saw him make 12 starts going 2-2 and posting a 3.58 ERA.
That could be signs that he has figured it out, but the command issues are still there, which needs to be ironed out. Little has been seen touching 96, but he is most comfortable throwing in the 91-93 mph range. Little always features both a slider and curve as he needs to rely more on those. I expect him to start the season in either South Bend or Tennessee as he continues to develop as a player.
Prospect #29 overall Davidjohn Herz
A name that popped up in the fall of 2020 is back on the prospect list at 29, with southpaw Davidjohn Herz earning that sport. Herz was drafted by the Cubs in the eighth round and immediately went to work after being the top high school arm out of North Carolina. In six starts for the Arizona rookie league club, Herz went 0-1 while posting a 2.61 ERA. His 8BB and 8K were a little concerning, but in just 10 innings, there is a lot to like.
Much like Little, Herz sits in the 90-93 range with his heater but has now been consistently in the 95 MPH range. To go with that, he adds an 84 MPH slider and is continuing to develop a change. At this point in his career, Herz is still a work in progress and maybe three years away from the big leagues. While the Arizona league might be the ideal spot for him right now, look for him to land in Myrtle Beach this season and develop from there.
Prospect #28 overall Jordan Nwogu
Keeping the trend of drafting high-profile bats, last year's third-round pick Jordan Nwogu fits that profile. The former Michigan star was recruited out of high school to play football but ultimately chose baseball as his career path. At 6-3 230 pounds, Nwagu has excellent size and strength, which allows him to make up for an unorthodox swing path at the plate.
Nwogu also has a good feel for the strike zone, which is especially crucial for this age. Not the most athletic of the bunch, Nwogu may be ticketed for a DH should that come to fruition in the National League. Otherwise, you are looking at a left fielder who the Cubs will be paying to hit. He will make his professional debut this June as part of the Arizona Cubs.
One of the more intriguing arms in the Cubs system is 2019 third-round pick Michael McAvene. The former Louisville pitcher broke the top 20 last season but has now fallen to 27. That is to no fault of his own as the Cubs system is deeper than it has been in the past.
Recruited to be a starter, McAvene had Tommy John two months into his freshman season only to return a year later as the teams closer. Once he made that switch, his draft stock skyrocketed as he posted a 1.42 ERA ahead of his selection.
While most of the time he is seen working in the 93-96 MPH range, McAvene has popped lately, topping 98-99 with great ease. He also features an 85 MPH slurve that could be the best breaking ball in the entire system. While pitching for Eugene as a rookie, McAvene made 12 starts but went just two innings each time, posting an ERA under 2.00. His 4BB and 20K were a great sign, as was a 119 opponents' batting average.
This is someone who has all the makings of being a future closer, and that is how I think the Cubs will and should develop him. With no Eugene or short-season team anymore, look for McAvene to emerge with the Pelicans this season as their late-inning guy to close out games.
Prospect #26 overall Luis Robert Verdugo
One of the newer and less familiar names on this list is Luis Robert Verdugo. Drafter out of Mexico in 2017, the Cubs inked Verdugo to a 1.2-million-dollar deal before coming stateside in 2018. After struggling in his first season, Verdugo repeated the Arizona rookie league where he hit a 305 with five homers and 38 RBI's before seeing some time in the Mexican winter league in 2020.
Verdugo was over-matched in 2018 but made a lot of adjustments that helped him make more contact the past two seasons. He is now spraying the ball from gap to gap and will continue to add strength, leading to 20 homers per season. He may not be the most athletic person on the field but has the quickness and instincts to stick at SS or 3B. He is compared to Starlin Castro when he was coming through the Cubs system, and he turned out to be a relatively solid player.
The next Cubs rankings article (#25-#20) will continue later this week.