| | |
| --- | --- |
| Commentary: Catch me while Yu can | |
---
| | | |
| --- | --- | --- |
| Thursday, May 16, 2019, 3:01 PM | | |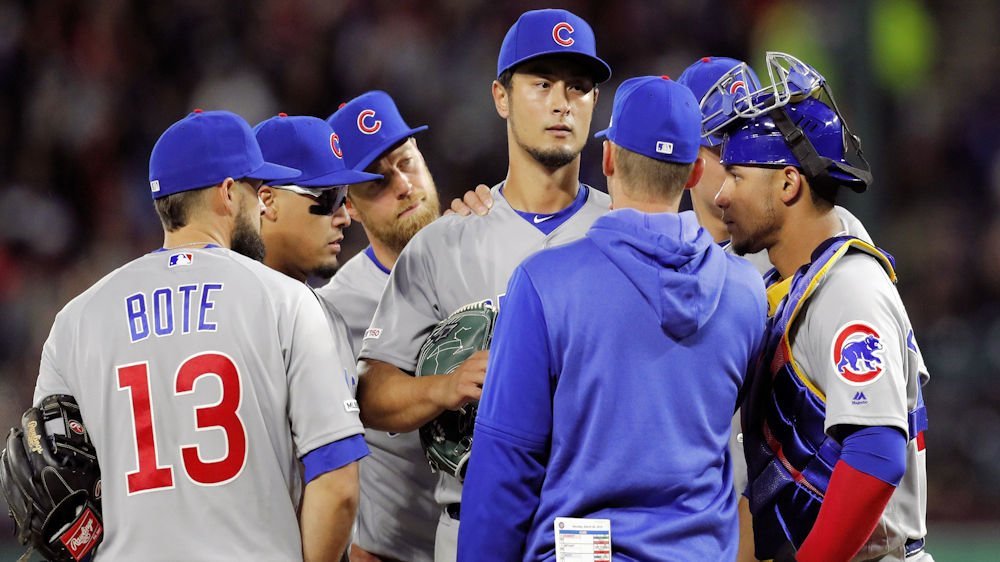 Recently, fellow columnist, Dan Marich, and I were talking about Yu Darvish, and what appears to be his desire to focus on strikeouts, rather than to just focus on pitching and entrusting his fielders to do the rest. He tends to run high pitch counts in each of his outings, and while he has fanned 55 in nine starts, he's also walked 33 and given up 35 hits, which includes eight homers and 24 earned runs.
Having already tossed 797 pitches in 42.0 innings this year, Darvish is averaging 88.5 pitches per outing, but he's only lasting an average of 5.25 innings per start (before last night it was only 4.5 innings per outing). Furthermore, his pitch counts break down to an average of 19 pitches per inning, well above the general average of 15 pitches per frame.
Willson Contreras served as the backstop for Darvish's first five outings this season, with the Cubs posting a 1-4 record during that time. While Darvish was on the mound, the Cubs' opponents were scoring an average of 1.5 runs per inning. Also, during those games (again, only while Darvish was pitching) the opposition averaged three runs per game, 4.2 hits per game, and 3.4 walks per game, while he was striking out an average of 5.2 men per outing. Under Contreras' watch, Darvish is throwing an average of 18.5 pitches per inning.
The chart below show's Darvish's performance with Contreras catching.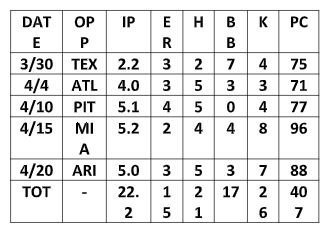 Suddenly, starting on May 27 (Darvish's next start), Contreras began being benched in favor of Taylor Davis, whenever Darvish was to start. Contreras certainly needs to be rested, but Davis has a total of just 43.0 innings behind the plate as a major-leaguer. Darvish is a very complex pitcher and one who's hard to catch. He's slow to the plate, resulting in runners attempting to steal, he's had control problems over the years, and the movement on his breaking balls can be challenging to corral. Although not a veteran backstop, one would think that Contreras would be a little better choice, as he is a far more advanced and experienced catcher when compared to Davis. Contreras' speed, reflexes, agility, and accuracy when throwing compensate for some of Darvish's traits and that's what's going to stop runners from advancing and runs from scoring.
In Darvish's last four starts (with Davis catching), the Cubs have posted a 3-1 record. Darvish has lasted 19.1 innings over those four games (4.8 innings per game), allowing only nine earned runs. Although the Darvish/Davis duo has allowed an average of just 2.25 ER per game, before last night's game, the walk rate had shot up to an average of 5 per game, with Darvish now striking out an average of 7.5 batters per outing. Darvish's pitch count has also increased from an average of 18.5 per inning (under Contreras) to 20.2 pitches per inning under Davis' watch.
With Davis serving as the backstop, Darvish has posted the following: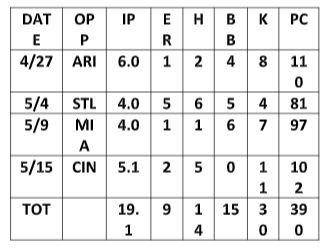 Are Darvish and Davis a case of the tail wagging the dog? It makes sense that Davis, being an inexperienced catcher, may be more apt to let a veteran pitcher like Darvish control the game. When Davis is behind the plate, it would appear that Darvish is pitching for strikeouts, rather than focusing on groundballs, fly outs and quick innings. That strategy has resulted in the increased number of walks, as he's missing on the corners, and/or failing to get batters to chase. Granted, when he's capable, he is getting increased Ks, while also quelling the runs allowed, but it's coming at the cost of walks and the number of pitches per inning. The walks won't hurt anything but his WHIP, but shorter outings will tax the bullpen.
If this is what's happening, it seems to have its benefits. Look for a minute at one final chart. I've utilized the algorithm that I use when I do my stats and rankings column, and I have compared Darvish's stats with Contreras, vs. his stats with Davis. Everything is set per nine innings, so things become proportionate- just like with ERA. Darvish's rating score is almost two-thirds worse with Contreras behind the plate than it is with Davis.

As you saw last night, the bullpen was off, which cost Darvish and the Cubs another W. Look back at Kyle Hendricks' past two outings- he lasted 16+ innings on a combined total of just 193 pitches. He gave up a total of eight hits, walked 1, and still struck out seven in each game, but early in the count he got batters to put the ball in play, resulting in less pitches.
While I don't think for a minute that Davis can catch better than Contreras, I do believe that Darvish may know what's best for himself when it comes to how he pitches a game. If he's somehow gotten Davis to listen to him better than Willson has, that may be the reason that he seems to be flowing better on the mound. I'm also interested to know whether Contreras was more assertive and persistent with what he wanted Darvish to throw, causing Darvish to feel like he was not in control- either of the game or his pitches. I see few occurrences of Darvish shaking off Davis' signs, but I'll have to go back and watch his outings with Contreras.
Assuming there's some sort of issue with Darvish wanting Contreras to catch him, it'll be interesting to see how Victor Caratini catches him. That may be as soon as this weekend, and although I like Davis, he'll be on a bus to Iowa the minute Caratini arrives in town.
Stay tuned.