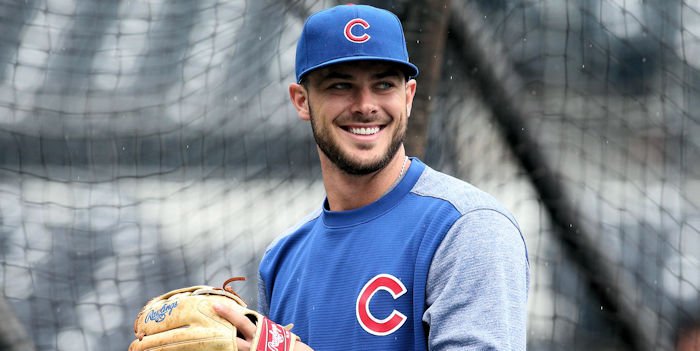 | | |
| --- | --- |
| Commentary: Finish Kris Bryant's grievance case already | |
---
| | | |
| --- | --- | --- |
| Thursday, January 23, 2020, 5:34 PM | | |
Kris Bryant's grievance hearing is still going on, as everyone in the MLB world is waiting to see if Bryant is an FA after the 2020 season or the 2021 season. I get Bryant's point of view on it, but he is set to make 20 plus million next year in arbitration alone.
Bryant claims he loves the city of Chicago and wants to be a Cub for life. Yet he turned down a reported seven-year $200-million-dollar extension before last season. Add that on top of his two arbitration years this year, and he would have been making close to 250 million for nine years, which is right on par with what Anthony Rendon signed with the Angels this offseason. Something doesn't seem right about turning that type of money.
Is it Boras getting in Bryant's head that he will be able to get more money in the market, or is it Bryant feeling a little disrespected by the Cubs for them putting him in the minors for 12 days to gain an extra 162 games of control over him. Regardless of what is going on, the Cubs did nothing wrong, and Bryant's camp is not happy about it.
The more I think about the hearing and how long it is taking, the more I am wondering has it drastically affected the Cubs offseason plans about what they wanted to do. Before we get into why I feel that way, let's be real with ourselves. Was it a little shady knowing that he only needed to go down for 12 days, maybe, but every team in that same situation would do the same thing to gain an extra year of control on a superstar. By doing what the Cubs did, it only prevents the player from hitting the market for one extra but has no bearing on what they would make in the arbitration process.
This year, Bryant is making just over $18 million, and that could increase to the $22-25-million-dollar range next year based on performance. That alone will come close to what I think he makes in the open market as I don't see him making $30 million a season. The reported seven-year $200 million extension offered to him would have put him roughly at 29.2 million a season, which is a phenomenal payday. Add in two arbitration years on top of it, and he would have been making 25 plus million the next nine years. Why would anyone turn that down when they say they want to remain a Cub for life?
Well, for starters, his agent certainly doesn't help the cause, and we have seen in recent free agency that sometimes-having Boras as your agent is not the best thing. Except for this offseason, the past two have not gone according to plans for Boras and his clients as they received significantly less than what he expected them to get. That is why Bryant should have taken that deal upfront. Who knows if he will see an offer like that again?
Another reason Bryant may not have signed the extension is maybe he really has no desire to return to Chicago once his current deal is up. As hard as it may be for Cubs fans to believe, Bryant is a west coast guy, and it would not shock me to see him end up in California to be closer to family. If he wanted to remain in Chicago, he probably wouldn't be going through this whole grievance process.
Now that this hearing is taking a lot longer than it should, I am starting to wonder if this was Boras' plan all along and if this drastically affected the way Cubs went about free agency this season. We knew the only way the Cubs were going to be able to make a deal this offseason was to cut some payroll through the trade market. That is why Bryant's name continued to come up as he makes the most out of anyone, not on a long-term deal.
Given his age, production, and not yet hitting free agency, Bryant would be an ideal candidate for any team and would bring back a haul in the process. At the beginning of the free-agent period, the Rangers, Braves, Nationals, and Dodgers all appeared to be in on Bryant as trade talks seemed inevitable. After reports surfaced that the Cubs asking price for Bryant was absurd, it seemed as if it was a two-team race between the Braves and Nationals as to who was going to win the deal.
The Cubs wanted Victor Robles from the Nationals, and Washington was going to say no on their end. Atlanta offered up Austin Riley and a pair of top pitchers with the possibility of Ender Inciarte, and nothing was made from that deal. Since then, Bryant's grievance hearing has taken place and has, for some reason, continued all offseason. That alone has affected the Cubs offseason plans if you ask me.
If their goal was to shed payroll so they could make some deals, the longer Bryant is on the roster, the less likely anything will get done, which is a big reason why no major league contracts have been offered thus far. Also, the longer this grievance hearing goes on, the less likely anyone will trade for him because no one knows whether they will get one or two years of Bryant's services.
Should Bryant lose the case in which he is 99% likely to do so, the Cubs will undoubtedly get a haul in return for him as a team would then have him for two seasons with the ability to ink him long term before that. Let's say Bryant somehow wins, then the Cubs are not only going to have him this season but would lose him next year while getting nothing in return.
It is time for MLB to stop this nonsense already and rule. The sooner the case is over, the better it is for everyone. Not only would Bryant be able to get to work on the 2020 season, but the Cubs and the rest of the league will know where he stands in FA, and the dominos could fall shortly after.