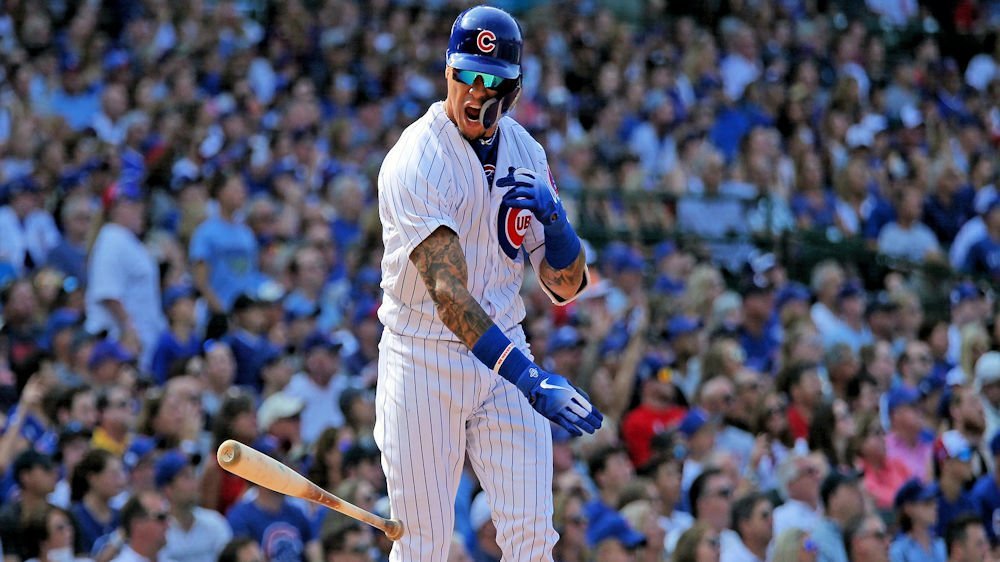 | | |
| --- | --- |
| Commentary: Russell vs. Baez - If it don't stink, don't stir it | |
---
| | | |
| --- | --- | --- |
| Wednesday, May 1, 2019, 4:44 PM | | |
I have to add a little disclaimer here. Often, I write commentaries a day or two before they are posted- it's all about things being time sensitive. Anyway, this was written recently but long before the Cubs decided on Addison Russell's fate. Pretend you didn't hear the news yet and enjoy the commentary.
It's been far too long since my colleague Dan Marich, and I had a good 'ole fashioned argument with each other. Since that time, we've both been forced to argue with our wives, a scenario that never works out for either of us. Dan, put on your gloves because I'm about to call you out for the first (and presumably not the last) time this season.
I told Mr. Marich several months ago that Javier Baez would be replacing Addison Russell at short, though I never dreamed that it would be due to a suspension over domestic violence. As always, Dan argued, claiming Russell to be the superior defenseman and the obvious choice at short, even if his hitting has been sub-par for a couple of years now. Baez has firmly cemented himself into that position, no matter the surrounding circumstances, and not even Dan is going to change that.
While I won't dispute Russell's ability to field, his lackluster skills at the plate have left the Cubs in the lurch on many an occasion, and that is not something the Cubs need or want at this point. They've managed to outlast Anthony Rizzo's hitting slump, and Kris Bryant is finally starting to come around. Albert Almora Jr.'s bat is starting to wake up, as is Kyle Schwarber's, so the last thing the Cubs are going to do is introduce another slumping bat that will once again disrupt the flow of the offense.
True, Russell is slashing .294/.455/.588 with Iowa, so far, this week, but minor league numbers don't generally translate into a major league setting- ask Ian Happ. Furthermore, there's probably an excellent reason Russell has been getting starts at second with the I-Cubs, and it's not so that he can learn versatility. Russell has played some second base in the past (86 games in 2015 with the Cubs), and I'd venture to bet he'll be fighting for playing time there again with Chicago.
When it comes to fielding, Russell can, at times, be something to behold, but he has been on the decline for the past couple of years. In 2016, Russell committed a total of 14 errors in 1262.2 innings at shortstop, a rate of one error per 90.19 innings. That figure increased tremendously in 2017, as he committed 12 errors in 808.1 innings, or a mistake for every 67.3 innings played. In 2018, those stats took another turn for the worst, seeing Russell commit 17 errors in 1003.2 innings, or the equivalent of one error per 59 innings played. Thus far in 2019, Baez has committed an error at short once every 77.1 innings.
Beyond the statistics, lies another angle to the Russell/Cubs puzzle, and that is the flow with which the team has been playing. Baez and Daniel Descalso work well together as middle-infielders, as do Javy and David Bote, as well as Javy and Ben Zobrist. In 2018 any combination of second baseman with Russell at short (total of 130 games), turned a total of 66 double-plays (or 1 every 1.97 games); Javier Baez and your choice of second baseman this season have already turned 16 DPs in 26 games (or 1 every 1.63 games).
The Cubs have made it their mantra to stand behind Russell and work towards quelling similar problems concerning domestic violence in the future, but that approach came with no promises. While Russell has worked hard both on and off the field to achieve the goals that the Cubs laid out for him, he was never guaranteed his role as a starting shortstop, nor was he ever guaranteed a spot on the 25-man roster. With plenty of quality and no controversy coming from guys like Baez, Descalso, Zo, and Bote, the Cubs may explore the options of either making Russell a bench player or perhaps, leaving him in the minors for at least part of this season.
Sorry, Dan, you aren't right this time.