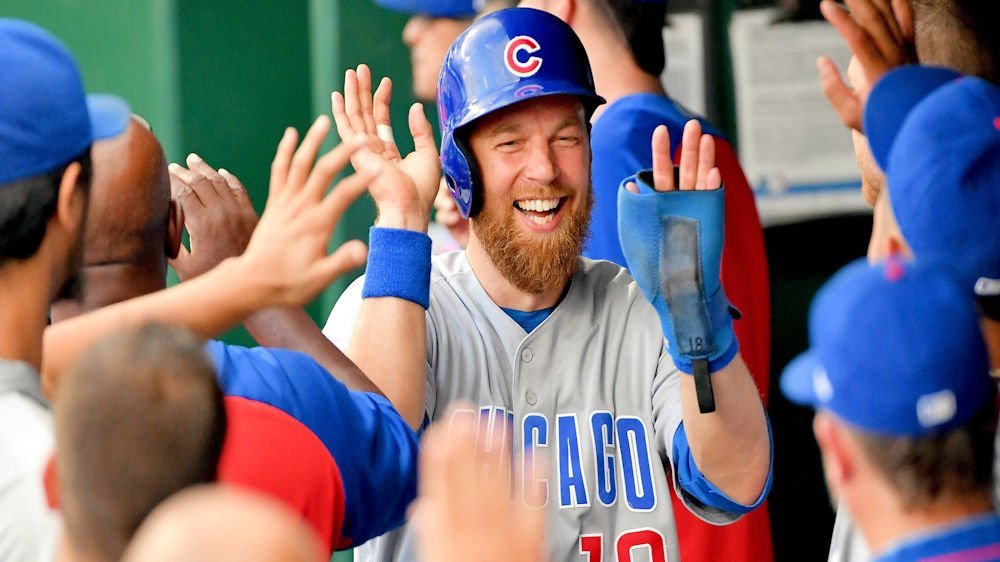 | | |
| --- | --- |
| Commentary: Who will be the next Ben Zobrist? | |
---
| | | |
| --- | --- | --- |
| Sunday, October 21, 2018, 1:41 PM | | |
As much as we all love Ben Zobrist, we have to face two facts: (1) he's getting up there in age, and (2) 2019 could very well be his last season. The Cubs' most versatile utility man will be turning 38 at the end of May.
Zo has stayed healthy, still moves well and swings a wicked bat (from either side of the plate), but as age drags on, there may come a time when there are more important things in life than baseball.
Ben and his wife Julianna married in 2005 and went on to have three children. Ben's oldest, is his son, Zion Benjamin, born on February 1, 2009, and his two daughters, Kruse Allegra and Blaise Royal, were born on September 19, 2011, and November 6, 2015, respectively. With three kids under the age of ten, being on the road and away from home so much is never an easy thing.
Nobody can fault Zobi Wan if he hangs up the cleats after 2019 for the sake of his family, but who do the Cubs' turn to from within, to replace him?
I've maintained for several months that the Cubs should (or would) part ways with Ian Happ, but Happ is (or at least was) the logical choice for a replacement. Happ can play all three outfield positions as well as second, third and first, but the key may be his ability to switch hit.
The problem is, Happ's bat had been nothing short of flat for most of the 2018 season. While his ability to take pitches and draw walks is a plus, it is overshadowed by his career strikeout rate, which looms at just under 34%. If Happ is somehow given one more chance to turn around, Cubs' hitting coach, Anthony Iapoce will have his work cut out for himself.
With what I've seen so far, David Bote appears to be the one emerging for the utility man job. Bote has the ability to play all infield positions (including catcher in a pinch) and has experience in the outfield as well. While Bote does lack the ability to switch hit, he's only marginally worse than Happ against righties, and blows him away against southpaws.
Like the majority of the Cubs this season, Bote is going to have to rely on some help from Iapoce to get his bat back in order, if he is to continue his crusade to become the Cubs' go-to guy for diversified defense and clutch offense. I like what I see in this kid though, as his outward attitude and demeanor say that he is nothing less than a student of the game.
Although still just the top prospect in the Cubs' minor league system, Nico Hoerner's name has also come to the forefront as a future utility man for Chicago. The shortstop from Stanford was the Cubs' first-round draft choice earlier this year (24th overall pick) and was expected to be fast-tracked to the majors.
Hoerner's offensive numbers have been impressive during his short, minor league career, slashing .327/.450/.571 in fourteen games between his time at South Bend, Eugene and in the Arizona Fall League. Hoerner hadn't anticipated playing in the AFL, but after straining ligaments in his elbow while diving for a ball in mid-July, Hoerner needed to make up missed at-bats and defensive reps to keep himself in the loop.
Hoerner didn't exhibit huge power in the batter's box as a collegiate player, managing only two home runs in his last 232 at-bats for Stanford, but he seems to have improved after being drafted, now having two dingers in just sixty at-bats as a minor-leaguer. While Hoerner also lacks the ability to switch-hit, he brings with him the ability to play all over the infield.
The conversion from infielder to outfielder is generally easier than going from the outfield to the infield, and both Hoerner and Bote have what it takes to play out near the ivy; reasonable quickness and a strong, accurate arm.
With the Cubs seemingly focused on signing Bryce Harper, the odds of them obtaining Manny Machado appears to be small. With Addison Russell's future uncertain, Hoerner may be the guy to fill the void at short, but I don't see it happening anytime soon. I wouldn't be surprised to see Hoerner spend some time in Chicago next season though, especially if there is an injury to Baez, Bryant or Bote.
For now, the utility man position is up for grabs, but barring a trade to receive someone from outside the organization to fill the void, I think I'm still leaning toward Bote. In a best-case scenario, Zorilla plays a couple more years, but in the worst case, the Cubs have plenty of talent to fill the void.